IIHF
2022 World Juniors: Reviewing USA's Perfect Preliminary Round, Top Players
2022 World Juniors: Reviewing USA's Perfect Preliminary Round, Top Players
FloHockey's Chris Peters breaks down Team USA's preliminary-round performance at the 2022 World Junior Championship.
Aug 15, 2022
by Chris Peters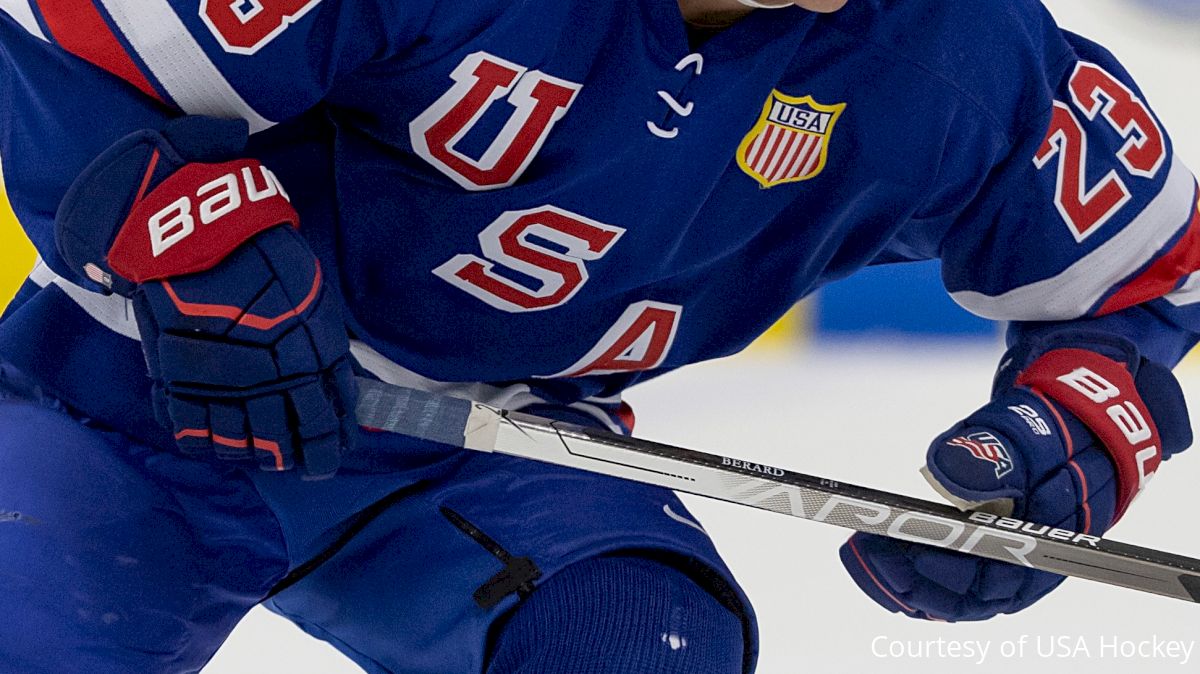 EDMONTON -- Though the United States enter the 2022 World Junior Championship as the defending gold medalists, there are only four players returning from that team. Most of the rest are only getting their first taste of what the World Juniors is all about. The veterans might want to tell them it's not always going to be this easy.
The Americans cruised through the preliminary round with a perfect 4-0-0-0 record, winning all games in regulation to clinch first place in Group B and provide themselves with a manageable path to get back to the gold medal final. But first they'll have to get through two days off and a quarterfinal date with Czechia on Wednesday.
📸 Click for a few of our favorite pics from a clean sweep of the preliminary round. #WorldJuniors 🇺🇸 pic.twitter.com/e2eYE3zsUp

— USA Hockey (@usahockey) August 15, 2022
The U.S. had a pretty easy go in their first three games and looked to be in control of their final preliminary-round matchup against Sweden until the Swedes found a little life late in the third period to close the gap before ultimately falling 3-2 to the Americans. The U.S. out-scored their opposition 22-4, while outshooting their opponents 186-80. It's been a particularly strong showing for this U.S. squad in what was a fairly weak group.
Regardless of the quality of competition, the U.S. took care of business and did exactly what you'd want to see them do against the teams they were up against. Most impressively, they nearly doubled up Sweden on the shot counter and dominated that game for the first 55 minutes or so before Sweden finally found some push back.
If there's one thing that clearly is the hallmark of USA's game, it's their team speed. It had to be an asset and it looks like they are by far the fastest team remaining in the tournament. Canada may have some more talent overall, but you can't deny how quick this U.S. team is and how well they use that speed to their advantage. Canada still has to get through Finland to finish top in their group. If they do, the soonest the U.S. would see Canada is in the gold-medal game assuming both reach it. That's certainly the matchup anyone who has been tracking the tournament would like to see one way or another.
But since the U.S. has a couple of off days, now is a good time to assess how the many top NHL prospects on their roster have played so far. So let's take a quick look at some of USA's top performers to date.
Thomas Bordeleau, C (SJS) -- With seven points through the first four games, Bordeleau is Team USA's leading scorer. His high-end puck skills and ability to read plays make him one of USA's most natural playmakers. While the points have been important, Bordeleau's value to the U.S. has been enhanced by his success in the faceoff circle. It's one of Bordeleau's best-known traits, but Team USA is leaning on him extra heavily for their most important draws, regardless of which side of the ice they're being taken on. Bordeleau has gone to the dot a staggering 89 times through four games and he's won 60 percent of his draws. Against Sweden, he took 31 of the 63 total faceoffs in that game and won 21 of them. It can be an incredibly important trait for a team in critical moments of the game. Beyond his points and his faceoff work, Bordeleau has just played the right way. He's hard on pucks, putting pressure on the opposition on the forecheck and playing smart hockey in all three zones. He had to miss out on USA's gold medal in 2021 due to COVID protocols right before Team USA left for Canada. He's making the most of this opportunity.
🚀🚀🚀@Thomasbord71 | #WorldJuniors 🇺🇸 pic.twitter.com/la5MTp9lOf

— USA Hockey (@usahockey) August 12, 2022
Luke Hughes, D (NJD) -- As one of the top NHL prospects playing on this U.S.squad, big things were expected of Luke Hughes -- the youngest brother of NHL stars Quinn and Jack Hughes -- and Luke is delivering. He scored Team USA's first goal of the tournament and already has six points which surpasses the career World Junior point totals of each of his brothers. On top of producing points, Hughes has been USA's top defenseman, leading the team with an average of 21:25 per game. He can play in all situations and has been excellent at escaping the zone. Hughes also runs USA's top power play unit. He looks so much better this year than he did in the early goings of the December event that was cancelled. That's what experience, confidence and a little extra strength will do for you.
Carter Mazur, RW (DET) -- Mazur has been an integral part of Team USA's top six and their No. 1 power play unit. He's scored four goals, two of which have come on the advantage and his speedy, hard-nosed play has helped make a difference even when he's not scoring goals. With six points in the tournament, he's tied for second on the team in scoring and has been one of USA's most consistent sources of offense.
Matt Coronato, RW (CGY) -- With goals in each of USA's final three preliminary-round games, Coronato has lived up to the expectations of being a go-to goal scorer for the U.S. squad. He has four goals including a pair against Sweden that helped make up the difference in the final result. Coronato has a high motor and can score in so many different ways. He's done most of his damage in tight to the net, but has shown he can score from distance as well. Playing alongside Matt Knies and Logan Cooley, Coronato has taken charge in a real way in this tournament.
WHAT A SHOT 😮@MattCoronato | #WorldJuniors 🇺🇸 pic.twitter.com/RBAiI2RfJo

— USA Hockey (@usahockey) August 15, 2022
Brock Faber, D (MIN) -- He's only scored two points so far, but Faber has logged big minutes and dominated when he's been on the ice. As an elite skater, the other team has a hard time forechecking on him because he can scoop a puck and escape quickly before making the next best play. He's confidently moving pucks, does have one goal in the tournament and has been rock solid defensively. He's currently sporting a team-best plus-9 because the opposition doesn't tend to have the puck a lot or for very long when Faber is on the ice.
Logan Cooley, C (ARI) -- Cooley might not have produced as much as he personally expected to this point, but with a goal and four assists, he's better than a point per game and has been one of USA's most consistently dangerous forwards. He leads the Americans with 17 shots on goal and has consistently pulled out a lot of high-end plays that has troubled opposing defenses. His quickness and skill have all been there and he's even shown a bit more edge to his game.
Wyatt Kaiser, D (CHI) -- With a pair of goals in USA's 7-0 win over Austria, Kaiser matched his career total from the last two seasons at Minnesota Duluth. He might not be a noted scorer from the back end, but he's done a good job of pushing the pace and largely making good decisions with the puck. I thought he struggled a bit in USA's opening game and was a little concerned about where his game was headed, but Kaiser has bounced back in a major way, providing quality defense and an ability to get pucks up ice quickly.
Split the traffic! @wyatt_kaiser5 | #WorldJuniors pic.twitter.com/9PJL98Shw9

— USA Hockey (@usahockey) August 13, 2022
Kaidan Mbereko, G -- The biggest question mark about this U.S. team was its goaltending and through three starts, Kaidan Mbereko has stood tall. USA has only allowed an average of 20 shots against per game, so he hasn't been overworked, but he's making the saves he has to make and came up big a few times against the most skilled team they've played in Sweden. Mbereko is undrafted and undersized, but no one has ever questioned his ability to compete and fight for his saves. He's done a good job of that so far and owns a 3-0-0-0 record, .938 save percentage and 1.38 goals-against average as USA's No. 1.
Riley Duran, LW (BOS) -- He is averaging just over 12 minutes a game as a member of USA's fourth line and penalty kill, but Duran is among the top scorers with five points including a pair of goals. He's been quite emblematic of the way USA needs to play to have success in the tournament. His forechecking is superb, he's played physical and he's played with jump.
Landon Slaggert, LW (CHI) -- Playing a bit of a utility role that includes a lot of action with USA's top line, Landon Slaggert can do just about whatever you need him to. He's physical, he's quick and he's also produced. His ability to get to the net-front and cause some disruption has led to his scoring two goals and putting up three assists in the tournament.
Red Savage, C (DET) -- Playing in a fourth-line role and as one of USA's key penalty killers, Savage has played his role perfectly and in some cases has gone above and beyond. He has two goals, but has been a menace on the PK, challenging USA's opponents by blocking shots and applying pressure. His speed and tenacity have really stood out.
It took a review, but @redsavage_19 did in fact bury on the break. #WorldJuniors 🇺🇸 pic.twitter.com/MULKITqsZk

— USA Hockey (@usahockey) August 13, 2022
Other players of note
Matthew Knies, LW (TOR) -- Knies only has two assists so far in the tournament, which is certainly below expectations, but he's been a factor in games with his physical play and using his size to cause problems in the offensive zone. He requires a lot of attention from the opposition, which has allowed more space for Logan Cooley and Matt Coronato to operate.
Brett Beard, LW (NYR) - Dominic James, C (CHI) - Mackie Samoskevich, RW (FLA) -- I wanted to include the third line as a group because they've been a little snake bit offensively, hitting an awful lot of posts on their attempts, but they've also been one of USA's most impressive lines when it comes to team speed. This trio is especially strong on the forecheck, they're quick through the neutral zone and they always seem to have the opposition on their heels. Against better teams, this line might not score a ton, but they're going to create some havoc and challenge their opponents with their immense speed.
Tyler Kleven, D (OTT) -- Averaging 19:25 of ice time per game, Kleven has settled into a top-four role with Team USA. You're never going to get a ton of points from him, but he has delivered his share of big hits that cause the opposition to take note. He has helped filled a need on USA's blue line for a steady stay-at-home presence with a number of defenders who like to get up in the play. It's a silent, thankless role for Kleven, but he's playing the way his team needs him to and doing it well.
---
For more coverage of the 2022 IIHF World Junior Championship, follow Chris on Twitter as he shares live updates and analysis: @chrismpeters