IIHF
2022 World Juniors: Team USA Preliminary Roster Breakdown
2022 World Juniors: Team USA Preliminary Roster Breakdown
Chris Peters breaks down USA's 27-player preliminary roster for the 2022 IIHF World Junior Championship.
Aug 1, 2022
by Chris Peters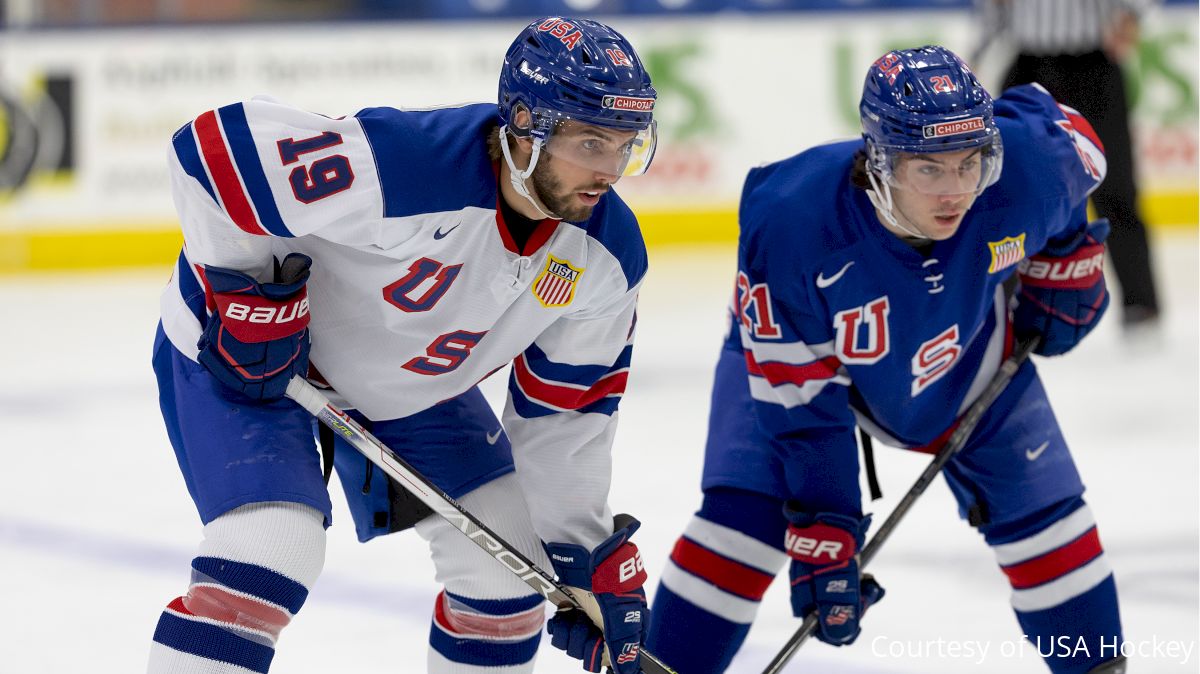 The 2022 World Junior Championship is going to be unlike any other. The IIHF and Hockey Canada are getting a do-over after the regularly-scheduled World Juniors last December had to be canceled mid-tournament as multiple teams dealt with positive tests amid the first significant wave of the omicron variant of coranavirus. As a result, the entire tournament will be re-started Aug. 9. Many players that were part of teams in the winter have either opted out or will not be made available by their NHL teams, but there will still be a large amount of high-level NHL prospects competing in the summer tournament.
Most teams have begun preparations for the tournament, which will run Aug. 9-20 exclusively in Edmonton at Rogers Arena, home of the Edmonton Oilers.
Among the squads getting ready for the World Junior re-start is Team USA, which announced Sunday a trimmed-down roster from its National Junior Evaluation Camp which was held in Plymouth, Mich., last week. The Americans are technically still the defending gold medalists after winning the 2021 World Juniors, which was played without fans in a bubble under strict coronavirus protocols.
The U.S. is going to be missing several key players from the team that it had initially brought to Canada last winter in the first attempt to play this tournament including their No. 1 center, No. 1 defenseman and No. 1 goaltender. Matty Beniers and Jake Sanderson, the aforementioned center and defensemen, signed NHL contracts last spring and will be busy preparing for their first NHL training camps. Meanwhile, goalie Drew Commesso opted not to play in the summer tournament in order to focus on his season ahead as it may be his last collegiate campaign before signing an NHL deal with the Chicago Blackhawks.
Despite those significant losses from the winter team, the Americans still have a roster capable of competing. They'll still have to make two cuts to get their roster down to the 25 allowed by the International Ice Hockey Federation for the tournament. USA Hockey says they plan to release their finalized roster on Aug. 7 with their tournament set to open against Germany on Aug. 9.
With USA's roster nearly finalized, we'll start our WJC coverage with a deep dive on their roster including summaries of each position group, plus notes on each player and the role he may be playing when the puck drops in the tournament.
Forwards (NHL rights in parenthesis)
This forward group is not physically big on the whole, but there's a good dose of skill and a whole lot of speed that should make up for it. If this American group can establish their pace early in the tournament, they're going to have a chance to put a lot of pressure on opposing defenses. The forward group will be missing Matty Beniers, Tanner Dickinson, Chaz Lucius and Ty Smilanic from the group they brought to Alberta in the winter, but still have a number of key forwards including some veterans of the 2021 gold medal team and young, skilled players that should make a significant impact at the tournament.
Brett Berard, LW, Providence College (NYR): A member of the 2021 team that won gold, Berard was a depth piece for that iteration of Team USA, but he's going to be a central offensive figure for the Americans this time around. His unrelenting motor and clever play with the puck on his stick allowed Berard to produce 38 points in 36 games with Providence last year. His experience and style of play will make him a very important piece for this U.S. side.
Thomas Bordeleau, C, San Jose Barracuda (SJS): One of the great stories of this team, Bordeleau was supposed to be on the 2021 U.S. team and was slated to join the team in the winter, but both times was forced to stay home due to Covid protocols. He'll be one of the few players on this roster under NHL contract as he signed last spring and even saw some action with the big club in San Jose at the end of the season. Bordeleau also ended up making the U.S. men's national team for the Men's World Championship in the spring, but played a limited role. This time around, however, Bordeleau is likely to be a massive part of Team USA's plans. He'll be a top six center and should be a major source of offense. His creativity and vision are among the most significant traits of this highly-skilled pivot. Aside from that, he's a dynamo at the faceoff circle and will likely be tapped for most of USA's most important draws.
Logan Cooley, C, Minnesota (ARI): The No. 3 overall pick from and in my opinion the most dynamic player in the 2022 NHL Draft is one of four "underagers" on the team as they're two years younger than the age limit for this tournament. Cooley was on the team in the winter and worked his way into a top-six role playing alongside Matt Knies, who will be his teammate at Minnesota this coming season. Cooley is speedy, highly-skilled and has a ton of creativity to exploit defenses. He did get injured during World Junior camp, but it is believed he will be able to play in the World Juniors. Still, that will be a situation worth monitoring as he'll be one of USA's go-to offensive players if healthy.
Matt Coronato, RW, Harvard (CGY): A gifted goal scorer coming off of an impressive freshman season at Harvard, Coronato was a top scorer for the Crimson with 36 points in 34 games. The season before, he was the forward of the year in the USHL for the champion Chicago Steel in 2021. He appears likely to be a top-six scoring option, possibly playing alongside Cooley and Knies. The U.S. is going to need goals in bunches and Coronato is one of the guys that can bring them.
Riley Duran, RW, Providence College (BOS): A rugged forward, surely Duran's play as a freshman at Providence allowed him to get in the mix for the team. Providence head coach Nate Leaman is also Team USA's head coach. The American forward group doesn't have a lot of size, so guys like Duran can play down the lineup and make the U.S. a little bit heavier and more difficult to play against.
Dominic James, C, Minnesota-Duluth (CHI): A real surprise addition to Team USA in the winter after going undrafted two years in a row, James was not passed over a third time a few weeks back when Chicago selected him in the sixth round. He's a bit of a spark plug as he plays with jump and creates problems for the opposition with his speed. James isn't a particularly big player, but he gets into the physical elements of the game and is always going with speed. He was on the roster last winter in more of a depth role and likely fills that same role this time around.
Matt Knies, LW, Minnesota (TOR): One of the real breakout NHL prospects of last season, Knies played so well for Minnesota and in his brief time before the WJC got cancelled last December that he made the U.S. Olympic Team as its youngest player. Knies is USA's biggest forward and also a spectacular goal scorer who can create with both his hands and his size. His shot is among the most deceptive and heavy on this roster and no one pushes him around. He was a point per game player as a freshman at Minnesota and scored two points over four games at the 2022 Olympics. Knies, quite simply, is vital to this team.
Carter Mazur, RW, Denver (DET): Another sparkplug player who made Team USA and just kept moving up their lineup, ultimately playing a middle-six role and getting on one of the power play units before the tournament was canceled. Mazur returned to Denver and resumed a sensational freshman season, posting 38 points as he helped the Pioneers win the NCAA national championship. His versatility and willingness to do just about anything to help the team, including produce, makes him an important player for Team USA.
Hunter McKown, C, Colorado College (Undrafted): Perhaps one of the bigger surprises in USA's pre-tournament camp, McKown could slide into a depth role if he makes the final roster. He's got good two-way capabilities and is one of the bigger forwards still left. He had a strong freshman season on a weak CC squad and is one of the players that wasn't in the mix for the team in the winter to make the most of his second chance.
Frank Nazar, C/W, Michigan (CHI): Another one of the players that was not on the team in the winter, Nazar has a good chance to be on the final 25-man roster this summer. Nazar, who was selected 13th overall in the 2022 NHL Draft, brings quickness and skill. Though he's a natural center, he may find himself on the wing for this particular team. The Americans need to be fast and Nazar is a good example of a player that uses his speed as a weapon. The 5-foot-9 forward had 70 points for the U.S. National Under-18 Team last season brings a dynamic element to USA's middle-six. UPDATE: Nazar was one of the last two cuts made prior to the tournament.
Sasha Pastujov, LW, Guelph Storm (ANA): Coming off of a 34-goal, 76-point season in the OHL, Pastujov will be hoping for a more elevated role on this summer team as he was a bit limited in his usage at the canceled event. Pastujov has high-end offensive intelligence with tremendous vision and a lethal one-timer. The one reason he may not get as significant a role is that this team is largely built on speed, which is not one of the hallmarks of his game. Still, you need goals and he scores them.
Mackie Samoskevich, RW, Michigan (FLA): A slick, quick winger who really grew his game over the course of his freshman season on a loaded Michigan squad, Samoskevich will return to Team USA a better player than he was last winter. He had 29 points in 40 games as the Wolverines went all the way to the Men's Frozen Four. He did also score a goal in the only game the U.S. played before the World Juniors was canceled in the winter.
Red Savage, C, Miami University (DET): A gritty, hard-nosed center that plays with jump, Savage will likely make Team USA in a depth, penalty-killing role. His two-way play is what really increases his value to the U.S. Savage is relentless in puck pursuit and does anything that's asked of him. While he'll likely play a huge role for Miami in the upcoming season, he's more of a down-the-lineup type for this group.
Landon Slaggert, LW, Notre Dame (CHI): Another of the players that experienced winning gold in 2021, Slaggert's work ethic and physicality make him one of the toughest players to play against on this team. He just doesn't get outworked and can deliver hard body checks. Despite those key elements of his game, Slaggert showed at Notre Dame last season that he can score, too, which he also did in USA's only game at the WJC before it was canceled in December.
Charlie Stramel, C, Wisconsin (2023 NHL Draft eligible): Surgery knocked Stramel out of the mix for the winter World Juniors even though he was firmly on his way to making the team after his performance at last summer's evaluation camp. Stramel is one of USA's biggest forwards and sometimes plays the game more like a linebacker. He's physical, but has good speed and good touch with the puck on his stick. If he's back to his old self, he has a chance to go very high in the 2023 NHL Draft.
Defense
Despite losing Jake Sanderson and Scott Morrow from the winter team, the U.S. D corps has some good depth. They'll have to make one cut from this group as they're more likely to go into the event with eight defensemen than the nine they currently have. They'd be fairly likely to dress seven defensemen in the games, meaning one will sit out each game. That said, there's good depth here, but more than anything this is a highly-mobile blue line. Most of the top guys that will play big minutes are high-end skaters that will do a good job of getting pucks out of the zone and up to the forwards. The U.S. has to have a strong transition game if they're going to keep pucks away from their net and this group is well equipped for that.
Sean Behrens, LHD, Denver (COL): After initially making USA's roster in the winter, a positive coronavirus test didn't allow Behrens to travel. Now he's got a second chance in this rescheduled World Juniors and USA will be glad to have him. A talented puck-mover and higher-end skater, Behrens played big minutes for Denver throughout his freshman season and produced 29 points including 26 assists. After helping the Pioneers win the national title, Behrens could find himself playing solid minutes for the U.S., perhaps even in a top-four role.
Brock Faber, RHD, Minnesota (MIN): One of the best defensive defensemen in college hockey last season, Faber ended up playing for Team USA at the 2022 Olympics in Beijing. He led the team in minutes played and showed tremendous poise against professionals. Faber also has gold medal experience as a member of the 2021 WJC team and helped Minnesota reach the Men's Frozen Four in the spring. It was a pretty good year for him, but it got even better this summer when his draft rights were traded to his hometown Minnesota Wild from Los Angeles. He will be Team USA's No. 1 defenseman and likely play major minutes and get all of the tough matchups. Faber is an elite skater and has advanced hockey sense that allows him to shut the opposition down.
Aidan Hreschuk, LHD, Boston College (CBJ): An especially mobile defenseman with good offensive instincts and solid defensive capabilities, Hreschuk was a late add to the 27-player roster. He had a strong final game in Team USA's camp to edge his way into the mix. He had just eight points in 37 games as Boston College struggled mightily last season, but his skating ability gives him a chance to fit this team's identity well, if he manages to make the final 25. UPDATE: Hreschuk was one of the final two cuts USA made before the tournament.
Luke Hughes, LHD, Michigan (NJD): Hughes had a great freshman season, but it really took off in the second half of the year. The No. 4 overall pick in 2021 by New Jersey broke Michigan's rookie defenseman scoring record with 39 points. It also allowed Hughes to be among the Hobey Baker Top 10 finalists. He's a better player now than he was in the winter with elite skating ability that allows him to escape pressure and be evasive in the offensive zone, Hughes is a goal-scoring threat from the back end. He'll likely play in USA's top-four and could be one of the left-shot defensemen asked to play on his off-hand side.
Wyatt Kaiser, LHD, Minnesota-Duluth (CHI): Mobility is probably one of the key attributes of USA's blue line and Kaiser is one of those players whose skating sets the foundation of his game. He's a mature defender, who doesn't get beaten easily and can make an impact in the offensive zone as well. He moves pucks well out of the zone, but likely won't be a major producer in this tournament. Instead, Kaiser will likely be getting some key matchups and helping USA shut down top lines.
Tyler Kleven, LHD, North Dakota (OTT): The most physical defenseman on USA's roster, Kleven is the kind of player the opposition is not eager to go into the corners with. His physical size and strength allow him to cast an intimidating presence on the blue line, but he also has the know-how and mobility to defend at a high level. Kleven also has a big shot from the point, but is not the most consistent offensively.
Ian Moore, RHD, Harvard (ANA): One of only two right-shot players on the blue line, Moore has good size and can really skate. He put up 15 points in 35 games as a freshman at Harvard. Moore can be difficult to get around and he's able to get pucks out of the zone with either his feet or good distribution skills. He probably won't get the same kind of minutes as some of the other guys on the roster, but he's going to be an important part of the depth USA boasts on the blue line.
Jack Peart, LHD, St. Cloud State (MIN): A late add to the team in the winter, Peart earned his way onto the squad with a strong first half with St. Cloud. The 2021 Minnesota Mr. Hockey saw big minutes as a first-year player with St. Cloud. He'll likely play in a depth role for Team USA, but his strong distribution skills make him a factor in all three zones.
Jacob Truscott, LHD, Michigan (VAN): Truscott didn't make the team in the winter, but he earned his way onto the preliminary roster here thanks to a strong second half with Michigan. Truscott was thrust into bigger minutes and handled them well for the Wolverines. He has average offensive capabilities and defends well. His familiarity with Luke Hughes might make for some good chemistry for USA on their back end.
Goalies
The U.S. will be without the best goalie in the age group as Drew Commesso opted not to play in the tournament. That leaves the Americans with a ton of uncertainty in net. To be frank, none of the three goalies Team USA is bringing have the same experience or pedigree as really any of the goalies the U.S. has typically taken to this tournament over the last 15 or more years. None of the three are drafted, none of the three had a save percentage over .900 last season and none appears to have a stranglehold on the No. 1 job. That's not to say that one of these guys can't play an amazing tournament. It's just that there isn't much of a track record there to expect it. Goaltending will be the primary concern for this team heading into the event.
Remington Keopple, Cornell (Undrafted): Keopple wasn't added to USA's camp until just before it was underway, but played his way onto the roster in camp. He was a standout goalie in the Minnesota High School ranks before moving onto the USHL where he played on weaker teams in Des Moines, but kept them in games.
Kaidan Mbereko, Colorado College (Undrafted): The only goalie who was on the team in the winter, Mbereko appeared to be the No. 3 at that point. He might just be the No. 1 now. Despite being under 6-feet, Mbereko is quick in the net. He appeared in 35 games for the Lincoln Stars in the USHL last season and had an .898 save percentage.
Andrew Oke, Saginaw Spirit (Undrafted): Playing as a rookie last season for the Saginaw Spirit, Oke appeared in 36 games for a team that really struggled. It was valuable experience as he saw a lot of shots. Oke kind of came out of nowhere to get this opportunity, but has as good a chance as the other two at seeing some action.
---
For more World Junior Championship notes and analysis, follow Chris on Twitter: @chrismpeters