Jake Guentzel Leads NHL Stars Lighting Up Da Beauty League This Season
Jake Guentzel Leads NHL Stars Lighting Up Da Beauty League This Season
Jake Guentzel and James van Riemsdyk are among NHL stars bringing the heat early this season in Da Beauty League action.
Jul 26, 2022
by Chris Peters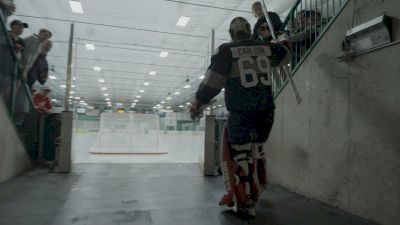 Da Beauty League is two weeks into its season and there have already been loads of highlights collected by the numerous NHL players that dot the rosters of the six teams.
I was out at the opening weekend of Da Beauty League action and as a first-timer, I was blown away by the competitiveness and fun atmosphere the league brings out in both the players and the fans. The skill of some of Minnesota's best and brightest players is a sight to behold. With it being the offseason, the intensity might be down, but the creativity isn't. These games offer some of these players their best chances to experiment and try things they might not have the time or space to do in the regular season, especially since Da Beauty League is four-on-four. It makes for dramatic goals, desperation saves and some of the silliest stick work you'll see. The entertainment value is high.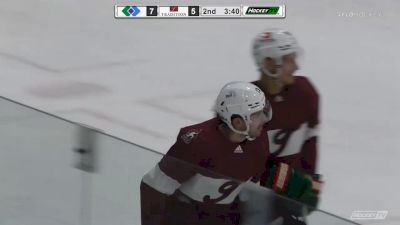 What makes the league special, beyond the showcase of talent, is how much the players care about the opportunity they have to give back to the community and getting way closer to the young players that look up to them.
The pathway to the parking lot is lined with kids desperate for autographs or even just a conversation. The tunnels to the dressing room are lined with screaming youth hockey players in their jerseys reaching out with Sharpies and mini sticks or a blank space on their jersey. And their heroes often oblige, taking on the impossible task of getting through as much of the throng as they can.
These guys don't have to do it. They could have easily trained in the comfort of a private ice session, or in small groups, but instead they bring it to their communities and over the first two weeks of the season, they've put on a show.
Here's a quick look at five NHL players standing out in a major way through the first two weeks of Da Beauty League action.
Jake Guentzel, Pittsburgh Penguins: Playing for Nor-Son this summer, the Pittsburgh Penguins sniper has been one of the league's most popular players this season. It's not a surprise to see multiple No. 59 jerseys in Penguins black and gold in the crowd. And the star forward is all too eager to bring the heat.
Through the first two games, Guentzel has scored an astonishing eight goals, some of the highlight-reel variety. He had a hat trick in Nor-Son's opening night win over Element, 8-7 and scored half his team's goals in an 11-10 loss to Walser last week. His nine points overall are tied for Da Beauty League lead at the present as well.
A work of art 🎨 @jakeguentz

📽️: @FloHockey
📺: https://t.co/mqzJALTjYa#LetsGoPens | @norsoninc pic.twitter.com/z963txFg5r

— Da Beauty League (@DaBeautyLeague) July 20, 2022
James van Riemsdyk, Philadelphia Flyers: One of the few non-Minnesota natives to play in Da Beauty League, van Riemsdyk might not be born and raised in the State of Hockey, but it's where he makes his offseason home. The New Jersey native and former No. 2 overall pick by the Flyers has been playing along his usual Keystone State rival Guentzel on Nor-Son's forward lineup. "JVR" is leading the league through two games with five assists and is tied with Guentzel with nine points overall as he also has four goals — good for second most in the league.
On pace to surpass 900 NHL games played this season, the veteran winger looks to be having some fun with his summer hockey in his adopted home state.
Jack Ahcan, Boston Bruins: Though he's gotten a few looks with the big club, the 2022-23 season looks like it could be a breakthrough season for Ahcan. The talented young defenseman appeared in 46 games with the American Hockey League's Providence Bruins, registering 23 points. He also appeared in six games with the big club in Boston, scoring his first career NHL goal in the process. If Ahcan is looking to make a big splash on the Bruins roster this year, he's putting in the work this summer.
Ahcan missed the first week of games, but was good to go in Week 2 and did he ever put on a show. In Walser's 11-10 win over Nor-Son, Ahcan scored three goals and added two assists. The Savage, Minn., native and former St. Cloud State star certainly came to play right away this summer.
Justin Holl, Toronto Maple Leafs: Only two teams have won both their games so far in Da Beauty League action, Walser and Tradition. Holl is leading the way for Tradition with six point through two games so far. The 6-foot-4 blue liner is coming off his most productive NHL season, having collected 23 points in 69 games for the Maple Leafs last season. He's put on some special moves this summer while helping Tradition get off to the hot start.
Perhaps inspired by special guest coach, NFL All-Pro tight end George Kittle of the San Francisco 49ers last week, Holl had a goal and an assist as Tradition dispatched Bic in a tight 6-5 game. While Holl is better known for his defensive play, he's shown some pretty solid skill thus far.
.@gkittle46 — big hockey guy

📍@DaBeautyLeague pic.twitter.com/SuzHrm7veI

— Jessi Pierce (@jessi_pierce) July 21, 2022
Steven Fogarty, Minnesota Wild: Maybe it's home-ice advantage for Steven Fogarty, who has 29 NHL games to his name. Now playing for Element in Da Beauty League and having recently signed a two-way contract with the Minnesota Wild, Fogarty played at Braemar Arena as a member of the vaunted Edina Hornets high school hockey team. So he knows his way around the surface. He knows it so well that he's currently third in the league in scoring with seven points including a two-goal, two-assist game in Element's season-opening defeat against Nor-Son and a three-assist effort in a 7-6 win over Tria. A graduate and former captain of Notre Dame, Fogarty has eight strong seasons of AHL experience and has appeared in parts of five NHL campaigns over his career. But now the former Edina star has a chance to play within the Minnesota Wild system for the first time in his career.
Others of note:
Austin Poganski, Seattle Kraken: Recently acquired by Seattle, Poganski played a career-best 16 NHL games last season for the Winnipeg Jets. He did most of his damage in the AHL with the Manitoba Moose, but will likely spend next season with Seattle's expansion farm club, the Coachella Valley Firebirds. Through two games, Poganski is fourth in Da Beauty League scoring with six points.
Jake Gardiner, Carolina Hurricanes: Unable to play last season due to injury, Gardiner looks to be rounding into form this summer as he has five points through two games for Walser. The former first-round pick has been making a lot of plays out there.
Nick Bjugstad, Arizona Coyotes: Playing for Tradition, Bjugstad celebrated his new free agent contract with the Coyotes by collecting three points in an 8-7 win over Tria in Da Beauty League's opening game. He picked up two more points in last week's 6-5 win.
.@NBjugstad72 adds a little insurance to @traditionco's lead.

📽️: @FloHockey
📺: https://t.co/mqzJALTjYa#Yotes pic.twitter.com/9YHHPsgvS1

— Da Beauty League (@DaBeautyLeague) July 21, 2022
Zach Parise, New York Islanders: One of the elder skatesmen of Da Beauty League and among the top active American point scorers in the NHL today, Parise made his season debut last week with three points for Nor-Son in an 11-10 loss to Walser.
Nick Jensen, Washington Captials: On opening night, the Capitals defensemen collected a hat trick for TRIA in an 8-7 loss to Tradition.
Erik Haula, New Jersey Devils: The same day he was traded from Boston to New Jersey, Haula put up three points including a goal and two assists in Tradition's season-opening 8-7 win over TRIA.
---
Da Beauty League continues Wednesday night with a trio of games exclusively streaming on FloHockey. To learn more about the league, follow @DaBeautyLeague.