2022 NHL Draft Grades: Analyzing All 32 Teams' Draft Classes
2022 NHL Draft Grades: Analyzing All 32 Teams' Draft Classes
Chris Peters hands out his draft grades for all 32 NHL teams.
Jul 8, 2022
by Chris Peters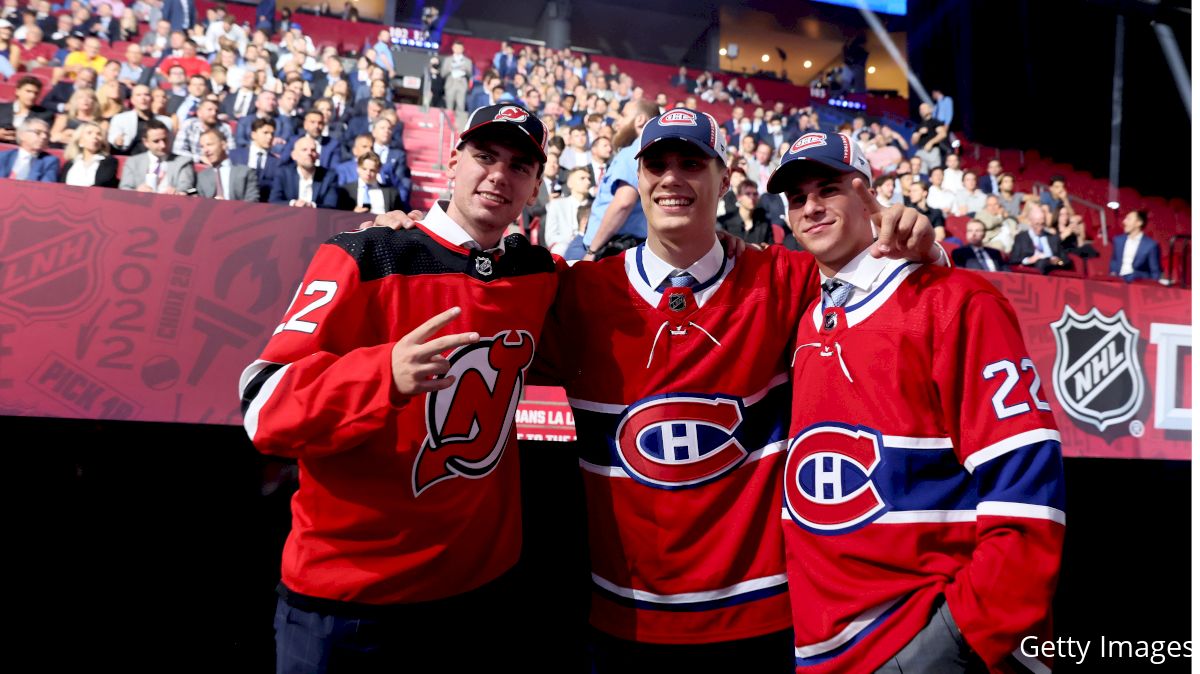 The 2022 NHL Draft has come to a close. It's been another wild year as we're into our third draft impacted in some form or another by the pandemic. Next year will hopefully be different. All-in-all, this was an interesting year with twists and turns and this year's draft was as unpredictable and chaotic as we could have hoped for. It doesn't always happen that way.
Now that all 225 picks have been made, we can take some stock of the classes and evaluate each. Every year, I try to provide objective analysis of each class as I see them today. It is truly a fool's errand to grade a draft right after it happens because it is going to be years before we know how these teams actually did. So many of these players won't be in the NHL for at least two or three years. Many more won't make it all.
However, just as we project the players in our draft rankings, we have to look at the classes and give the best assessment we can with the information we have TODAY. We also have to realize that players are going to develop in ways we can't possibly predict and that will wildly change the way we view certain individual picks. It's the nature of the game and it's why scouting is an inexact science. But now that all the picks are in, let's take a look at how everyone did.
Anaheim Ducks
Grade: B+
First rounders: Pavel Mintyukov, D; Nathan Gaucher, C
Day 2 picks: Noah Warren, D; Tristan Luneau, D; Ben King, C; Connor Hvidston, LW; Michael Callow, RW; Vyachelsav Buteyets, G
Analysis: The Ducks got a little bit of everything in this draft, which is always nice when it works out that way. The top two picks are quality pieces and probably don't have especially long NHL timelines. Mintyukov helps make a skilled blue line even more skilled and Gaucher gives them strength down the middle. Meanwhile, I have a lot of time for both Noah Warren and Tristan Luneau with the former being one of the draft's strongest and most physical defensemen and the latter being a good puck mover. Overager Ben King has good size and scored in bunches in the WHL this season, while Hvidston, Callow and Buteyets are classic late-round fliers where there's some size and potential, but a longer development timeline. All-in-all, the Ducks added very solid depth to their prospect pool, even if I'm not sure they were able to land a star-caliber player with their No. 10 pick. I do like Mintyukov's upside, but I think the Ducks may have left a little value out there.
Arizona Coyotes
That's a good looking group of first round draft picks. 🤩 pic.twitter.com/G5UzGSkPAO

— Arizona Coyotes (@ArizonaCoyotes) July 8, 2022
Grade: A
First rounders: Logan Cooley, C; Conor Geekie, C; Maveric Lamoureux, D
Day 2 picks: Artyom Duda, D; Julian Lutz, LW; Miko Matikka, RW; Jeremy Langlois, D; Matthew Morden; Maksymilian Szuber, D; Adam Zlnka, RW
Analysis: The Coyotes had to take some swings in this draft and I think they've got their No. 1 center of the future in Cooley, with the bigger, stronger Geekie as a solid depth guy down the road. I thought the Lamoureux pick was a pretty significant reach, but you understand reaching for a player with his size and athleticism. The Day 2 picks were interesting, but I liked Duda and Lutz quite a bit this year and Matikka is a guy that I think has a real chance to be something if he improves his skating. I also had Jeremy Langlois ranked in my Top 100, which gives Arizona seven players from my list. While I didn't list Morden, I think he's got a lot of upside as a big defenseman just growing into his body. Still, this class is defined by the very top. Cooley was my No. 1 ranked player, they got him at third and I think he sets them up well in the long term.
Boston Bruins
Grade: C
First rounders: None
Day 2 picks: Matthew Poitras, C; Cole Spicer, C; Dans Locmelis, C; Frederic Brunet, D; Reid Dyck, G; Jackson Edward, D
Analysis: Without a pick until No. 54, it was tough for the Bruins to get decent value here. I think Matthew Poitras has some upside and I ranked him 85th as I see the skill, but didn't necessarily see consistency from him. Meanwhile, Cole Spicer was a player I had ranked 79th and like the versatility he brings to the prospect class. Reid Dyck could be one of the real value adds of this class as he's one of the better goalies in the group with some good size and athleticism, but will need refinement. I also like the selection of Dans Locmelis, who stood out at the World U18s playing for Latvia had produced well in Swedish junior this season. Both Brunet and Edward are a pair of guys that still have a lot to prove.
Buffalo Sabres
Letter Grade: A
First rounders: Matt Savoie, C/W; Noah Oslund, C; Jiri Kulich, C/W
Day 2 picks: Topias Leinonen, G; Viktor Neuchev, LW; Mats Lindgren, D; Vsevolod Komarov, D; Jake Richard, RW; Gustav Karlsson, C; Joel Ratkovic Berndtsson, RW; Linus Sjodin, C.
Analysis: Built on the strength of three first-round picks, the Sabres got a lot more skill into their system. They have legit offensive threats in all three of their first-round selections and were able to add value beneath that. Despite having goaltending depth in their system, they went out and got top-European goalie Topias Leinonen. Additionally, two-way defenseman Mats Lindgren was another player ranked in my Top 100, giving the Sabres five such players. Buffalo has also mined some really good value in recent years with late-round picks out of Sweden and went to that country with each of their last three picks. Buffalo's grade for this draft was pretty much sealed in the first-round, though. They got a lot better up front with that trio of picks.
Calgary Flames
Grade: C-
First rounders: None
Day 2 picks: Topi Ronni, C; Parker Bell, LW; Parker Bell, LW; Cade Littler, C
Analysis: The Flames didn't have a ton to work with, but did manage to land one of my personal favorite prospects in this draft in Topi Ronni. He's a hard-nosed player who just carries himself like a pro already when he's on the ice. I think he'll fit into a variety of roles when he's ready. After that, the Flames made some bets on size and Cade Littler – picked 219th overall – is a player trending up. He has another year of junior before he moves on to Minnesota State for college hockey. He'll be one to watch for a while. When you only have three picks, though, it's going to be hard for your class to stack up well with the others.
Carolina Hurricanes
Grade: B+
First rounders: None
Day 2 picks: Gleb Tikozov, LW, Alexander Perevalov, LW; Simon Forsmark, D; Cruz Lucius, RW; Vladimir Grudinin, D; Jakub Vondras, G; Alexander Pelevin, D
Analysis: In recent years, I feel like I'm on a similar page with the Hurricanes. Despite not having any picks until 60th overall, they managed to land five players off of my Top 100. Three of those players are Russian, which shows you how unbothered the Canes were by any concerns about getting those players over. Gleb Trikozov and Alexander Perevalov are highly skilled wingers that should be able to produce, while Simon Forsmark and Vladimir Grudinin are both defenseman who played top-level pro hockey this season in their native countries. Cruz Lucius may be the best value pick of the bunch as I had him 67th on my list, but he went 124th. The Hurricanes have traditionally drafted well no matter where they pick and it looks like this should be another promising class.
Chicago Blackhawks
Frank Nazar said he tries emulating his game after Brayden Point. He wants to become a complete center. #Blackhawks pic.twitter.com/SSA2Xq6Ft0

— Charlie Roumeliotis (@CRoumeliotis) July 8, 2022
Grada: A
First rounders: Kevin Korchinski, D; Frank Nazar, C; Sam Rinzel, D
Day 2 picks: Paul Ludwinski, C; Ryan Greene, C; Gavin Hayes, LW; Samuel Savoie, LW; Aidan Thompson, C; Dominic James, C; Nils Juntorp, RW; Riku Tohila, C
Analysis: So much of this Blackhawks draft is going to be defined by the trades they made as they came into Thursday with no first-round picks. They left with three, but it came at a high price. I'm not going to grade based on the trades, only on the quality of the class. And quite frankly, I think Chicago did very, very well. Korchinski and Rinzel are both high-upside defensemen, but I think the crown jewel of this class will be Frank Nazar, who I ranked No. 7. The Blackhawks landed six players off of my Top 100 and another – Dominic James – off of my intriguing late-rounders list. They got more skilled, they added size and they are going to be faster, too. Skating is a theme with a lot of the players listed. Chicago is in for some short-term pain for potentially long-term gain and I think this is a very strong starter pack for them.
Colorado Avalanche
Grade: D+
First rounders: None
Day 2 picks: Chris Romaine, D; Ivan Zhigalov, G
Analysis: When you win the Stanley Cup, you're often not going to have a ton of draft picks. The Avs had even fewer than most teams would here. With no picks before 193rd, it was going to be impossible for them to have a strong draft. That said, Chris Romaine was a talented prep player with a long developmental timeline ahead of him and Ivan Zhigalov showed a lot of ability in junior this season. Colorado can continue to bask in the Stanley Cup glow and not worry about where their prospect system is at. They still have good players in there, but this draft won't materially change their outlook, hence the low grade.
Columbus Blue Jackets
Good morning to our two new Blue Jackets ☀️@mhl | #CBJ pic.twitter.com/P5SesRXsH8

— Columbus Blue Jackets (@BlueJacketsNHL) July 8, 2022
Grade: A
First rounders: David Jiricek, D; Denton Mateychuk, D
Day 2 picks: Luca Del Bel Belluz, C; Jordan Dumais, RW; Kirill Dolzhenkov, RW; Sergei Ivanov, G; James Fisher, RW
Analysis: I really liked Columbus's draft. They got two of my top three defensemen with their first round picks, added another player I had a first-round grade on in Luca Del Bel Belluz, got one of the draft's most productive players in undersized Jordan Dumais, and got my No. 3-ranked goaltender in Sergei Ivanov. On top of that, they took a swing on one of the draft's most intriguing talents in 6-foot-6 Russian Kirill Dolzhenkov, who has to be seen to be believed. The Blue Jackets have really shored up their blue line for the foreseeable future and took chances when there were good players with maybe a few flaws that need worked out on the board. I think Columbus can feel like their organization took a step forward with this class.
Dallas Stars
Grade: B-
First rounder: Lian Bichsel, D
Day 2 picks: Christian Kyrou, D; George Fegaras, D; Gavin White, D; Maxim Mayorov, G; Matthew Seminoff, RW
Analysis: The Stars clearly focused heavily on defensemen in this draft and got some good ones with their first two picks. I think Bichsel is going to be a pretty solid player thanks to his size and mobility, and Kyrou put up a lot of points this year showcasing pretty solid overall puck skills. The rest of the draft was only OK for me, though I remain intriguing by Maxim Mayorov. I think they took a couple of interesting swings in the mid-rounds, including with third-rounder George Fegaras who is due to attend Cornell by 2023-24. The Stars have drafted really, really well over the last few years, so it's hard to criticize them when they've been proven right so often. Comparing it to other classes, I think it's a good, not great haul for them.
Detroit Red Wings
Frame it. pic.twitter.com/KIH0FztodO

— Detroit Red Wings (@DetroitRedWings) July 8, 2022
Grade: B-
First rounder: Marco Kasper, C
Day 2 picks: Dylan James, LW; Dmitri Buchelnikov, LW; Anton Johansson, D; Amadeus Lombardi, C; Maximilian Kilpinen, LW; Tnias Mathurin, D; Owen Mehlenbacher, C; Brennan Ali, C
Analysis: The Red Wings traditionally have a list that's a lot different than what you see in the public and it has worked out for them a number of times. I think Marco Kasper was a fine first pick as he fills a need and shouldn't take long to get to the NHL. Their second-round picks were pretty solid, too, as James was a major contributor to the USHL champion Sioux City Musketeers and Buchelnikov was one of the most productive young players in Russia's top U20 league. Outside of that, I think there are some real mid-round swings with players that are going to need some time to sort out what kind of players they can be. The Red Wings, however, have bought a lot of the benefit of the doubt with their recent draft history.
Edmonton Oilers
Grade: C-
First rounder: Reid Schaefer, RW
Day 2 picks: Samuel Jonsson, G; Nikita Yevseyev, D; Joel Maatta, C
Analysis: With a late first-round pick and only three other picks, the next of which was 158th overall, the Oilers were not in position to score a particularly strong letter grade. They have some interesting pieces with their late-round picks including 6-foot-5 goalie Samuel Jonsson, who fits an organizational need. Schaefer is the player to carry the class and I think he'll be a good prospect, but probably not a star-caliber player. Edmonton just didn't really propel a below-average prospect pool much further.
Florida Panthers
Grade: C-
First rounders: None
Day 2 picks: Marek Alscher, D; Ludvig Jansson, D; Sandis Vilmanis, LW; Josh Davies, LW; Tyler Muszelik, G; Liam Arnsby, C; Jack Devine, C/W
Analysis: The Panthers didn't pick until 93rd overall, but they did score two players off of my top 100 including Sandis Vilmanis and Jack Devine. I also think that Josh Davies pick could look better a few years down the road as he is a speedy, abrasive player. In the end, the Panthers are in win-now mode and won't have a lot of top picks for the next few years. This draft haul adds depth to their system, but not much else. There are a lot of maybes in this group, though I did like the Jack Devine pick so late as I think he's going to surprise some people with his play as a sophomore at the University of Denver next season.
Los Angeles Kings
Grade: B-
First rounders: None
Day 2 picks: Jack Hughes, C; Kenny Connors, C; Angus Booth, D; Otto Salin, D; Jared Wright, RW; Jack Sparkes, D; Kaleb Lawrence, RW
Analysis: I thought the Kings made the most of what they had. With one of the deepest prospect pools in the league, they're starting to transition into that win-now mode, which is going to give them lower picks in subsequent years. Los Angeles still ended up with three Top 100 players including Jack Hughes, Kenny Connors and Otto Salin. Connors was one of my favorite sleepers all season and should be a guy to watch to make it a few years down the road. One of the real wild cards of the class is Jack Sparkes, who is a towering 6-foot-8 and showed some real pro upside in the OJHL this season. With no first-rounder, Los Angeles got some good value in the mid-rounds as they so often seem to.
Minnesota Wild
Grade: A-
First rounders: Liam Ohgren, LW; Danila Yurov, RW
Day 2 picks: Hunter Haight, C; Rieger Lorenz, LW; Mikey Milne, LW; Ryan Healey, D; David Spacek, D; Servac Petrovsky, C
Analysis: I liked what Minnesota did quite a bit. They landed two powerful, highly-offensive wingers in the first round and kept building on that offensive potential with their next three picks. The two defensemen they got I think will provide great value as Ryan Healey is an exceptional skater, while David Spacek put up a boatload of points in a breakout season. Servac Petrovsky was also a player under consideration for my Top 100, but just missed out. In all, the Wild picked four players off of my Top 100 and I think they did what they set out to do, which is to build a stronger forward pipeline.
Montreal Canadiens
History was made 🇸🇰 @NHL @CanadiensMTL @NJDevils pic.twitter.com/3ahWlsLFUB

— Peter Bondra (@PeterBondra12) July 8, 2022
Grade: A
First rounders: Juraj Slafkovsky, LW; Filp Mesar, RW
Day 2 picks: Owen Beck, C; Lane Hutson, D; Vinzenz Rohrer, C; Adam Engstrom, D; Cedrick Guindon, LW; Jared Davidson, C; Emmett Croteau, G; Petteri Nurmi, D; Miguel Tourigny, D
Analysis: The Habs made 11 picks, including No. 1 overall and while I may have had Slafkovsky third on my final rankings, I still think the world of the player and believe he can be a top-line winger for years to come. Each of Montreal's first five selections were part of my Top 100, including Lane Hutson who had a first-round grade from me and Owen Beck, who was just outside of that first-round range. I think they did a good job of addressing needs and adding a ton of value to a prospect system that was trending down after a few recent graduations or trades. I think the Habs did well to replenish their system while adding significant value in both the near- and long-term.
Nashville Predators
Grade: B+
First rounder: Joakim Kemell, LW
Day 2 picks: Adam Ingram, C; Kasper Kulonummi, D; Cole O'Hara, RW; Graham Sward, D; Ben Strinden, C
Analysis: Having Joakim Kemell fall into their laps was fortuitous. He's one of the draft's best goal scorers. Meanwhile, Adam Ingram is a big center who can score, but I want to see him push his development a bit more. I also really liked the pick of Kulonummi in the late third as I think he's a really gifted puck mover and should benefit from Nashville's long history of developing defensemen as well as any organization in the league. All three of those players were in my Top 100 with the latter two getting second-round grades from me. I think this class is full of good value.
New Jersey Devils
Simon Nemec is a Devil SZN.#DevilsDraft | @Verizon pic.twitter.com/hgB2AhSH4E

— New Jersey Devils (@NJDevils) July 8, 2022
Grade: B
First rounder: Simon Nemec
Day 2 picks: Seamus Casey, D; Tyler Brennan, G; Dniil Orlov, D; Charlie Leddy, D; Petr Hauser, RW; Josh Filmon, LW, Artem Barabosha, D
Analysis: The Devils addressed an organizational need by picksing Nemec second overall and I think that was a fair pick, even though I had him outside of my top three. They didn't need centers and that's who was left. The Devils got another good right-shot blueliner in the second round with Seamus Casey and picked up my No. 1 ranked goaltender in Tyler Brennan. The Devils really focused on the defense in this draft and I think I would have liked to see them take a few more swings on some of the higher value forwards that were available, but they could have landed some good value in 6-foot-2 forward Josh Filmon who is just starting to grow into his body and has shown some good potential.
New York Islanders
Grade: C+
First rounders: None
Day 2 picks: Calle Odelius, D; Quinn Finley, LW; Isaiah George, D; Matt Maggio, RW; Daylan Kuefler, LW
Analysis: For not having a first round pick, I liked the Islanders Day 2. They picked up three guys off of my Top 100 and I think Odelius could be a steal at 65th as a smooth-skating defenseman with some flashes of offense. Quinn Finley has great hand skills and should get better as he gets stronger, while Isaiah George is a bit of a raw talent with higher-end skating ability and some physical edge. It's hard to get a high grade when you're picking as late as 65th to start your draft, but I think the Islanders did well with what they had, which was not much.
New York Rangers
Grade: C+
First rounders: None
Day 2 picks: Adam Sykora, C/W; Bryce McConnell-Barker, C; Noah Laba, C; Victor Mancini, D; Maxim Barbashev, LW; Zakary Karpa, C
Analysis: With no picks until 63rd overall, the Rangers still picked up two of my Top 100 players. Adam Sykora is the prize of the class as I think he really showcased his growth over the last season, culminating with his inclusion on the Slovakian national team at the World Championship. He's going to need more time to grow, but he has speed and tenacity. McConnell-Barker was a player that had some high-pick buzz going into the season, but just hasn't lived up to that quite yet and maybe needs some help developmentally. Victor Mancini is a real wild card pick, but he's got size and some skating ability to build off of. Maxim Barbashev was a prospect that left me wanting more so often this year, but you can see the tools. It's a decent class, but without any high picks, there wasn't much they could have done to improve their grade significantly.
Ottawa Senators
Grade: C-
First rounders: None
Day 2 picks: Filp Nordberg, D; Oskar Pettersson, RW, Tomas Hamara, D; Stephen Halliday, C; Jorian Donovan, D; Cameron O'Neill, RW; Kevin Reidler, G; Theo Wallberg, D; Tyson Dyck, C
Analysis: The Sens probably won't care that I didn't love their draft because they got two-time 40-goal scorer Alex DeBrincat in a trade on Day 1. That left them without the No. 7 pick. ONly one player they picked was on my Top 100 – defenseman Tomas Hamara. The Sens have a decent enough prospect system with some top quality defensemen already. I don't think this class moves them forward a whole bunch beyond filling out system depth with a couple of intriguing guys like Filip Nordberg, Hamara and Jorian Donovan potentially pushing for spots down the line. Just a kind of middle-of-the-road draft for me, hence the grade.
Philadelphia Flyers
#NHLDraft Portraits: A tradition unlike any other. pic.twitter.com/ovJ05jnmSf

— Philadelphia Flyers (@NHLFlyers) July 8, 2022
Grade: B
First rounder: Cutter Gauthier, C/W
Day 2 picks: Devin Kaplan, RW; Alex Bump, LW; Hunter McDonald, D; Santeri Sulku, LW; Alexis Gendron, RW
Analysis: Cutter Gauthier is a great prize for a bad season. I think he's one of the most versatile and quality offensive players in this draft and he'll only get better. I also really liked the Devin Kaplan pick as I think he's got an especially high ceiling seven though he wasn't able to show it all the time this year. Alex Bump was also a Minnesota high schooler who received a lot of consideration for my Top 100, but ultimately just fell short. The Flyers don't get any immediate help, but some of these guys could be able to make a difference for them two or three years down the line. I think they've gotten more skilled overall with this group, but didn't have a ton of high picks to really bolster a stronger grade.
Pittsburgh Penguins
Grade: C
First rounder: Owen Pickering, D
Day 2 picks: Sergey Murashov, G; Zam Plante, C; Nolan Collins, D; Luke Devlin, C
Analysis: The Penguins don't often have a first-rounder, so it's nice to see them be able to land a high-upside project like Owen Pickering. As he gets stronger, he could become one of the top blueliners to come out of this class, it's just going to take some time. I also have a lot of time for Zam Plante, who is on the smaller side, but highly skilled and following a path not dissimilar to Jake Guentzel's as he'll play another season in the USHL before moving on to college. Nolan Collins and Luke Devlin are a couple of other players that come with size and are fun projects for a team to try to develop. WIth only one pick in the first three rounds, it was harder for them to build a class that is going to significantly propel forward one of the NHL's weakest prospect systems, but this is a start.
San Jose Sharks
Grade: B-
First rounder: Filip Bystedt, C
Day 2 picks: Cameron Lund, C; Mattias Havelid, D; Michael Fisher, D; Mason Beaupit, G; Jake Furlong, D; Joey Muldowney, RW; Eli Barnett, D; Reese Laubach, C
Analysis: I wasn't a huge fan of the Bystedt pick as I worry about his offensive upside despite his size and speed combination, but it was clear the Sharks wanted to build up some size in their system. Second-rounder Cam Lund is an especially intriguing prospect who has the size and skill combo to project very favorably. Meanwhile, Mattias Havelid is one of the best offensive defensemen in this class on a pure skill basis and Michael Fisher is one of the best prep players in the U.S. this season. All four of their first picks were on my Top 100. There were a lot of swings on upside late in the draft as there should be and I think Jake Furlong who was picked 140th could be a really solid value bet.
Seattle Kraken
Shane Wright, c'mon down! pic.twitter.com/90RFkF3Y7y

— Seattle Kraken (@SeattleKraken) July 8, 2022
Grade: A
First rounder: Shane Wright, C
Day 2 picks: Jagger Firkus, RW; Jani Nyman, RW; Niklas Kokko, G; David Goyette, G; Ty Nelson, D; Ben McDonald, C; Tyson Jugnauth, D; Tucker Robertson, C; Barrett Hall, C; Kyle Jackson, C
Analysis: To put it simply, I really like this class a lot for the Kraken. This is such a huge chance for them to propel their organization forward. Having Shane Wright land in their lap at No. 4 feels like such a fortuitous bounce for the expansion franchise, but then they also got my No. 15 prospect Jagger Firkus 35th. I think he's a high-end scoring talent with a chance to really pop in this next season of junior hockey. In all, the Kraken picked six players from my Top 100 including Tucker Robertson at 123 after his 41-goal season in the OHL. They addressed all sorts of organizational needs, too. I do think they're going to have to focus on finding some more quality defense prospects in the near future, but they found so much value on the draft board with four second-round picks that I think they've got to be thrilled with what they're coming out of this draft with. This was a very good two days for Ron Francis and company.
St. Louis Blues
Grade: B+
First rounder: Jimmy Snuggerud, RW
Day 2 picks: Aleksanteri Kaskimaki, C; Michael Buchinger, D; Arseni Koromyslov, D; Marc-Andre Gaudet, D; Landon Sim, RW
Analysis: Each of the Blues' first four picks were part of my Top 100 rankings and I like the way their draft was structured. Snuggerud is a clear stylistic fit for the organization, but they're also bolstering their skill with two really gifted offensive performers in Kaskimaki and Buchinger. In fact, I think Buchinger is one of the best overall puck-handling defensemen in the draft and his skill leads me to believe there's even more upside. Koromyslov is going to be a bit of a project and there's the added Russian risk at this point, but he's shown a lot of potential. It's not a big class in terms of number of players, but I think it's a higher-value one.
Tampa Bay Lightning
Grade: B
First rounder: Isaac Howard, LW
Day 2 picks: Lucas Edmonds, RW; Nick Malik, G; Connor Kurth, RW; Dyllan Gill, D; Klavs Veinbergs.
Analysis: The Lightning don't need anyone to do them favors, but they always seem to take advantage of skill players dropping. Isaac Howard is one of my favorite players in the draft and had him ranked 16th. He is a scorer and an expert puck-handler. Meanwhile, Lucas Edmonds and Connor Kurth were two of my sleepers to watch this year and they were picked up at 86th and 192nd, respectively. Also, goalie Nick Malik has passed through a few drafts, but put up a huge season in Finland's top pro league this year to suggest there might be some legit NHL upside there. The Lightning seemed to have one of their typical classes, where the value just finds them.
Toronto Maple Leafs
Grade: C-
First rounders: None
Day 2 picks: Fraser Minten, C; Nicholas Modenhauer, RW; Dennis Hildeby, G; Nikita Grebenkin, RW; Brandon Lisowsky, LW
Analysis: The Leafs didn't have a lot to work with as they had to shed their first-rounder in a trade with Chicago to get rid of some salary from their NHL roster. Fraser Minten was a player that grew on me throughout the season and played some of his best hockey down the stretch for Kamloops. He's not a flashy player, but he's effective. Both he and Nick Moldenhauer were on my Top 100, so the Leafs did manage to find some value. The real wildcard of this class is goalie Dennis Hildeby who put up big numbers in limited action this year in Sweden. I didn't have much of a book on him, but have heard good things and the numbers certainly look promising. Either way, this is a small class with few picks and not necessarily the most exciting haul you'll find this year.
Vancouver Canucks
Grade: B
First rounder: Jonathan Lekkerimaki, RW
Day 2 picks: Elias Pettersson, D; Daimon Gardner, C; Ty Young, G; Jackson Dorrington, D; Kirill Kudryavtsev, D
Analysis: I did not expect Lekkerimaki to be there at 15 for the Canucks and should they ever be glad he was. He's one of the more dynamic offensive players in the class with high-end scoring ability and great playmaking sense overall. Elias Pettersson, who shares a name with one of Vancouver's biggest stars, is more of a stay-at-home defenseman and ended up on my Top 100. Daimon Gardner had a big season in high school this year and should be propelled forward a bit by another year of junior. Jackson Dorrington is also a longer-timeline developmental project but has good size and showed well at the USHL level this season. Lekkerimaki is the highlight of the class, though, and pulls the letter grade up substantially.
Vegas Golden Knights
Grade: C
First rounders: None
Day 2 picks: Matyas Sapovaliv, C; Jordan Gustafson, C; Cameron Whitehead, G; Patrick Guay, C; Ben Hemmerling, RW; Abram Wiebe, D
Analysis: There was a time where Sapovaliv was getting first-round buzz. He's got the frame and some good skills, but we just need to see it more consistently. Jordan Gustafson was a late-riser this season and his play really drove things for Seattle at various points of this postseason. Meanwhile, Cameron Whitehead put together a very strong season in the USHL and is about to head to Northeastern University where he'll be part of a battery that includes top prospect Devon Levi. Without a first-rounder this year, the Golden Knights weren't going to be able to make much fo a dent in a prospect pool that has been largely impacted by trades in recent years. It's a decent enough class for where they were able to pick this year.
Washington Capitals
Grade: B+
First rounder: Ivan Miroshnichenko, LW
Day 2 picks: Ryan Chesley, D; Alexander Suzdalev, LW; Ludwig Persson, LW; Jake Karabela, C; Ryan Hofer, RW; David Gucciardi, D
Analysis: There's a lot of high-risk, high-reward in this class, especially at the top with Ivan Miroshnichenko, but the Caps also landed one of my top 25 players in Ryan Chesley and another Top 100 entry in Jake Karabela. Alexander Suzdalev is another player who clearly has skill, he just hasn't put it all together yet and I suppose we could say similar things about Ludwig Persson, though they're quite different players. David Guicciardi was the club's last pick and he's an energetic defenseman with skill and some edge currently playing at Michigan State. This class is going to be defined by Miroshnichenko and Chesley, however, and if they both hit where I think they can go, the Caps could have some major impact players on their hands, especially Miroshnichenko who should thrive under the tutelage of Alex Ovechkin.
Winnipeg Jets
Grade: A-
First rounders: Rutger McGroarty, LW; Brad Lambert, C/W
Day 2 picks: Elias Salomonsson, D; Danil Zhilkin, C; Garret Brown, D; Fabian Wagner, C; Domenic Divincentiis, G
Analysis: The Jets landed four players off of my Top 100 and I think Garrett Brown, who didn't make it, was close to being a late add. They've got a little bit of everything here with some strong forwards, two solid, mobile defenders and some swings on high-end skill. This class could be supercharged if Brad Lambert rediscovers his game and hits the ceiling so many of us thought was there before this season. He's got a chance to be a special player, but the next steps are on him to get better. McGroarty is a high-character, high-motor player who can score and I think could one day wear a letter for this team. Meanwhile, Salomonsson, Zhilkin and Brown are all guys that have a lot of elements of really good players, but need to unlock a couple more tools to really hit their stride. Fabian Wagner may also yet provide some significant value down the line for this club. The Jets have drafted mostly well over their existence since moving to Winnipeg. This looks like a class that's pretty much paint by numbers from some of those quality classes of a few years back.