Atlantic Hockey
Atlantic Hockey Announces 2022-23 Season Schedule
Atlantic Hockey Announces 2022-23 Season Schedule
AHA unveils 130-game slate and revamped postseason tournament for the 2022-23 season.
Jun 28, 2022
by FloSports Staff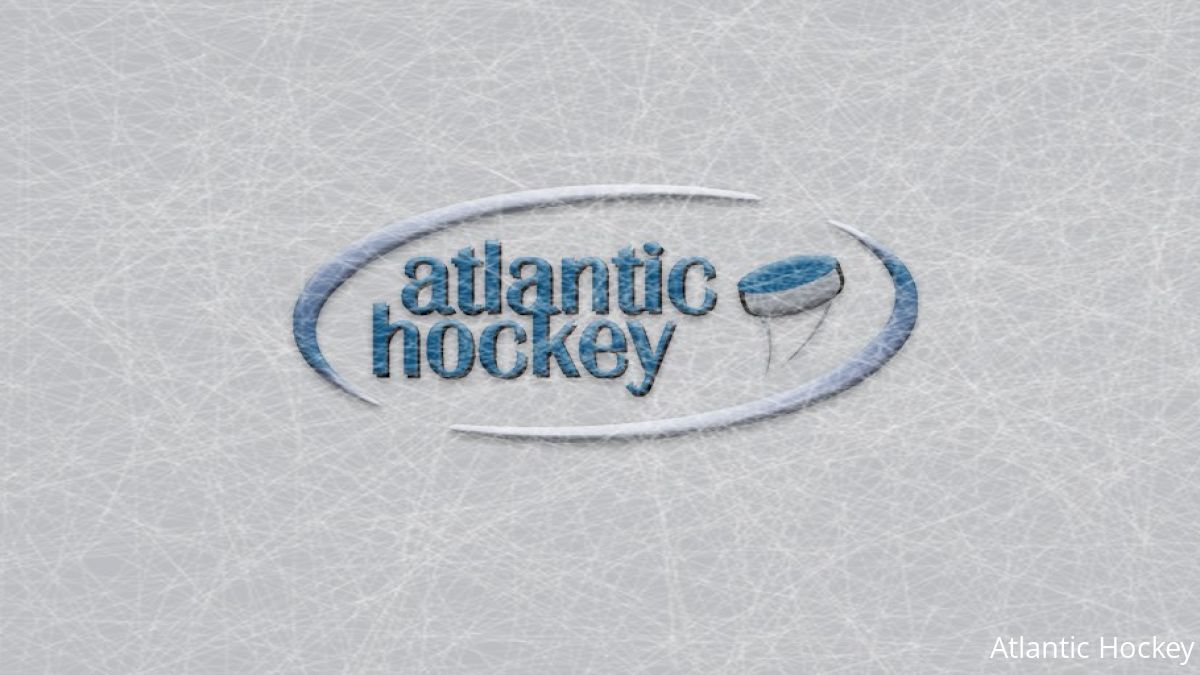 A 130-game league slate, a revamped three-weekend conference postseason tournament and a bevy of marquee non-conference opponents highlight the 2022-23 schedule for the Atlantic Hockey Association.
The composite schedule for the AHA's 20th season outlines conference and non-conference game dates and opponents for the league's 10 member institutions. Dates and times are subject to change.
The chase for the Atlantic Hockey regular season title will play out over 19 weeks, beginning with the RIT-Army series at RIT on the season's second weekend, Oct. 7-8. There are four weekends that feature a full slate of five league series this season: Feb. 3-4, Feb. 8-11, Feb. 16-18 and Feb. 24-25.
Each Atlantic Hockey squad will play 26 AHA games. Conference members will play four opponents four times and five opponents two times.
The Highlights
For the second season in a row, RIT and Army will open the 2022-23 Atlantic Hockey conference schedule when the Black Knights travel to Rochester to face the Tigers, Oct. 7-8.
Air Force will open the season co-hosting the 2022 IceBreaker Tournament on Oct. 7-8. The Falcons will face Maine on Oct. 7 before squaring off with Notre Dame the following day. Defending national champion Denver is serving as the other co-host for this year's event.
Four-time defending Atlantic Hockey regular season champion AIC will open the season with a long-distance road trip to Alaska Fairbanks Oct. 1-2. The Yellow Jackets then return home to face off with Hockey East rival Massachusetts on Oct. 8.
Sacred Heart will host Boston College on Jan. 14 to open the Pioneers' new on-campus home, the Martire Family Arena. SHU will also join its Nutmeg State rivals Quinnipiac, Yale and Connecticut in the annual Connecticut Ice tournament, Jan. 27-28, at Total Mortgage Arena in Bridgeport, Conn.
Canisius and Niagara will renew their annual "Battle of the Bridge" rivalry when the duo squares off at Canisius Jan. 27-28.
Mercyhurst will face a pair of Big Ten foes in the season's first three weekends as the Lakers host Ohio State to open the season Oct. 1-2 before meeting Penn State in a home-and-home series Oct. 13 in State College, Pa. and Oct. 14 in Erie, Pa.
Holy Cross will open its regular season slate with a visit to Grand Forks, N.D., for a two-game set against North Dakota Oct. 7-8.
Bentley's non-conference schedule features contests at Boston University (Oct. 1) and at home against Maine (Oct. 15) and Northeastern (Dec. 30) along with a road series at Ohio State (Oct. 20-21).
Atlantic Hockey Postseason
The battle for the Jack Riley Memorial Trophy will play out on AHA campuses over three weekends in March with a new format that will culminate in a single-game championship weekend.
The 2023 Atlantic Hockey Postseason will open with a best-of-three quarterfinal series March 3-5 with the No. 1, 2, 3 and 4 seeds hosting the No. 8, 7, 6 and 5 seeds, respectively.
Semifinal best-of-three series will take place March 10-12 with the highest-seeded quarterfinal winner hosting the lowest-seeded quarterfinal winner and the second-highest remaining seed hosting the third-highest remaining seed.
The AHA Postseason will conclude March 18 when the two semifinal winners meet at the home of the highest-seeded semifinal winner for one game to determine Atlantic Hockey's 2023 postseason champion.
Fans can catch every Atlantic Hockey regular season conference contest along with the entirety of the AHA Postseason and home non-conference games on FloHockey.tv this season.