Men's CCHA Hockey
Coast To Coast: Catching Up On CCHA Commits
Coast To Coast: Catching Up On CCHA Commits
As the CCHA teams enjoy their summer break, FloHockey takes a look at the incoming recruiting classes for each school ahead of the 2022-23 season.
Jun 26, 2022
by Jacob Messing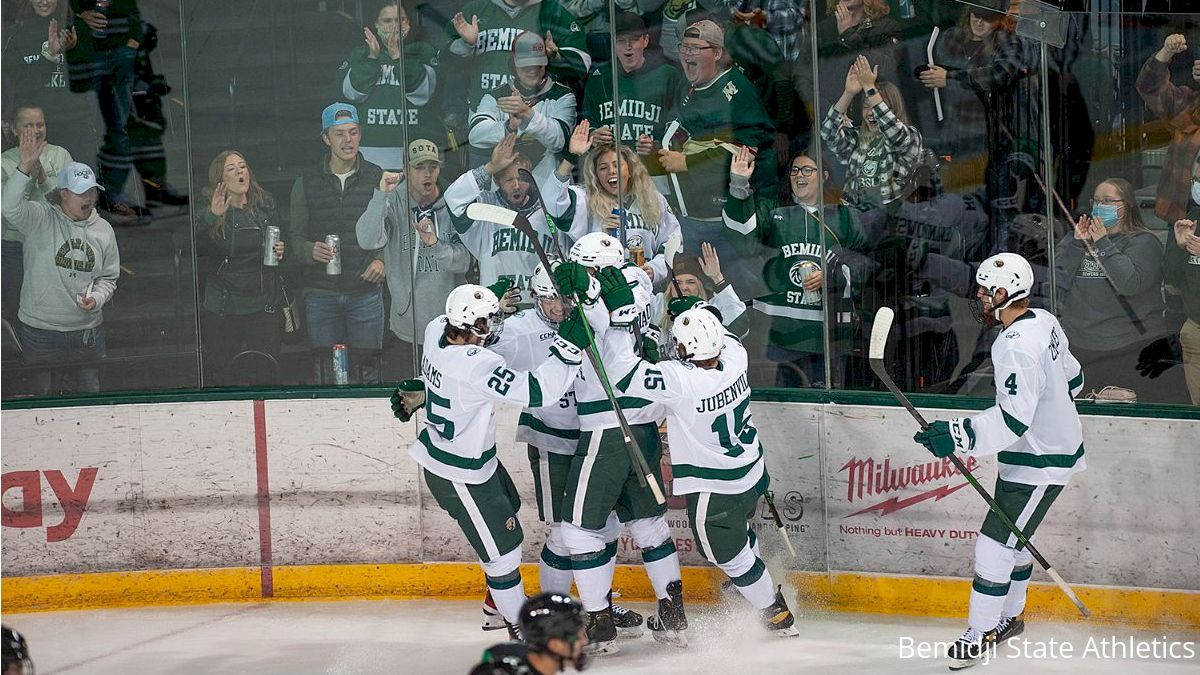 Coast To Coast is FloHockey's monthly, cohesive news on North American hockey and live-streaming partnerships.
---
The reformed CCHA will enter its second season in 2022-23, where powerhouse Minnesota State will look to continue to run the conference and St. Thomas prepares to build on its inaugural season.
Every CCHA game will be streamed live, right here on FloHockey for the entirety of the 2022-23 CCHA regular season and postseason. Catch up on the new names to know and faces to familiarize.
Bemidji State's Big Class
The Beavers bring in a nine-player haul with six coming on the blue line to continue building on their defense-first systems and ability to naturally add offense. The Beavers will look to plug in a number of spots left open by grads, but not many on the blue line.
That will incite a lot of friendly competition from the six-defensemen freshman class. Offensively Vincent Corocan and Logan Acheson offer the most. Corocan scored eight goals and 52 points in 54 NAHL games in 2021-22. Acheson managed 14 goals and 39 points in 52 AJHL contests.
Then there is Mitchell Wolfe, who can move the puck but also brings a lot of risk in his defensive play. On the same tier but opposite side of the spectrum, Hugo Allais offers better defensive coverage with a bit less puck-moving.
Tier III has Eric Pohlkamp as a stay-at-home defender capable of chipping in and Gustavs Ozolins, whose 11-game 2021-22 season leaves a lot of questions in his North American game.
Up front, the natural offense will receive a boost from Jake McLean, who scored 56 points (17 G, 39 A) in 60 NAHL games, leading his team in assists and points. Noah Quinn scored 26 goals and 55 points in 53 BCHL games, finishing 22nd in league scoring and 15th in league goals.
Lleyton Roed adds some depth production with 22 goals in 60 games in the USHL. The Beavers are restocked for more than just the 2022-23 season but don't let a potential step forward surprise you, despite the strength of their CCHA rivals.
Bowling Green Adds A Winner
The Falcons entered 2021-22 with a lot of questions following a turnover of natural talent. Despite an under .500 record, the Falcons battled for every inch, every game and are prepped for a step forward in 2022-23.
The Falcons welcome Ben Doran into the fold this fall, who enjoyed somewhat of a breakout season with the Sioux City of the USHL. Doran registered 13 goals and 30 points in 62 games with the Musketeers, eclipsing his combined four goals and 11 points over the previous two seasons of 65 total games with the team.
Doran brought depth after finishing seventh in team scoring over the regular season. He added another two goals and four points in 10 playoff games for the 2022 Clark Cup winners. Doran will look to take the next step with the Falcons this fall.
Ferris State Finds Forwards
The Bulldogs add four forwards in the freshman class as they look to add to their offense in 2022-23. The Bulldogs scored at a rate of 2.5 goals per game, finishing ninth of ten teams in the CCHA.
Jacob Badal leads the way after a breakout season in the NAHL, scoring 21 goals and 62 points in 60 games, surpassing his 8-goals 16-point total over a combined 50 games in the previous two seasons.
🚨COMMITTED🚨

Jacob Badal is headed to Ferris State University in the fall!

STORY: https://t.co/8no0vYDyUD pic.twitter.com/vJaVoAuY8K

— Johnstown Tomahawks (@JohnstownHawks) May 17, 2022
Tyler Schleppe joins from the BCHL, where he recorded 26 goals and 56 points in 50 games, each mark landing him among the top 20 scorers. Add in Connor McGrath and Emerson Goode and the Bulldogs will be some trial and error away from additional wins.
Lake Superior State Grows Deeper
The Lakers faced a rougher season than 2020-21 but with a large returning roster they're a good bet for a bounce back considering the scoring power of Louis Boudon, puck-moving of Jacob Bengtsson, and tandem of Ethan Langenegger and Seth Eisele.
So, if the forward additions of Peteris Purmalis, Vladislav Polegoshko, and Reegan Milburn seem to be more depth than play-driving, you can expect a deeper, more well-rounded program in 2022-23.
Still, John Herrington enters after a 24-goal, 54-point BCHL campaign in as many games. He will push for a top-six role to help offset the loss of Miroslav Mucha's 10 goals and 34 points last season.
On the backend Jack Blanchett will have to steal a spot on the blue line with a number of experienced players ahead of him. He's no slouch defensively, but if he can show his offensive capability has improved, he'll get some action sooner rather than later.
Michigan Tech 'Kashes' In
After a second-place finish in the CCHA last year and at-large bid to the National Tournament, the Huskies are in need of replacing 11 lost players including five of their top six scorers.
But the twins remain. Logan Pietila returns as the leading scorer set to build off a 13-goal, 23-point season. And team MVP Blake Pietila is back in the crease after a 21-13-2 season with a 1.91 GAA and .918 SV%. Freshmen Michael Morelli will have the chance to learn from Pietila directly.
The Huskies have a lot in place to keep their program momentum moving forward, but freshmen Kash Rasmussen will look to earn a regular role and help offset the offensive departures. Rasmussen scored 24 goals and 63 points in 51 AJHL games. Charles Edward-Tardif joins Rasmussen as an interesting addition with offense potential he's still tapping into.
Tyler Miller and Cameron Moger enter on the blue line, each bringing a defense-first mindset and ability to still read a play and move the puck up the ice. The Huskies' system largely operated on puck possession, leaning heavily on forwards to push the zone so the own-zone play of their new defense recruits will slot in nicely.
Minnesota State Stars In The Making
The CCHA's powerhouse welcomes ten new faces that are certain to develop a couple of future NCAA studs; that's just the way coach Mike Hastings works.
Similar to the Tommies, the Mavericks host a range of new faces ready to attach themselves to one of college hockey's most dominant programs over the past half decade.
Simon Tassy takes an early lead among freshmen forwards after finishing third in goals and points in the BCHL last season with 78 points (38 G, 40 A) in 53 games. Tassy is joined by Adam Eisele, Christian Fitzgerald, Reese Laubach, Parker Lalonde, and Kade Nielsen as forward recruits. Each will look to add their mark to the roster, but Hastings' team is reserved for earned spots only.
Extremely proud and honoured to announce my commitment to play NCAA division 1 hockey at @MavHockey! I would like to thank my family, friends and coaches that helped me throughout these amazing years! #HornsUp https://t.co/4FGG537EHS

— Simon Tassy (@SimonTassy) May 1, 2021
On the blue line, where four senior defensemen have moved on following last season's national championship loss, the Mavericks will look to have current players take the next step and a combination of freshmen Campbell Cichosz, Aaron Pionk, Dyaln Abbott, and offensive-minded Evan Murr find quick success at the college level.
There could be a short growing pain period to begin the season, but as sure as the Mavericks will have an NCAA Tournament bid, there team will find itself before conference-heavy play ensues.
Northern Michigan Names To Know
The Wildcats bring in a haul of freshmen and each should bring excitement to the program.
Jumping right into it, four forwards bring offensive firepower. Tanner Latsch scored 11 goals in a 22-game season in the USHL after 12 goals in 44 games the previous year. With playmaking skill around him he's going to score goals.
That playmaker could be fellow freshman Connor Eddy who recorded 57 points (22 G, 35 A) in just 39 games in the BCHL, finishing fifth in the league in per-game scoring. Grant Slukynsky and Zach Michaelis bring their own unique blend of offense and the Wildcats turnover of grads means a solid chance at all of them four earning immediate ice time.
On the backend Joshua Zinger brings offense after scoring six goals and 24 points in 31 games in the AJHL. Then there's Joel Kjellberg and a lot to be excited about for a Sweidsh defenseman, especially one that added a modest 11 points in 24 games in his homeland last season.
Netminder Beni Halasz brings a pair of strong seasons in the NAHL into Marquette, but with junior Rico DiMatteo and sophomore Charlie Glockner returning after splitting the bulk of time last season he'll have some competition. Still, coach Grant Potulny won't hesitate to utilize the goalie he believes gives his team the best chance at a win.
The Wildcats are an early bet to be the surprise team of the conference.
St. Thomas Plays The Odds
Entering their second Division I season, the Tommies bring in nine freshmen as they look for roster competition to get the program on track for more wins in 2022-23. The Tommies jumped into the revamped CCHA, where the speed, tenacity, and skill of the game was accelerated.
The odds are simple; the more players you accumulate, the better the chance of a foundational piece. So the Tommies are looking for some luck with a handful of Lukes. That starts with new-coming forwards Luke Kron, Luc Laylin, Lucas Wahlin, but add in Jake Braccini, Quinton Pepper, some good odds.
But perhaps the most enticing forward entering the season is Ryan O'Neill, whose 80 points (30 G, 50 A) in 57 games placed him among the leading scorers in the NAHL last season. O'Neill has the chance to take a significant offensive role for the Tommies.
On the defensive side, Braidan Simmons-Fischer enters looking for a role on the blue line and goalies Aaron Trotter and Ethan Roberts hope to claim time in the crease.
---
Have a question or a comment for Jacob Messing? You can find him on Twitter @Jacob_Messing.