2022 Utah Grizzlies vs Toledo Walleye
ECHL West Finals Preview: Toledo Taking On Utah
ECHL West Finals Preview: Toledo Taking On Utah
The Toledo Walleye and Utah Grizzlies are set for an explosive matchup in the ECHL's Western Conference Finals, beginning Friday in Toledo.
May 18, 2022
by Mike Ashmore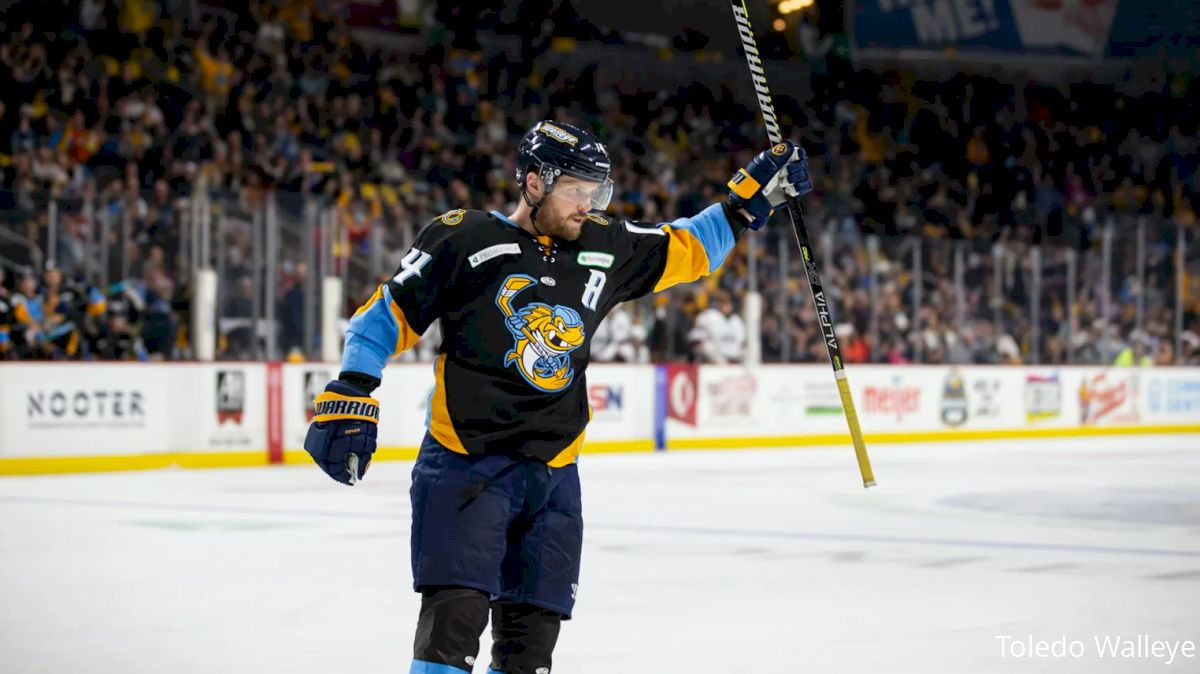 Even with a first-round scare against the Cincinnati Cyclones, Toledo getting this far in the ECHL postseason has seemed like an inevitability throughout 2022.
Simply, the league's best team continued doing best-team things, showing that the Brabham Cup win as the regular season champion was no fluke with a second-round sweep of the Wheeling Nailers to reach the Western Conference Finals.
The Walleye haven't played since May 12 and have surely used the time to allow some veteran legs to rest. Two of the team's top-three postseason scorers, former NHLers John Albert and T.J. Hensick, are over 30, not that younger players like Brandon Hawkins, who is pacing Toledo with nine goals and nine assists in his first 11 Kelly Cup Playoffs games, couldn't use a rest, as well.
Toledo largely dominated Wheeling, which scored a dramatic first-round upset win with a Game 7 overtime winner against the Fort Wayne Komets, with 18 total goals over the four-game series.
The Walleye have lost just twice this postseason, thanks in large part to outstanding play in net from veteran Billy Christopolous, who has played every minute of the playoffs thus far, posting a 2.12 goals against average and .924 save percentage in 11 games.
Utah hasn't quite seen the same stability in net, with Avalanche draft pick Trent Miner in something over a timeshare with Peyton Jones, though the former has seen nine starts compared to the latter's four.
After Jones lost Game 4 in overtime to the Rapid City Rush in the Mountain Division Finals, it was Miner who was between the pipes for both the Game 5 loss and Game 6 win that sent them on to the Western Conference Finals.
Statistically, Miner (2.36, .934) has outperformed Jones (3.57, .903) and might be the workhorse, if head coach Ryan Kinasewich elects to go to a workhorse for the third round.
Then again, if Charle-Edouard D'Astous keeps up his pace, it may not matter who's in net. The defenseman has been a revelation in the Kelly Cup Playoffs after a stellar regular season, and he has scored a stunning 17 goals in his first 13 postseason games, leading all players.
Meanwhile, no Utah forward has more than five goals - Trey Bradley and Kyle Betts are tied at that mark - but Benjamin Tardif's 22 assists are tops in the ECHL, and his 26 points are tied with D'Astous for most in the league.
Similar to the Eastern Conference Finals, Toledo and Utah did not play each other during the regular season, meaning you'll just have to tune in to FloHockey on Friday night to get your first look at how the best two teams remaining in the West will match up.
Toledo Walleye vs. Utah Grizzlies
Game 1 - Friday, May 20 at 7:35 p.m. ET at Toledo
Game 2 - Saturday, May 21 at 7:35 p.m. ET at Toledo
Game 3 - Tuesday, May 24 at 9:10 p.m. ET at Utah
Game 4 - Friday, May 27 at 9:10 p.m. ET at Utah
Game 5 - Saturday, May 28 at 9:10 p.m. ET at Utah (If Necessary)
Game 6 - Monday, May 30 at 7:35 p.m. ET at Toledo (If Necessary)
Game 7 - Tuesday, May 31 at 7:35 p.m. ET at Toledo (If Necessary)