Men's CCHA Hockey
Augustana University To Join CCHA
Augustana University To Join CCHA
Seven months after playing its first league game, the CCHA announced an expansion from eight teams to nine, welcoming South Dakota's Augustana University.
May 17, 2022
by Tim Rappleye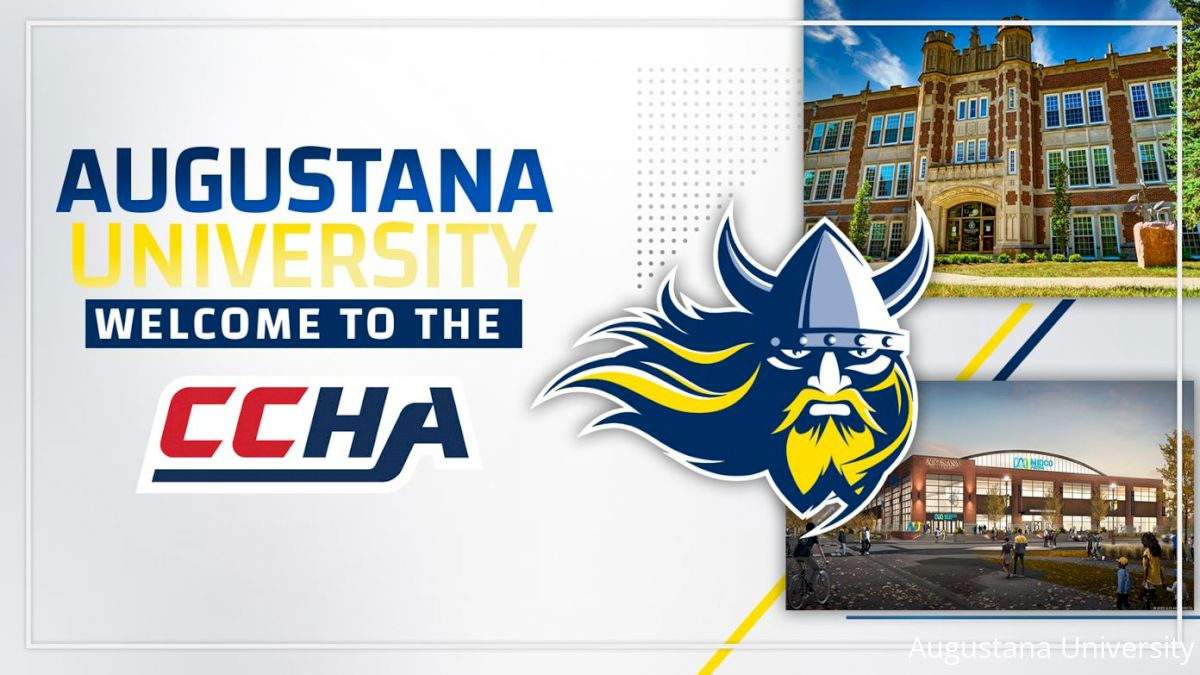 Seven months after playing its first league game, the CCHA announced an expansion from eight teams to nine, welcoming Augustana University of Sioux Falls, South Dakota, into the circuit as its latest member.
Prior to joining the CCHA, Augustana played Division II athletics. It has an enrollment of 1,600 undergraduates, making it the smallest school in the CCHA.
Unlike recent Division I newcomer and fellow CCHA school St. Thomas, Augustana will not begin competing for CCHA titles until the 2025-2026 season, whereas St. Thomas began competing immediately this past season.
The biggest difference is that St. Thomas was a Division III powerhouse, with a solid nucleus of competent players. At the time of this week's announcement, Augustana did not even have a club hockey team, so president Stephanie Herseth Sandlin, athletic director Josh Morton and head coach Garrett Raboin are playing the long game.
Starting in the 2023-2024 season and continuing in 2024-2025, the Vikings will play a two-game series against all eight CCHA teams, home and away, before commencing their first official Division I season a year later.
"That way, after two years, Augustana will have had a chance to play in all eight CCHA venues, and all eight CCHA schools will have gotten a chance to see Augustana," CCHA commissioner Don Lucia said.
Morton had three goals in mind when he was tasked with building a Division I hockey program.
"We needed a rink, a coach and a home [league]," Morton said. "Here we are, with commencement next week, and we secured all three."
It's the rink component that makes Augustana so attractive to the CCHA.
Unlike St. Thomas, Augustana has broken ground on its new rink, and Morton has declared that Midco Arena will be ready to go by October 2023, just when his Vikings begin competing against CCHA schools.
Morton has an office facing the site, and he has seen major accommodations to facilitate the construction.
"It was quite a big deal in Sioux Falls when a chapel and two cabins had to be picked up and moved from the site," Morton said of the complex operation. "It's amazing. I can't wait."
Raboin, an elite recruiter in his role as at the University of Minnesota the past four years, now has a bare cupboard in terms of existing players, but he's buoyed by the fact that hockey is becoming enormously popular in South Dakota.
"In a short amount of time, hockey has grown in Sioux Falls, with the Flyers [youth], Stampede [United States Hockey League] and a North American League team just down the road," Raboin said. "So, hockey is something that is happening right now in South Dakota."
And the CCHA is happening as well, accommodating two Division I newcomers in less than a year.
Slightly south of their footprint is Lindenwood University in the St. Louis area, a hockey school that just announced it was elevating its American Collegiate Hockey Association men's club team to Division I.
Though Lucia said the CCHA was content with its nine existing schools, 10 would be a much better fit in terms of scheduling and playoffs.
For its part, Lindenwood clearly would prefer to be a member of a conference than to play as an independent.
Based on the how the CCHA has been conducting business since its inception, consider the "Lindenwood watch" officially in session.