2022 Newfoundland Growlers vs Reading Royals
ECHL North Finals Preview: High-Flying Offenses Meet
ECHL North Finals Preview: High-Flying Offenses Meet
Two of the league's top teams meet up in the North Division finals series, with the Newfoundland Growlers meeting the Reading Royals.
May 5, 2022
by Mike Ashmore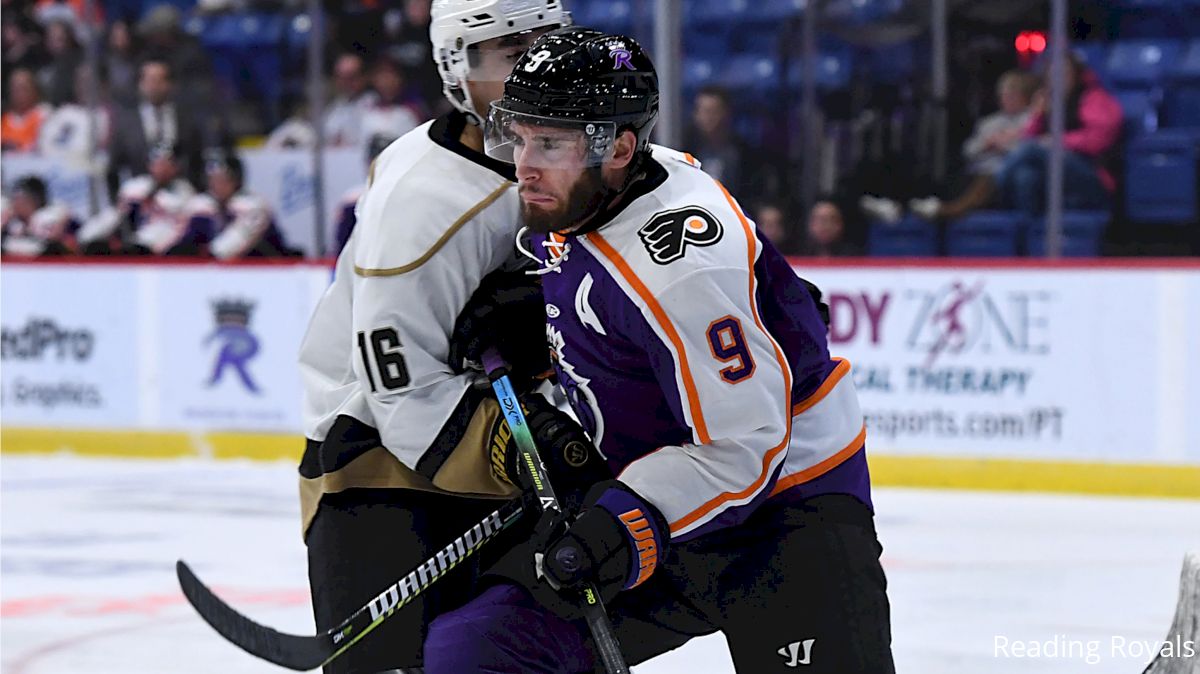 One day after the South Division Final is set to get underway, the North will follow suit. Reading and Newfoundland, the division's top two seeds, will face each other in what should be a premium matchup between two of the league's top three teams by points percentage in the regular season.
Reading won five of the nine regular season matchups between the two clubs, including the last three games in an early February sweep in Canada.
The Royals had a slightly easier path to get to this point than Newfoundland. Reading won their first round series against the Maine Mariners in six games, while the Growlers were taken to the limit by the Trois-Rivieres Lions, winning a decisive Game 7, 5-2, on Tuesday night.
One of the more intriguing storylines for Reading in their opening round series centered around their goaltending. First-year pro Logan Flodell held down the fort for the first five games until veteran starter Pat Nagle was eventually reassigned back to the ECHL from the AHL. Flodell started the first five games, and made 25 saves in a Game 5 win before ceding the net to Nagle, who allowed just one goal in their 2-1 Game 6 victory that sent them on to the second round.
Reading has used a bevy of scorers to get to this point, with nine different players lighting the lamp against Maine. Frank DiChiara leads the club with eight points, while Kenny Hausinger paces the Royals with three Kelly Cup Playoff goals.
As for Newfoundland, there have been no questions in net. The Nick Vitucci Goaltender of the Year runner-up Keith Petruzzelli was between the pipes for every minute of their first-round series against the Lions, including stopping 26 of 28 shots in the Growlers 5-2 Game 7 win.
Newfoundland has seen significant contributions from some of their top stars—only six players have accumulated ten or more points so far in the Kelly Cup Playoffs, but the Growlers have two in playoff scoring leader Tyler Boland (13) and Zach O'Brien (11). Boland in particular has been impressive, as he's the only player in the league, regardless of series length, to have more goals (8) than games played (7).
He scored in every game in the first round series except for Game 4, and had multi-goal games in Game 5 and the clincher. The 25-year-old forward could present a significant problem for the Royals if he's able to keep his hot streak going.
No. 1 Reading Royals Vs. No. 2 Newfoundland Growlers
Game 1 – Saturday, May 7 at 7:30 p.m. ET at Reading
Game 2 – Sunday, May 8 at 7 p.m. ET at Reading
Game 3 – Tuesday, May 10 at 5:30 p.m. ET at Newfoundland
Game 4 – Wednesday, May 11 at 5:30 p.m. ET at Newfoundland
Game 5 – Thursday, May 12 at 5:30 p.m. ET at Newfoundland (If Necessary)
Game 6 – Saturday, May 14 at 7 p.m. ET at Reading (If Necessary)
Game 7 – Monday, May 16 at 7 p.m. ET at Reading (If Necessary)