2022 Wheeling Nailers vs Toledo Walleye
ECHL Central Finals Preview: Walleye Battle Nailers
ECHL Central Finals Preview: Walleye Battle Nailers
In the Central Division finals the Brabham Cup champions Toledo Walleye take on the upstart Wheeling Nailers.
May 5, 2022
by Mike Ashmore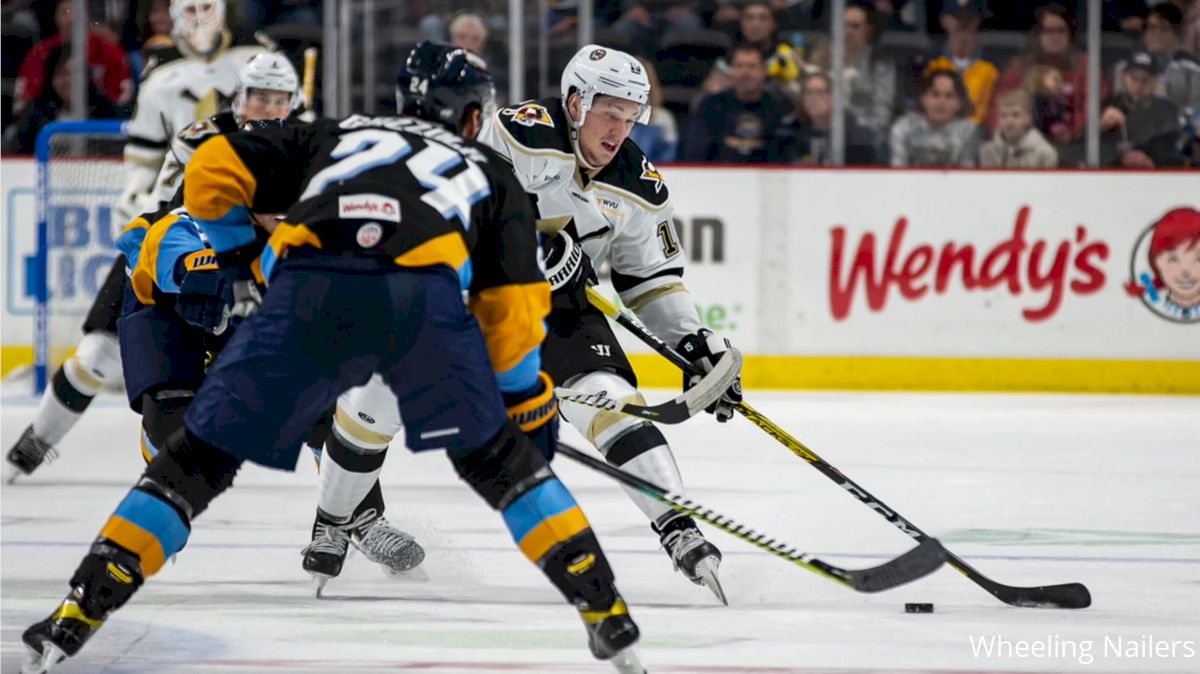 Between both the South Division Final and Central Division Final getting underway on Friday night, FloHockey viewers will have no shortage of high-quality playoff hockey to watch.
In the Central Division we have a bout between the Wheeling Nailers and Toledo Walleye. The Walleye have just survived what would have been a stunning upset by the Cincinnati Cyclones, who took them to a seventh game in the first round before bowing out with a 4-2 loss on Tuesday night.
Toledo was down 3-2 in the Central Division semis, but rallied back to win Game 6 and Game 7, taking the latter game on the back of a Brandon Hawkins hat trick at a sold-out Huntington Center. The team were the runaway Brabham Cup champions as the ECHL's best regular season team with a 49-win campaign. They were the league's only franchise with 100-plus points and a .700-plus points percentage.
Toledo's power play operated at a 25-percent success rate during the series, scoring seven times over the seven games, including two from Hawkins, two each from Matt Berry and John Albert, and one from long-time NHL'er T.J. Hensick. Hensick leads the team with 11 points in the Kelly Cup Playoffs.
Interestingly, only two of the Walleye's 21 goals this series were scored by defensemen, and only Randy Gazzola has posted multiple points from Toledo's backend. Billy Christopolous has been the stalwart between the pipes for the Walleye in the playoffs, starting every game, including an 18-save shutout in Game 6 to extend the series.
As for Wheeling, they pulled off the shocker of the first round so far, eliminating the defending champion Fort Wayne Komets thanks to Matthew Quercia's overtime game-winner at the 6:30 mark of Game 7 on Tuesday night. The Nailers got out to a 2-0 series lead on the road, won Game 5 at home, and won the series-deciding contest in Fort Wayne. The road success could provide a bit of an interesting dynamic against Toledo, who will have home-ice advantage throughout the duration of their postseason.
Cam Hausinger has been a revelation for Wheeling in the Kelly Cup Playoffs, scoring seven goals in seven games, including a hat trick in a Game 6 loss. No other player on the team has more than two, with Quercia, Sean Josling and Josh Maniscalco having already potted a pair.
Just like Toledo, Wheeling also has a goaltender who's played every minute of this year's playoffs. Louis-Philip Guindon's .932 save percentage is second only to Utah's Trent Miner (.937) among netminders who have played in five or more playoff games. Guindon is one of only six goalies who posted a postseason shutout in the first round.
No. 1 Toledo Walleye Vs. No. 3 Wheeling Nailers
Game 1 – Friday, May 6 at 7:35 p.m. ET at Toledo
Game 2 – Saturday, May 7 at 7:35 p.m. ET at Toledo
Game 3 – Tuesday, May 10 at 7:10 p.m. ET at Wheeling
Game 4 – Thursday, May 12 at 7:10 p.m. ET at Wheeling
Game 5 – Saturday, May 14 at 7:10 p.m. ET at Wheeling (If Necessary)
Game 6 – Monday, May 16 at 7:35 p.m. ET at Toledo (If Necessary)
Game 7 – Tuesday, May 17 at 7:35 p.m. ET at Toledo (If Necessary)