2022 Atlanta Gladiators vs Florida Everblades
ECHL Preview: Atlanta, Florida End Season With Two-Game Clash
ECHL Preview: Atlanta, Florida End Season With Two-Game Clash
Florida hosts Atlanta for a two-game series. Currently tied, and the games will decide the division winner and may preview a second round playoff matchup.
Apr 14, 2022
by Mike Ashmore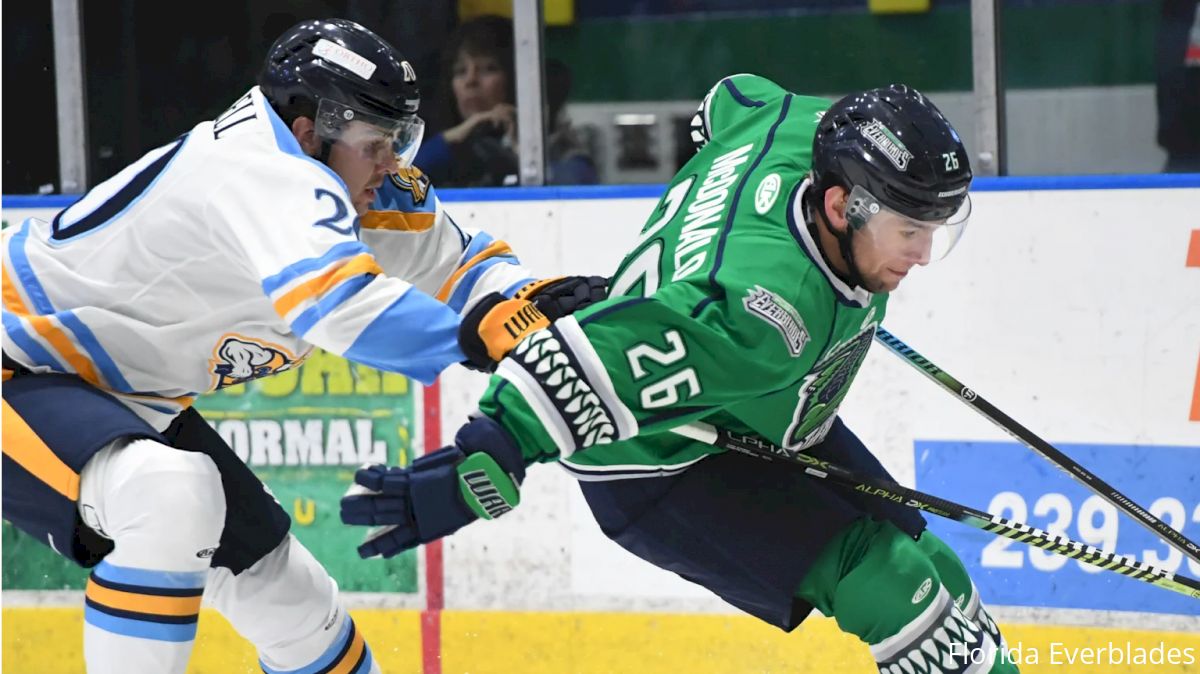 Sometimes, the schedule makers just know.
With two games left in the regular season, the Atlanta Gladiators and Florida Everblades are tied at the top of the ECHL's South Division standings with a .643 points percentage, with both clubs having put up 90 points thus far.
They'll get to play it out to see who comes out on top.
Florida hosts Atlanta on Friday night at 7:30 PM ET and then the following evening at 7:00 PM ET at Hertz Arena, as broadcast exclusively on FloHockey. Whoever captures the most points is set to raise a banner for the division title, and, more importantly, clinch home ice for the first two rounds of the playoffs.
There's a lot that factors into these next two games—both teams have, obviously, clinched playoff berths—but Florida head coach Brad Ralph says that resting players late in the year has come back to hurt the team in the past. He wants his group playing "playoff-style hockey" right now just before the postseason starts.
"I think that's more important to us," he told FloHockey via cell phone.
"Whether we finish first or second, I think it's more meaningful to go deep in the playoffs. While we'd like to get first place, we're focused on a long playoff run. In years of experience for me, when you're chasing something like first place, you can push your team too hard and wear them out for the playoffs. In years past, I've given guys rest and given guys days off, and I felt like it sent the wrong message. As a hockey player, you get in the fight and you get in that zone, so to speak, and you don't want to let out. I'll try and trim their minutes, and manage their workload that way, but I'm not a big fan of resting healthy players in the hopes of keeping them healthy or rested for the playoffs."
So, at least on the Everblades side, they'll be bringing their best against a Gladiators team they've already played ten times this season, winning six. If things go as planned, they'll also be facing each other in the division finals, but Ralph says that also won't factor into his team's approach in these last two games.
"Not at all," he said.
"Our division is so closely matched. There's five teams that, when you look at our head-to-head records, it's very close. I think anyone can beat anyone, so to get out of this division, you're going to have [to] play a team that's playing good hockey and they're certainly deserving of being there. So, whether we play Atlanta, Jacksonville, Orlando or Greenville, it's all going to be an absolute war for the playoffs."