2022 Florida Everblades vs Atlanta Gladiators
ECHL Playoff Primer: Atlanta, Florida Clinch As Playoffs Solidify
ECHL Playoff Primer: Atlanta, Florida Clinch As Playoffs Solidify
Only five teams out of a possible 16 have clinched playoff berths, leaving much to be played for as the regular season dwindles.
Apr 5, 2022
by Mike Ashmore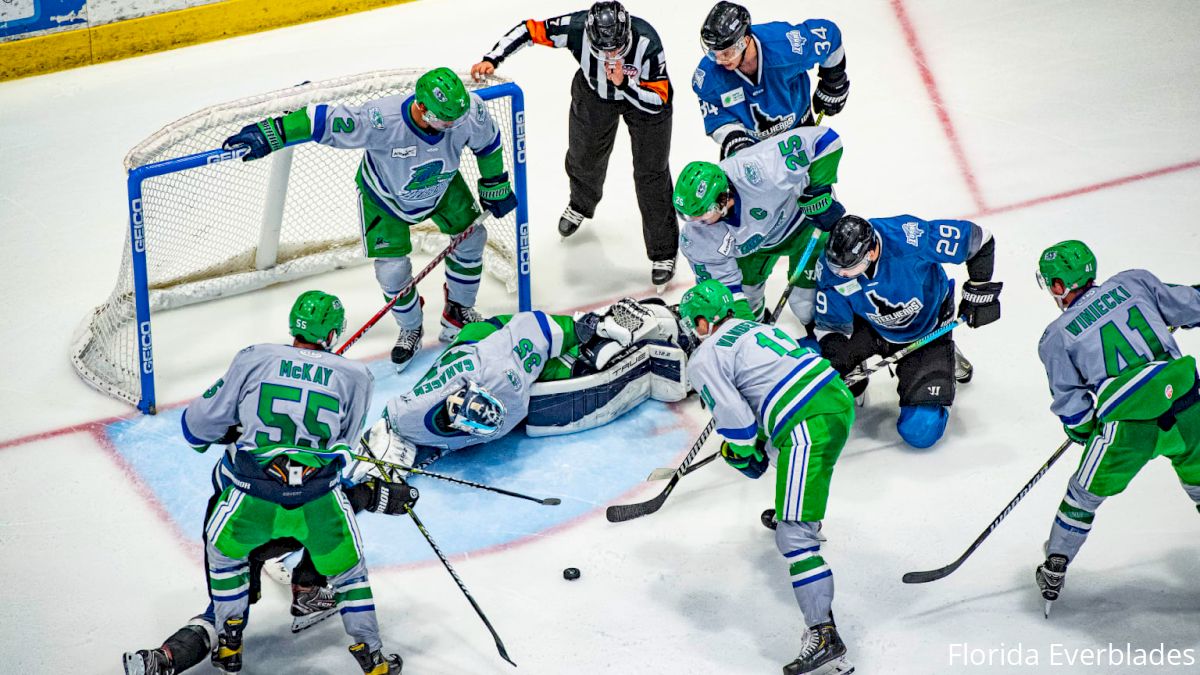 FloHockey's weekly ECHL playoff primer continues, keeping track of all the key races in each of the four divisions, and getting you ready for the games ahead this upcoming week as the race to get into the Kelly Cup Playoffs comes down to the wire.
A reminder that after the league's late-January announcement, standings for advancement to the postseason are determined by points percentage.
Only five teams out of a possible 16 have clinched playoff berths, but only the Toledo Walleye have also clinched their division—they're now a lock to be the one seed in the Central.
EASTERN CONFERENCE
NORTH DIVISION
Currently In:
x – Reading (.680)
x – Newfoundland (.664)
Maine (.515)
Trois-Rivieres (.508)
Currently Out:
Worcester (.500)
Adirondack (.423)
Quick Take:
Points percentage will likely matter more in the North Division than any other, where the Lions are only scheduled to play 69 out of their allotted 72 games. They're clinging to the fourth and final spot with seven games left to play, while Worcester, who will only get to 71 games played, has the edge in points but would still lose out on advancing if things stayed as is.
Key Games:
Maine at Worcester, April 6
Trois-Rivieres at Worcester, April 8 and April 9
With Adirondack likely out of realistic contention, the final two spots will come down to Maine, Trois-Rivieres and Worcester. If the Railers can use their home ice advantage in their three games against the two teams they're chasing, it could be what gets them into the Kelly Cup Playoffs this season.
SOUTH DIVISION
Currently In:
x – Atlanta (.657)
x – Florida (.642)
Jacksonville (.598)
Orlando (.523)
Currently Out:
Greenville (.515)
South Carolina (.418)
Norfolk (.417)
Quick Take:
Both the Gladiators and Everblades clinched playoff spots last week, with the Icemen all but surely next in line to do so in a top-heavy South Division. That leaves the Solar Bears and Swamp Rabbits to battle it out for the fourth and final spot. Orlando is the only division team that won't play all 72 games—they'll fall one short at 71 and also wrap their season up one day earlier than the Swamp Rabbits. Greenville could dictate their fate on April 17 when they play their finale in Norfolk.
Key Games:
Florida at Atlanta, April 6
Until we reach that final week, the most intriguing game might just be a battle of the top two in the division that's set for Wednesday night. Only two points separate the two teams, and this contest could play a big role in determining who's raising a division title banner next October.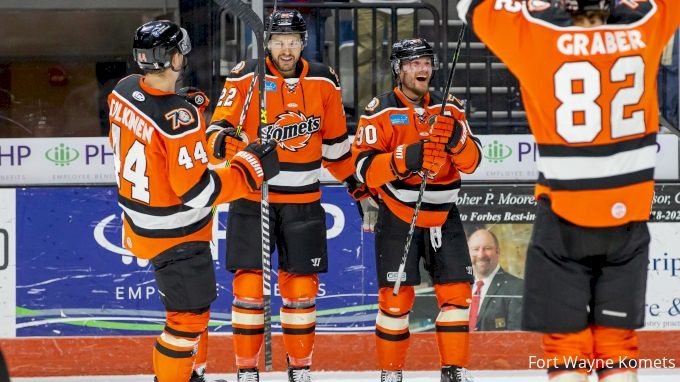 WESTERN CONFERENCE
CENTRAL DIVISION
Currently In:
xy – Toledo (.715)
Fort Wayne (.598)
Cincinnati (.553)
Wheeling (.538)
Currently Out:
Kalamazoo (.531)
Indy (.492)
Iowa (.477)
Quick Take:
The Walleye were the first team to clinch a playoff spot this season, and also clinched the Central this past week, leaving the rest of the pack to work it out for the final three playoff spots. With the Komets on the verge of a berth, all eyes are on the remaining five teams.
Key Games:
Indy at Kalamazoo, April 5
The Fuel only have six games left to play this year, and have to maximize all opportunities to pick up points over the last two weeks. They'll attempt to leapfrog the Wings and then jump ahead of either the Cyclones or Nailers to try to sneak into that fourth transfer position.
MOUNTAIN DIVISION
Currently In:
Rapid City (.591)
Utah (.590)
Idaho (.545)
Allen (.538)
Currently Out:
Tulsa (.537)
Kansas City (.485)
Wichita (.454)
Quick Take:
The Mountain Division is the only one left in the league where none of the teams have clinched a playoff spot just yet, with all seven clubs still in contention to get into the postseason. However, Wichita's points percentage ceiling is .509, while Tulsa's floor is .500, Allen's floor is .486 and Idaho's is .506. The Thunder would need to win out to even have a chance to advance.
Key Games:
Tulsa at Wichita, April 6
Tulsa is, of course, in a situation themselves where they need every possible point they can get, and will be on the road in a late-morning start facing a desperate Thunder team. That's a recipe for a mighty interesting 60 minutes… at minimum.