2022 Tulsa Oilers vs Utah Grizzlies
ECHL Playoff Primer: Tulsa, Allen Battle For Playoff Spots
ECHL Playoff Primer: Tulsa, Allen Battle For Playoff Spots
As the ECHL season comes to a close, only a handful of teams have solidified the top playoff spots and many more are are still fighting for the postseason.
Mar 22, 2022
by Mike Ashmore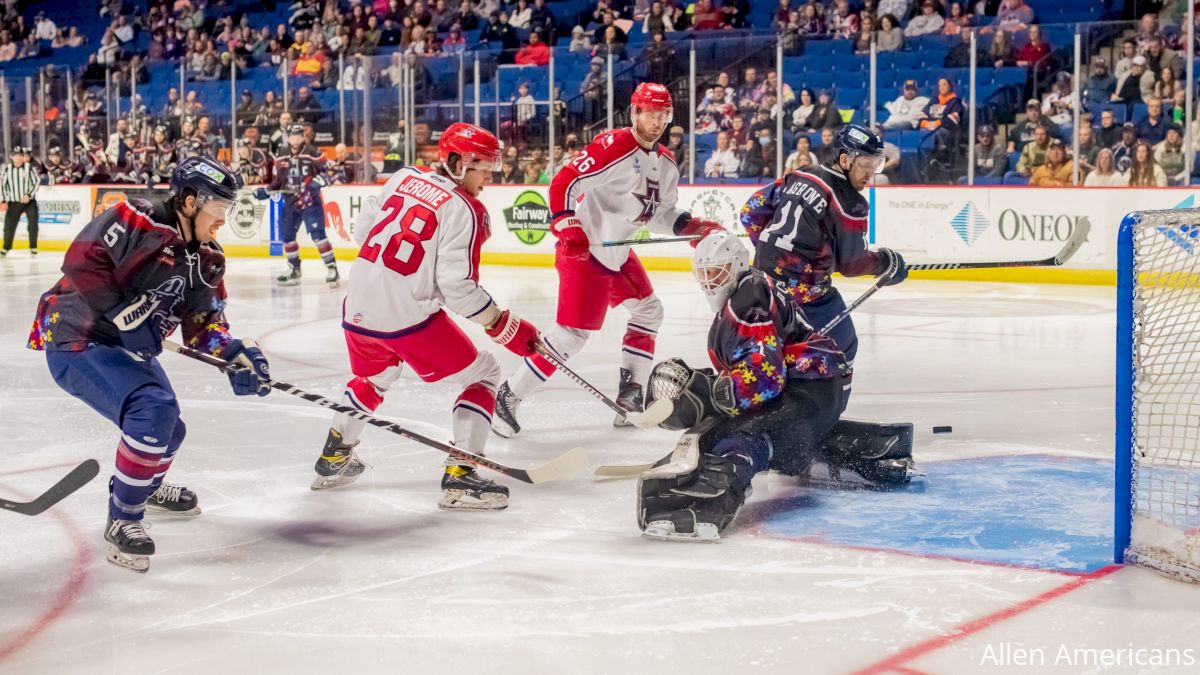 FloHockey's weekly ECHL playoff primer returns, keeping track of all the key races in each of the four divisions. Preparing viewers ready for the games ahead this upcoming week—as seen exclusively on FloHockey—that will matter the most as the race to get into the Kelly Cup Playoffs comes down to the wire.
A reminder that after the league's late-January announcement, standings for advancement to the postseason are determined by points percentage.
EASTERN CONFERENCE
NORTH DIVISION
Currently In:
Reading (.679)
Newfoundland (.657)
Worcester (.536)
Trois-Rivières (.509)
Currently Out:
Maine (.500)
Adirondack (.448)
Quick Take:
Barring a very unexpected run by the Thunder, it's likely a five-horse race in the North Division, with the Maine Mariners currently in the fourth spot based on points (58) in 58 games played. The Lions are fourth in the version of the standings that matter the most, however, having 54 points in only 53 games.
Key Games:
Worcester's five games in six nights stretch between March 22-27—all on the road against Reading and Adirondack.
With the top two teams all but locked into the playoffs, games involving the Railers, Trois-Rivieres and Maine will be the ones you're going to want to keep an eye on. Those games will determine how those final two berths out of the North Division play out.
Curiously, these three teams (Worcester, Maine, Trois-Rivieres) don't face each other in any combination over the next week. The Railers can go a long way towards locking down that third spot with a big showing in a very condensed stretch of their schedule.
SOUTH DIVISION
Currently In:
Atlanta (.656)
Florida (.642)
Jacksonville (.619)
Orlando (.517)
Currently Out:
Greenville (.509)
Norfolk (.381)
South Carolina (.377)
Quick Take:
The race is a bit more narrow in the South Division, with the top three playoff spots having all but been secured by the Gladiators, Everblades and Icemen. Conversely, the Admirals and Stingrays have been hopelessly out of it for most of the season. That leaves all eyes on the Solar Bears and Swamp Rabbits, as they battle it out for the fourth and final spot in the Kelly Cup Playoffs.
Key Games:
Greenville @ Orlando, March 25 and March 27
These are huge games towards determining that fourth spot. Greenville holds a 3-1 record over the Solar Bears thus far, and two wins this week would catapult them over Orlando into a playoff position.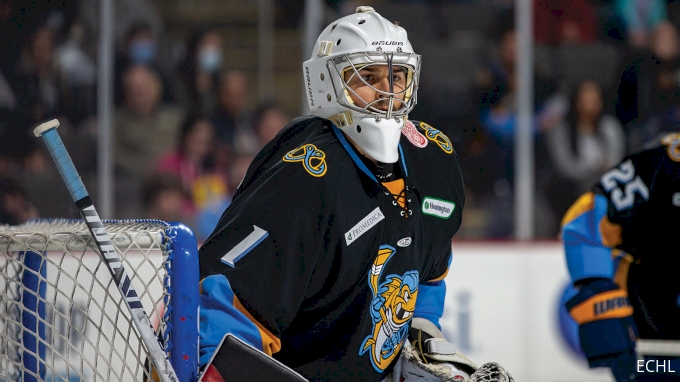 WESTERN CONFERENCE
CENTRAL DIVISION
Currently In:
Toledo (.703)
Fort Wayne (.595)
Wheeling (.552)
Cincinnati (.542)
Currently Out:
Kalamazoo (.534)
Iowa (.508)
Indy (.474)
Quick Take:
Now, this is a fun division this time of year. Toledo is locked into the top spot without question. Past that? It's anyone's guess. All seven teams are very realistically still in contention for the four playoff spots, with two through seven separated by just 14 actual points with three weeks left to play.
Key Games:
All of them, really. There will be 11 intra-division games for the Central this upcoming week, with every result pivotal in how the standings may change.
But keep a particular eye on Indy—they've got four games coming up this week, including three at home—as they desperately need to start to make a huge push if they're going to start gaining ground.
MOUNTAIN DIVISION
Currently In:
Utah (.615)
Rapid City (.583)
Idaho (.533)
Allen (.526)
Currently Out:
Tulsa (.516)
Kansas City (.492)
Wichita (.467)
Quick Take:
Utah is likely the only team that can breathe easy here, as they've likely secured, at minimum, one of the top four spots with only 11 games left to play on their schedule. Just like the Central, however, the rest remains up for grabs. Kansas City is in the worst spot of the teams on the outside looking in, as they've already played an ECHL-high 64 games and have the least opportunity to improve points percentage.
Key Games:
Tulsa @ Utah, March 23, 25, 26
With Allen playing three games against a Central Division opponent this week—an extremely tough task on the road against Toledo—it seemed best to focus on the Oilers slate against the Grizzlies. Both of those series will go a long way towards figuring out which of those two teams (Allen and Tulsa) get into the playoffs. If it goes bad for both? Wichita can sneak in.