2022 AIC vs Air Force - Men's
Atlantic Hockey Recap: AIC Wins Championship, Heads To National Tournament
Atlantic Hockey Recap: AIC Wins Championship, Heads To National Tournament
As AIC heads to the NCAA tournament and the Atlantic Hockey season concludes, the conference is in a great spot with talent, parity and promising programs.
Mar 21, 2022
by Jacob Messing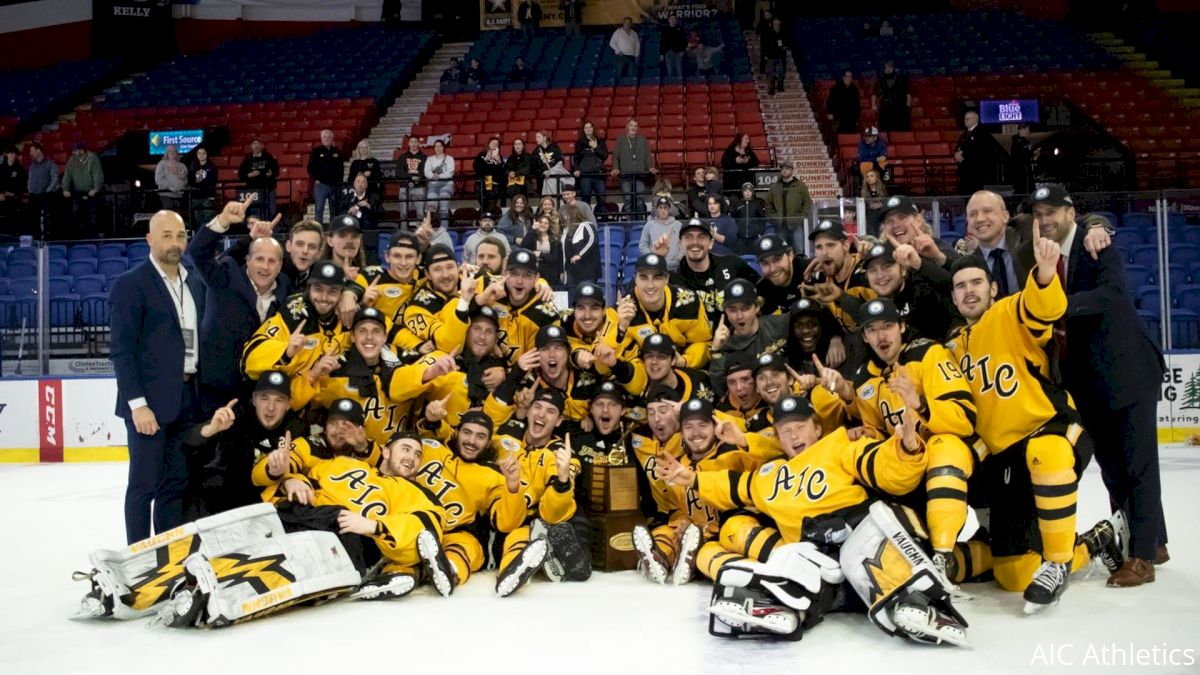 American International capped off an impressive spring semester with its third-straight Atlantic Hockey Championship, earning an automatic berth to the 2022 National Championship.
The Yellow Jackets claimed their fourth-consecutive regular season title en route to a decisive 7-0 win over runner-up Air Force in the championship game, recording goals on the powerplay, penalty kill and 5-on-5.
Four months ago, such a decisive win in a postseason title match—much less the national stage—looked wishful and distant as the Yellow Jackets held an uncharacteristic 4-9-1 overall record (4-4 AHA) heading into December. But Coach Eric Lang's program has fostered a winning culture, and the Jackets rediscovered it at the turn of the calendar.
The Jackets fired off a 10-game winning streak complete with one-goal deficits, blow outs, shutouts, and comebacks. Despite some turmoil down the stretch, the Jackets have now crafted a five-game winning streak entering the NCAA Tournament.
But their next opponent is likely to be their toughest of the season as they face the No. 1 overall seed, Michigan Wolverines, on March 25 at 3:00pm.
Rival To Rooter
Even with the existence of 59 Division I ice hockey programs in the NCAA, there is no shortage of skill, grit, development, or parity. Yet somewhere in the mess of conferences Atlantic Hockey can get overlooked.
AIC has done its part—and done it well with its third-straight National Tournament bid on the line. The same freshman class that upset No. 1-overall St. Cloud State in 2019 in the National Tournament is the new senior class ready to make noise yet again with the target of upsetting another No. 1 overall seed in Michigan.
And there will be no shortage of fans. Everyone loves an underdog, and while the concluded season is still fresh, there's no lack of cheering from Atlantic Hockey rivals-turned-rooters. Conference counterparts will be in favor of seeing AIC represent Atlantic Hockey and continue their season on the national stage.
Ambition Fuels 2022-23
The Yellow Jackets have proven time and again they're a tough out, but there is a lot of ambition in Atlantic Hockey and every team just added another year of experience.
"This year we were picked to finish ninth, and we finish second in the playoffs," Air Force coach Frank Serratore told Anthony Travalgia of College Hockey News.
"Give our guys credit, we're a young team but we're not an inexperienced team anymore. We've gained a tremendous amount of experience over the course of the year."
The Falcons got a taste of success in the conference tournament, gained the experience of losing together and saw firsthand what it takes to win consistently in their championship defeat.
Serratore's young orchestra will add to its 'score' ahead of 2022-23 and the Falcons will return with a chip on their shoulder.
But the Falcons won't be the only team eager to climb the standings next season. The Mercyhurst Lakers fell to AIC by one goal in the quarterfinals, and their trio of sophomores will return as juniors to a team that won seven straight games before running into AIC.
"We have nine of our top 10 scorers returning next year. We have Kyle McClellan returning next year. We're really excited and I think our future is unbelievably bright. We've seen a lot of that late in the later part of the year, but our strength is with our young guys," Lakers coach Rick Gotkin also told Anthony Travalgia of College Hockey News.
Retribution will be sought and the strength of AIC is acknowledged, appreciated, and inevitably pursued. But even after the Falcons and Lakers, Atlantic Hockey boasts other building programs and a lot of parity.
The final standings had a mere three-points—or one regulation win—separate the second-place finisher from the fifth-place finisher. Further, only eight points were the difference between second place and first-round home ice.
The 2022-23 season is primed to be another great one for Atlantic Hockey and FloHockey will have every conference game at your fingertips to be streamed live, right here all season long.
---
Have a question or a comment for Jacob Messing? You can find him on Twitter @Jacob_Messing.