2022 Air Force vs RIT - SF #2
Atlantic Hockey Semifinals Preview: Air Force's Youth Hungry For A Title
Atlantic Hockey Semifinals Preview: Air Force's Youth Hungry For A Title
Friday's game marks three weeks since the programs last played, where the Falcons took the higher-seeded Tigers to consecutive overtimes and claimed a win.
Mar 14, 2022
by Jacob Messing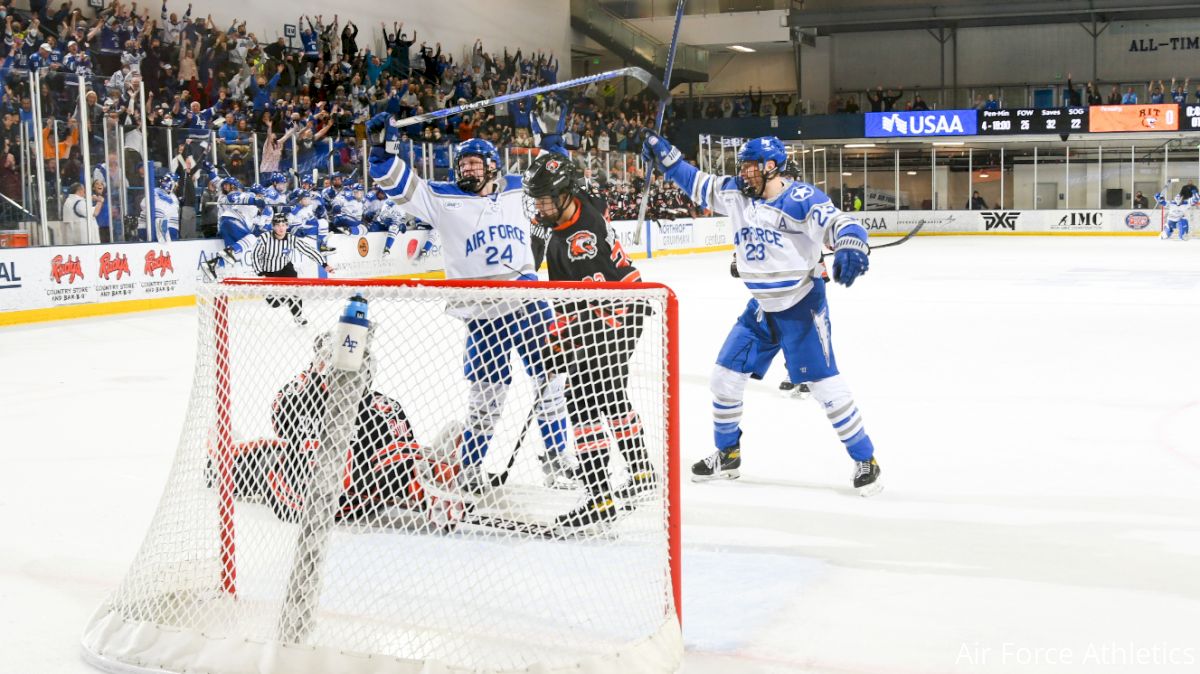 In January, Air Force coach Frank Serratore had one goal in mind: earn a first-round bye.
Since then, his team has gone 6-5-1, collecting points every weekend to secure that bye as the No. 6-seed. Last weekend, they matched up with fellow academy and No. 3-seed Army West Point in the quarterfinals. The Falcons swept the series. giving them bragging rights with three straight wins over the Black Knights—and a three game winning streak.
Despite being the youngest team in the conference, Serratore's orchestra has played in tune this season and despite inexperience, earned a shot at No. 4-seed RIT this weekend with a trip to the championship game on the line.
Don't miss a second of the Atlantic Hockey Tournament and catch both semifinal games live, right here on FloHockey, as well as Saturday's title game for a berth to the national tournament.
The Falcons youth stepped up against a literal Army, one that is older, stronger, and more experienced at the NCAA ranks. In their 11 goals scored against Army, eight different underclassmen recorded points, accounting for five goals and 11 assists. The series-clinching, overtime goal in Game 2 was scored by freshman Parker Brown, and assisted by freshman Mitchell Digby.
Their tenacious youth has no quit and with a win over RIT, the Falcons will be playing for their eighth conference tournament title in program history and first since 2018. No players remain from that 2017-18 team.
Friday's game will mark three weeks since the programs went skate-to-skate, where the Falcons took the higher-seeded Tigers to consecutive overtimes and claimed a win and four of six points.
This time around, Serratore's team will have a better idea of what they're up against. The Falcons' have shown an ability to familiarize themselves with opponents they have faced in multiple series and have improved outcomes in three out of five series against repeated opponents.
The Falcons will face @RITMHKY in the @Atlantic_Hockey semifinals, Friday, March 18, at 7:35 pm ET in Utica, N.Y. The teams split a two-game series at Cadet Ice Arena two weeks ago.#SkateTheJack

— Air Force Hockey (@AF_HKY) March 14, 2022
But the Tigers will have something to say about a trip to the championship game, seeking the program's first tournament title since 2016. The last time around, they defeated Air Force in the semifinal.
The Tigers have taken the 'W' in five of their past seven contests, during which time they have just one regulation loss. They proved resilient when Sacred Heart took Game 2 of the quarterfinals, bouncing back for a 3-1 win in which both programs registered 31 shots.
That moving on in the playoffs kind of feeling. pic.twitter.com/sH5F4b05Z2

— RIT Men's Hockey (@RITMHKY) March 14, 2022
In the end, the Tigers goaltender Tommy Scarfone was the difference. Scarfone holds a 5-2 record over his past seven outings in conjunction with a 1.52 GAA, .948 save percentage, and one shutout over his last 433:48 minutes played.
For every underclassman the Falcons ice, the Tigers have an upperclassman, leading in experience, strength, and last chances with four grad transfers and six seniors all aiming for a chance at the conference title.
The Tigers have played some strong programs this season and have earned wins over AIC and Notre Dame, showing an ability to play with the best and beat them. While they've battled inconsistencies, Scarfone is giving them a chance to win every night and their forward depth just needs to play to its strengths.
Don't miss either semifinals game and catch them live, right here on FloHockey.
---
Have a question or a comment for Jacob Messing? You can find him on Twitter @Jacob_Messing.