2022 Bemidji State vs Michigan Tech - Men's
CCHA Playoffs Preview: No. 3 Bemidji State Vs. No. 2 Michigan Tech
CCHA Playoffs Preview: No. 3 Bemidji State Vs. No. 2 Michigan Tech
The advanced stats skew in favor of Michigan Tech in their matchup with Bemdji, but MTU's coach Shawhan knows postseason hockey is a different beast.
Mar 9, 2022
by Tim Rappleye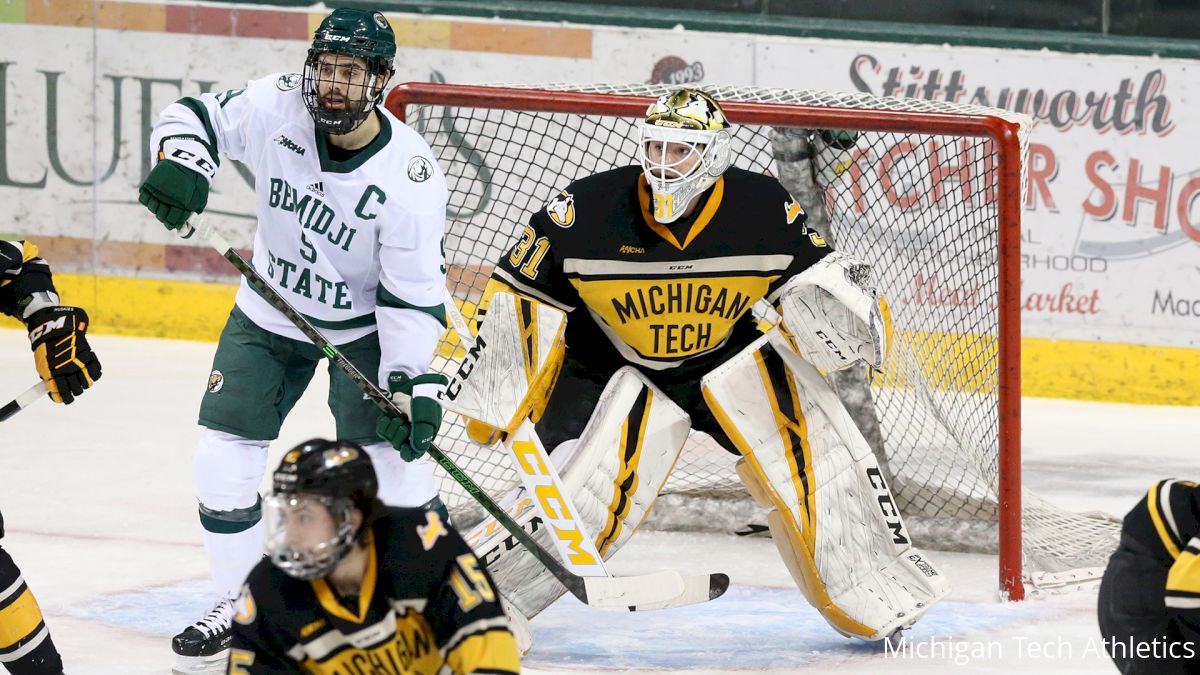 On paper, this game should be no contest. But it's played on ice.
There are sports statisticians, MLB sabermatricians and NFL spread-makers who swear by aggregate stats, like season-long score differential. Now, baseball plays much longer seasons than hockey, but over five months into the season, Bemidji State has played 37 games, Tech has played 35, a decent sample. If you look at the respective goal differentials of Bemidji and Michigan Tech, you might wonder why they bother staging this semifinal. Bemidji is a minus-4, while Tech is a plus-48.
There are other disparaging metrics, like the probability of making the NCAA tournament. Bemidji is 6 percent, Tech is 99.9 percent. Tech is No. 10 in the PairWise ranking, Bemidji is No. 30.
In a lot of other sports, you'd have a hard time finding a bet in this contest between such a have and have not. But this is hockey, a sport played on ice, with a puck as easy to control as a wet bar of soap, and a bulky goalie taking up 80 percent of the net. MTU coach Joe Shawhan was not blowing smoke when he made his semifinal prediction. "I wouldn't be surprised if this game goes to overtime."
A lot of astute observers would agree. Here's why.
The Case For A 1-Goal Game
BSU Coach Tom Serratore. He had his Beavers playing playoff-style hockey all season long. They may not score a lot, but they're stingy, under 2.4 goals per game, 1.7 in the postseason.

BSU goaltending. Anyone who watched the quarterfinal series between Bowling Green and Bemidji saw Mattias Sholl come into his own. The freshman goalie from Los Angeles has now played 24 NCAA games, and appears to have figured out the position, as cool in a post-game presser as he is facing down Alex Barber on a breakaway with the season on the line. "It's part of the job, making big saves," said Sholl. "In the playoffs, you've got to rise up and play a level higher than the regular season." And that is exactly what he has done, stopping 94 percent of shots faced in the quarterfinals vs. BGSU, up four percent from the regular season.

The Sillinger brothers, Lukas and Owen. "The Sillingers are in a level by themselves," said Shawhan, who was victimized by them (4 points) in last year's quarterfinals.

The safety net. If the season ended today, Tech goes to the NCAA playoffs, Bemidji does not. Psychologically, this makes Bemidji the hungrier team. All season long, Shawhan has been whipping his troops toward the "safety zone" of the top 10 in the almighty PairWise. The Huskies have finally reached that threshold in the second week of the postseason. Statistically, they are a lock for the national tournament, meaning there IS a tomorrow should they stumble in their CCHA semifinal, while Bemidji does not have that luxury. How that affects the game on the ice remains to be seen, but there is truth in the timeless adage: the hungry fox runs faster. Shawhan was asked about reaching the PairWise safety zone in Saturday's post-game, and his response was guarded. "It sure beats the alternative."

Fatigue. Vince Lombardi has been credited with this quote: "Fatigue makes cowards of us all." Tech has been the CCHA's most overworked team in the new year, 14 games in the past six weeks, six of those games extended into overtime, including five overtime sessions and a shootout in their last four games with Ferris. There is no doubt that fatigue is present in the Huskies locker room.
Lukas Sillinger scores on the one-timer to give the Beavers the lead! #GoBeavers #BeaverTerriotry pic.twitter.com/VinBDlMh5n

— Bemidji St. Men's Hockey (@BSUBeaversMHKY) March 7, 2022
Presuming all these factors level the ice surface, and sub-.500 Bemidji finds itself tied with national power Michigan Tech in the closing minutes of regulation or beyond, who is the better equipped team to survive and advance? Tech, without question. They have proven it time and again this season, Shawhan searches his bench for "clutch" during the tension conventions, and repeatedly finds it in the darkest corners. There are myriad examples, the freshest being Parker Saretzky, whose double overtime thriller on Saturday was his first goal in five months.
"Depth wins playoffs," said the jubilant Saretzky, whose wisdom makes him a surrogate coach for Tech.
Prediction: Tech wins in a tight game, decided late, perhaps requiring extra time as Shawhan predicted. The Huskies will get much-needed energy from the MacInnes faithful. Another bottom-six player will step up and be a hero. Viewers should pay attention to No. 55 in black and gold, Tyrone Bronte.