2022 Niagara vs AIC - Men's
Atlantic Hockey: Individual Stats Races Come Down To Final Week
Atlantic Hockey: Individual Stats Races Come Down To Final Week
With one more week to play in Atlantic Hockey the final standings remain in flux and individual statistic races are down to the final Saturday night.
Feb 24, 2022
by Jacob Messing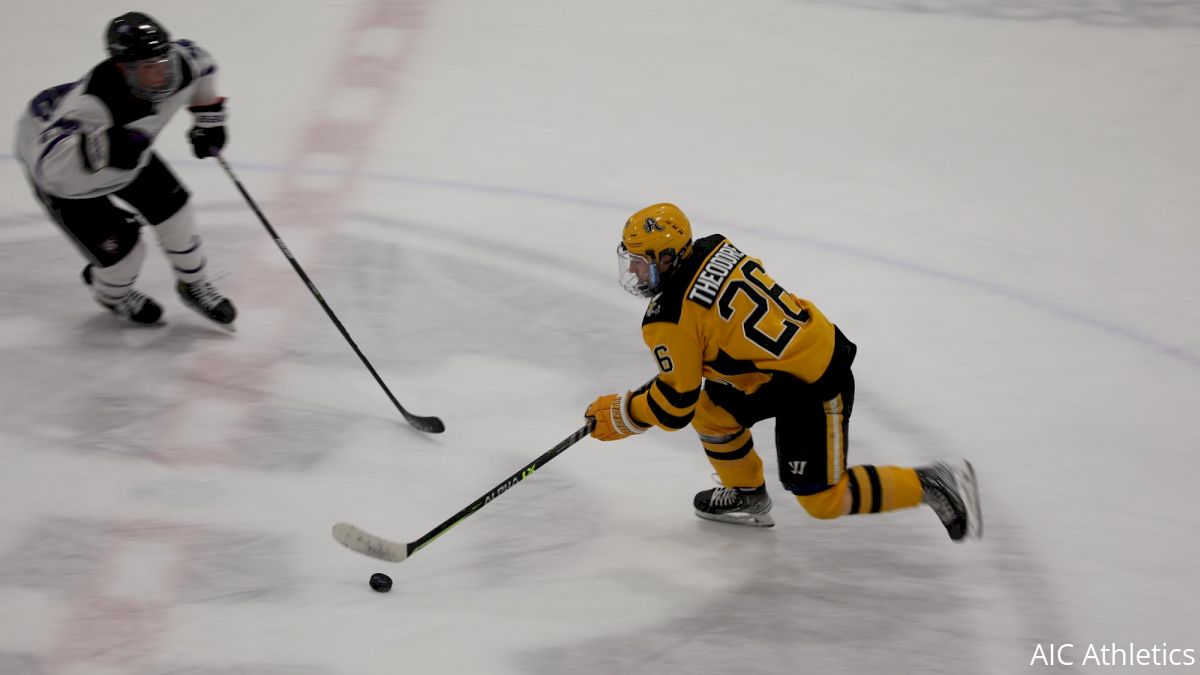 With one more week to play in Atlantic Hockey much of the final standings remain in flux and individual statistic races will come down to the final Saturday night of the regular season.
Spring came early for American International, as the team bloomed to claim its fourth-consecutive regular season conference title after a streaking spring. The Yellow Jackets have gone 13-3-1 since the turn of the calendar.
AIC wins fourth consecutive Atlantic Hockey regular season title; Army sweeps Holy Cross; Canisius, RIT and Air Force earn conference wins.

📰 https://t.co/pI6PTgvaFm
📊 https://t.co/dagl9LeRUL
📈 https://t.co/AvbV3UU4Ny
📅 https://t.co/O1VfMsfahG#AtlanticHockey pic.twitter.com/VFuDaGKVbu

— Atlantic Hockey (@Atlantic_Hockey) February 19, 2022
The Jackets will finish off their season hosting Niagara this week and have the opportunity to finish the season with a 14-point gap to second-place. The conference powerhouse is eyeing its third consecutive National Tournament berth—excluding the canceled 2020 tournament.
The Jackets are in line to lead the conference in goals-for, fewest goals-against, power-play percentage, and total scoring points. These conference-deciding stats show just how cohesive and positionally deep coach Eric Lang's team is and why the Jackets continue to sit on Atlantic Hockey's throne.
Individually, AIC forward Chris Theodore—nephew of former NHL goaltender José Theodore and trivia bit: the last goalie to win the Hart Trophy (2002)—sits tied for first in the conference scoring race with 27 points (9 G, 18 A) in 28 games.
Theodore has built on last year's breakout, and has been a dynamic piece of AIC's systems—his three game-winning goals put him one away from a tie for the conference lead. Theodore has accumulated two goals in five career games against upcoming opponent Niagara.
But Theodore has competition at the top. Colin Bilek of Army West Point and Ryan Leibold of Holy Cross each sit with ten goals and 17 assists for 27 points. Bilek's 12 goals led Atlantic Hockey last season and he has recorded three goals and nine points in 14 career games against upcoming opponent Sacred Heart.
Leibold amassed his 27 points on last-place Holy Cross in part due to three, three-point games this season. Bentley is up next. Leibold has managed to record a stat line of zero goals and five assists in 12 career games played against Bentley. The Crusaders are a lock to be the visiting team in the opening round, but their destination remains undetermined heading into the weekend.
"Will" It To Fruition
When it comes to the goalscoring title, RIT's Will Calverley sits at the top with 15 goals in 32 games. Calverley has been a consistent offensive producer for the Tigers over the past three seasons with 25 goals and 23 assists for 48 points in 50 games between his sophomore and junior seasons.
As a senior, Calverley has added 10 assists to his goal-scoring lead for 25 points in 32 games and has helped the Tigers secure a first-round bye. With the final regular season series coming with a trip to Air Force, Calverley has 120 more minutes to add to his season total and finish the season as the leading goal-scorer.
Calverley has not scored a goal in four career games against the Falcons, but he'll look to change that this weekend as he rides a two-game goal streak and has scored four in his past seven contests.
But the "Will" of Air Force is to see one of their own take control of this week's series as Will Gavin sits just one goal shy of Calverley's lead. Gavin has never faced the Tigers in his career with Air Force and is on a three-game drought, but the Falcons' competitive level has been evident all season and they'll likely need some insurance points to hold onto their current bye.
Coach Frank Serratore's orchestra will need to have a handful of first-chairs this weekend to add points, and while the individual comes after the team, Gavin outscoring Calverley will go a long way in ensuring the Falcons earn some rest in the first-round.
But Gavin and his teammates will also need to cool down the latest Goaltender of the Week in RIT's Tommy Scarfone. Scarfone went 2-0 in a sweep of Niagara for 58 total saves in the Tigers' 4-2 and 3-2 wins.
But across the league it's another Gavin that is running the goaltending camps in Atlantic Hockey. Army's Gavin Abric sits at the top of the conference list for goals-against average (2.25), save-percentage (.931), and saves per-game (28.89).
Abric quickly stabilized the biggest question mark for the Black Knights heading into the season and leads Atlantic Hockey with more than 1,500 minutes played after not seeing any ice time as a freshman last season.
Don't miss Abric and the rest of Atlantic Hockey fight for their remaining point potential or individual accolades. Catch all ten Atlantic Hockey games live right here on FloHockey this weekend.
---
Have a question or a comment for Jacob Messing? You can find him on Twitter @Jacob_Messing.