2022 Michigan Tech vs Ferris State - Men's
CCHA Reasons To Watch: The Home Ice Fights
CCHA Reasons To Watch: The Home Ice Fights
This week in the CCHA: A first round playoff preview, BGSU fights to maintain home ice and college hockey's silver chalice on hand in Mankato.
Feb 18, 2022
by Tim Rappleye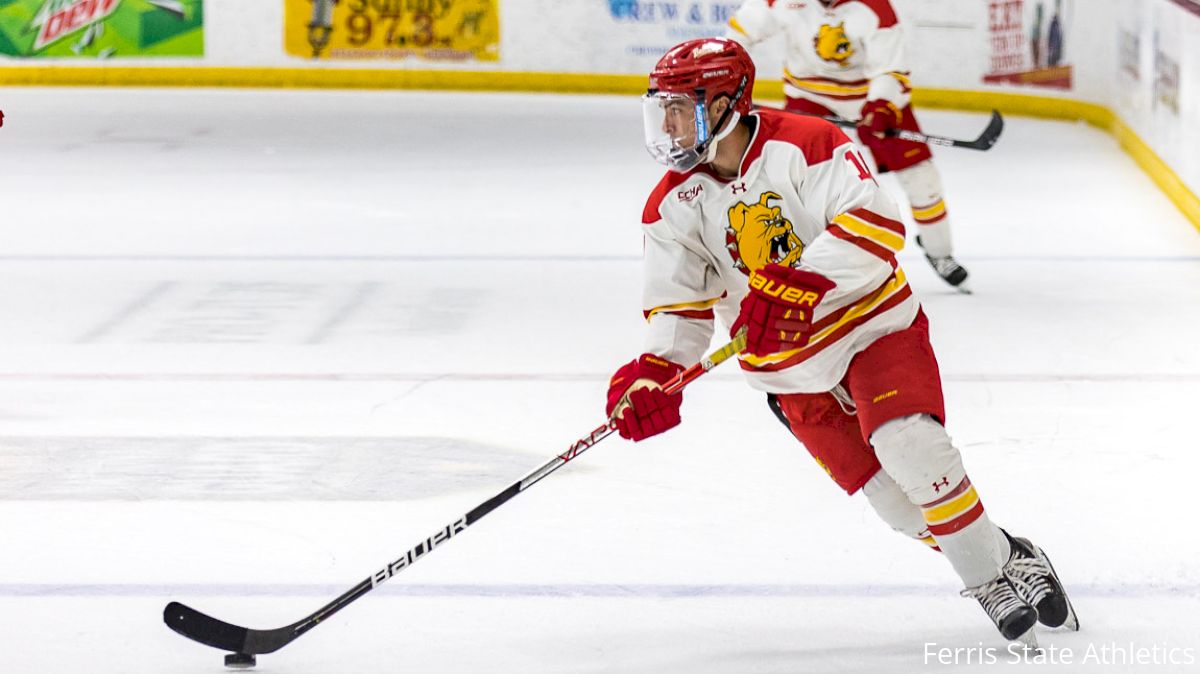 This week in the CCHA: A first round playoff preview, BGSU fights to maintain home ice and college hockey's silver chalice on hand in Mankato.
No. 14 Michigan Tech Vs. Ferris State
Barring any unforeseen circumstances, Tech's series with Ferris will be repeated in two weeks time as a No. 2 - No. 7 CCHA quarterfinal matchup. Tech coach Joe Shawhan has the utmost respect for Bob Daniels and his Ferris staff, and doesn't enjoy playing in the crowded confines of Ewigleben Arena, but his Huskies should return to their winning ways this weekend in Big Rapids.
Fatigue has been the buzzword on Shawhan's radio hour the past two Monday's, but two days away from the rink and a regimen of rest, nutrition and ice baths should have the Huskies refreshed and ready to roll. There was a cautionary tale, however, sounded out by a rival coach in the middle of the Huskies 20-point CCHA run in 16 days. Northern Michigan's Grant Potulny was interviewed live after just suffering a 4-0 Tech onslaught on his home ice. He merely shrugged and said, "The most important thing is how you play at the end of the year."
Northern has had a bye week to heal and rest—Tech has not.
"We're the only team in the league without a bye week," said the forlorn Shawhan.
Instead of a spa weekend, his Huskies are spending 15 hours on a bus, playing a pesky pack of Bulldogs. That's followed by a series with national No. 1 Minnesota State and then the playoffs. There is no rest in sight for a team desperate for a respite. These circumstances beg the biggest question in the CCHA: How much gas is in the tank for the league's hottest team?
Ferris State's astute coaching staff will be going to school on the Huskies' strengths and weaknesses in this Mason Cup quarterfinal dress rehearsal.
Prediction: Tech in a sweep, but at what cost?
Northern Michigan Vs. Bowling Green
Bowling Green coach Ty Eigner needed to make a statement before last Saturday's game at Michigan Tech, and he sent up a red hot flare into the heart of his locker room. He relegated leading scorer Austen Swankler to the 13th forward position, and put his captain, Taylor Schneider, into street clothes, a healthy scratch. His Falcons got the message, loud and clear.
Fighting off two different deficits, Eigner's Falcons swarmed the CCHA's second place team in the second half, tilting the ice for a 4-2 road victory, maintaining their grasp on the fourth and final home ice spot in the standings.
Now the Falcons host rival Northern Michigan, who along with Lake State, have designs on home ice as well. Potulny's Cats have had enough time to get their goaltending healthy, and hopefully work on their special teams during their bye week. At 71 percent, the Cats' PK is a more than a standard deviation below the national average.
Based on the Falcons' newfound determination—and the Cats tendency to both score and allow goals by the truckload—the Slater Family Arena should be wild.
Prediction: A very entertaining split down at Bowling Green. Fans of offense should tune in, and not just for Potulny's cast of snipers. BGSU's Nathan Burke (15 goals) is one of the best pure scorers in the CCHA.
Lake Superior State Vs. St. Thomas
The Tommies return to the Twin Cities wondering what the hell just hit them. They found themselves 198 miles from the Arctic Circle, playing on the largest sheet of ice in the nation, and getting hammered by a team that didn't compete last season. Now they face a CCHA foe hot on the trail for the last home playoff spot. No one said this Division I debut was going to be fun for the Tommies.
Damon Whitten's squad is nothing if not resilient. They have crawled through the chaotic COVID desert and ended up on their feet, with a pair of stellar goalies and a ton of confidence. In their sweep over Ferris, LSSU saw more special teams action than five-on-five play. The stat sheet reveals Lakers achieving perfection in the PK (11 for 11), and proficiency on the PP (3-12 25 percent).
They have the deepest goaltending in the league, and despite scratching rock bottom more than once this season, the Lakers appear to be gearing up for another league playoff run.
Prediction: Road sweep for the Lakers, and presuming BGSU splits with Northern, a tie for the coveted fourth place slot in the CCHA standings.
Bemidji Vs. No. 1 Minnesota State
"A riddle, wrapped in a mystery, inside an enigma." Who knew that Winston Churchill could be so prescient about Bemidji State's 2021-22 season? Tom Serratore's Beavers seem to have all the pieces to contend for the MacNaughton Cup this year, including several players who came within a single game of grasping the historic chalice in 2020, yet they have been out of contention since February. An enigma indeed. There isn't one element to point blame: proven veteran scorers have filled nets, all-conference defenseman Elias Rosen has lived up to expectations, and freshman goalie Mattias Sholl has been better-than-average, yet their record in the stretch drive is a confounding 2-6. A statistical analysis reveals a clue: Serratore's club is killing penalties at a respectable 82 percent rate this season, but it is more than 10 percent lower than their last two seasons. That fraction translates to over one goal per weekend, and historically, Bemidji plays very tight games. That goal per weekend might be the difference.
If flight itineraries from Beijing cooperate, top-ranked Minnesota State will get an unexpected injection of talent and leadership onto their bench this weekend. Team USA's unexpected loss to Slovakia knocked the Americans out of Olympic competition much earlier than expected, so high-scoring junior Nathan Smith and bench boss Mike Hastings will be welcomed back to Mankato with open arms. This weekend, they should compete for silver, which means first place, not second, in the CCHA.
The 40-pound silver chalice known as the MacNaughton Cup, the oldest trophy in college hockey, will be in the Mayo Clinic Events Center this weekend, and could be handed out either Friday or Saturday depending on league results. Several confusing scenarios have been mapped out on how the Cup can be clinched this weekend, but there is one simple formula: The Mavericks currently have a seven-point lead on second place Michigan Tech heading into Friday's games. If MNSU can finish the weekend with that lead—or greater, the Cup is theirs to celebrate with for the 5th straight season.
Prediction: Mavs get their dance with the Cup, but will hoist on Saturday, not Friday.