Men's CCHA Hockey
CCHA RinkRap: Michigan Tech's Streak Ends
CCHA RinkRap: Michigan Tech's Streak Ends
This week on RinkRap: Michigan Tech's streak ends in a big way, the Tommies get thrashed in Alaska and a former Bulldog beats his old team.
Feb 14, 2022
by Tim Rappleye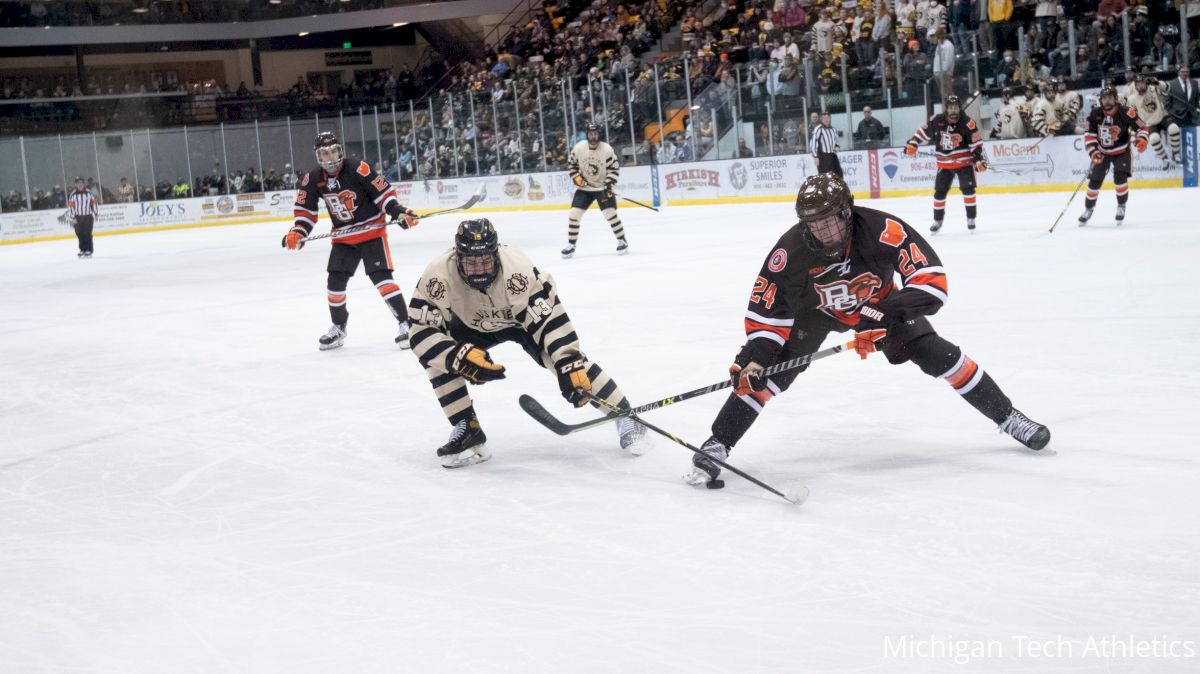 This week on RinkRap: Michigan Tech's streak ends in a big way, the Tommies get thrashed in Alaska and a former Bulldog beats his old team.
The Streak Finally Ends
December, 4, 2021. That was the last time Michigan Tech lost a game in regulation before Saturday night's loss to Bowling Green. It was the end of a remarkable stretch of hockey: Ten wins, a tie and an overtime loss—a streak that saw Tech climb in the polls, the CCHA standings, and, most importantly to Joe Shawhan, rocket up to No. 6 in the PairWise rankings.
The tail end of the streak saw the Huskies play a daunting eight games in 16 nights, which mercifully ended Saturday. Even with the loss, they finished 6-1-1 over those eight games. Shawhan knew the unbeaten streak was in jeopardy Friday night, even after a jubilant 4-0 win in which saw junior goaltender Blake Pietila set the school record with his 7th shutout of the season and seniors Brian Halonen and Trent Bliss cleared the 100-point career plateau. Fatigue had crept into the Huskies' game, pulling at their legs like vines in a forest, forcing them to use maximum effort to accomplish simple tasks like clearing the puck from their own end.
"The body was willing, the mind was tired," said Shawhan. "We could really use an off weekend, but we're not going to get it." Trailing by two goals on Saturday, Shawhan did not bother pulling Blake Pietila for an extra attacker; his team was gassed, and presumably Shawhan didn't want to jeopardize the total-goal edge required to capture the MacInnes Trophy. Winter Carnival MVP Halonen collected the trophy without a smile, his mates happy just to get off the ice and out of the rink for 48 hours.
Despite winning Friday, Tech fell from 6th to 8th in the PairWise, and 10th by Saturday night. The Huskies must regroup, pay attention to studies, listen to team doctors about recovery, and then get back to the CCHA grind on Tuesday. Based on the PairWise trend, the NCAA tournament is no longer a foregone conclusion for Tech. In Houghton, rest for the weary is not an option.
The Commish Returns To Fairbanks
Unless you knew the participants, it would be considered wildly controversial for the commissioner of the league that had essentially booted the home team out of its conference to come back and visit the broadcast booth of the vanquished. Instead of hard questions and a squirming guest, Don Lucia was treated like the adopted son he is.
During Alaska's weekend throttling of St. Thomas (6-1, 7-3), a series wrought with irony due to the fact that the Tommies had essentially replaced the Nanooks as the eighth member of the new league, CCHA commissioner Lucia popped into the booth to share warm stories of his time in the Last Frontier. There was no antipathy, far from it, Lucia has never stopped advocating for Alaska hockey since he cut his teeth as a head coach at 29 years old.
Lucia knew exactly what kind of financial straits Alaska was enduring, and was genuinely pleased that the Nanooks had resumed playing after a year-long hiatus. Lucia married a local during his time in Fairbanks, and all four of his children were born in the shadow of the Arctic Circle. He was clearly empathetic to the Nanooks' plight, sharing the pipe dream that Alaska might find a conference to play in, a lifeline for all independent schools. Earlier that day he had a positive exchange of ideas over lunch with Alaska coach Erik Largen and new Athletic Director Brock Anundson. Lucia cares about college hockey surviving in Fairbanks, but his league will not be the one to provide safe harbor.
Meanwhile, a hundred feet below all the happy-talk in the announcers' booth, Alaska was in the middle of five unanswered goals against the overwhelmed Tommies, a feat they repeated on Saturday. In the national PairWise standings, Alaska ranks above four of the CCHA teams, competing at the same level as they did in 2019-20, when they hosted a playoff series against Bowling Green.
Lucia encouraged other teams to schedule games in Alaska.
"It's a great trip, a great community, and for some kids, it's a once in a lifetime opportunity."
For CCHA newbie St. Thomas, it was an opportunity to be humbled on the ice, and then begin Super Sunday with red eyes in SeaTac International Airport, waiting for the dawn connection back to the Twin Cities. That rugged itinerary is a big reason St. Thomas is in the CCHA, and Alaska is not.
Former Bulldog Sinks Ferris
The transfer portal has not been kind to Ferris State. Lake State junior Jake Willets is a prime example. After two years in Big Rapids, Willets bolted for the Soo, and on Saturday made history against his old club: the first Laker defenseman to score a hat trick in the school's illustrious past.
"I did not realize that," said Laker boss Damon Whitten in the post-game. "There's been a great history of great players up and down our lineup, and that goes for our D-corps, so I'm a little surprised by it, but an awesome night for Jake Willets."
Whitten acknowledged the potential awkwardness in the hand-shake line with once and former teammates.
"Always a little tough emotionally when you're facing your old team, but he was on fire, he shoots the puck a ton."
Lake State's gain is Ferris State's loss, whose former standout winger Coale Norris is suiting up for league rival Bowling Green, another portal traveler. It's tough for FSU's Bob Daniels to rebuild successfully when his own league cannibalizes his players. Earlier this month he spoke about chasing a home ice position in the playoffs. After being swept this weekend by Willets and Lake State, it is the Lakers who now have a shot at that coveted fourth spot in the CCHA standings, while Ferris nurses its emotional wounds.