Atlantic Hockey
Atlantic Hockey Race Heats Up With Tense Standings
Atlantic Hockey Race Heats Up With Tense Standings
With Atlantic Hockey's regular season nearing an end, the Jack Riley Memorial Trophy will be awaiting the last team standing, as will a tourney bid.
Feb 11, 2022
by Jacob Messing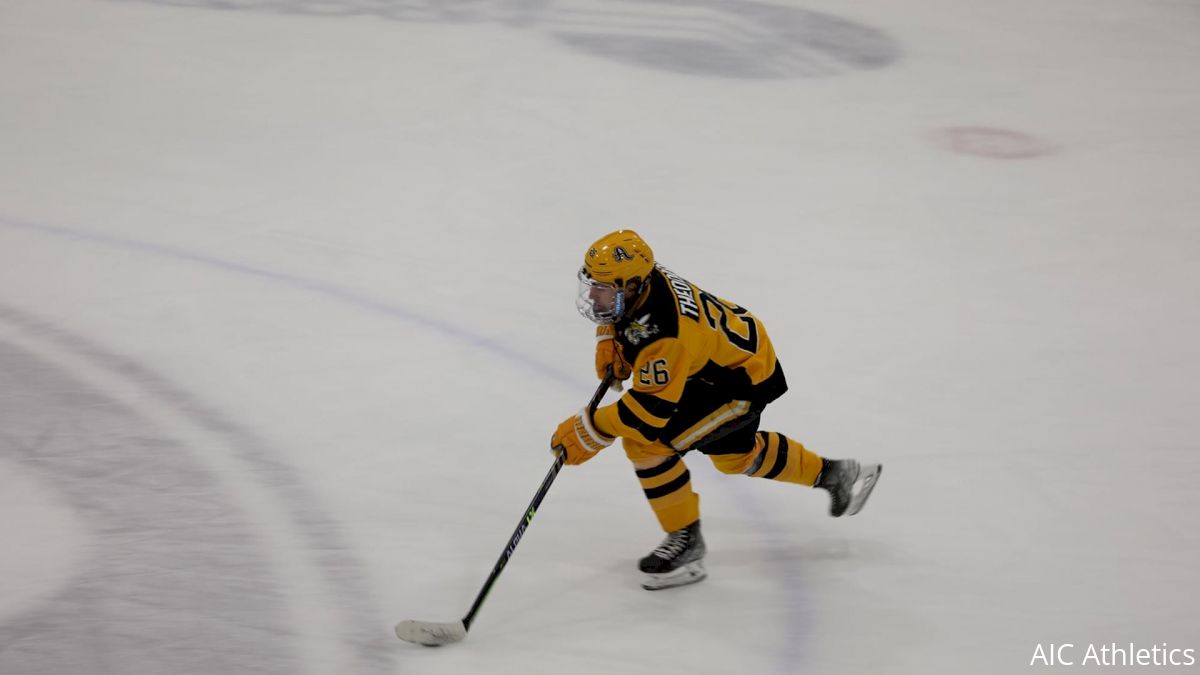 With Atlantic Hockey's regular season nearing an end, the Jack Riley Memorial Trophy will be awaiting the last team standing, as will an automatic bid to the 2022 National Tournament.
The postseason will begin on March 4 with a best-of-three series that will have No. 7 host No. 10 and No. 8 host No. 9—the top six teams will earn a bye and enjoy some rest before the best-of-three quarterfinal set for March 11-13. The quarterfinals will pit the highest and lowest remaining seeds head-to-head. March 18 will see a single-elimination semifinal, followed by the championship game on March 19.
You can stream every regular season Atlantic Hockey game live, right here on FloHockey, as well as the entirety of the AHA Tournament. And there will be plenty to watch.
American International's red-hot start to 2022 has them sitting with a 14-point lead and on the verge of a fourth-straight regular season title.
Following the Yellow Jackets is where the race thickens. The second–seventh place programs are within six points of each other. In other words, every point has immediate influence on the standings.
A first-round bye is on the table and with six teams in the race, every point lost is a multi-point swing in the standings.
Currently in second place with 34 points, Canisius has six games (18 points) remaining with Niagara, Sacred Heart, and Mercyhurst left on the schedule. The Golden Griffins are in a favorable spot with the high ground, but Sacred Heart and Niagara are two and six points back, respectively. Their upcoming series with Niagara will be instrumental in locking down second place.
In third place sits Gavin Abric-led Army West Point, which is two points back on Canisius and tied with RIT and Sacred Heart with 32 points. The Black Knights have five games remaining. The second-half of a current AIC series concludes Saturday evening, where a loss doesn't see points go to programs in the fight for the standings. A series with Holy Cross also offers protection from point-swings, but adding points will be pivotal with a season-ending series against Sacred Heart.
The RIT Tigers are tied with the Knights at 32 points, sitting below them in the tiebreaker. Four of the Tigers remaining six games will bring point-swing potential, where series with Niagara and Air Force could see them leap in the standings. They will need to capitalize on this week's series with Mercyhurst to add to their spread.
Sacred Heart is the third 32-point team, sitting behind Army and RIT in their tiebreaker. The Pioneers have won two in a row, jumping Bentley Thursday night after defeating the Falcons 5-3. Canisius and Army make up their final four games and could make up a lot of ground with a hot streak to end the regular season. Their offense is capable and tensions will be high.
Series finale against Bentley starts TONIGHT at 6:05 p.m.! #WeAreSHU

🆚 : @BentleyHockey
⏰ : 6:05 p.m
📍: @Webster_Arena | Bridgeport, Conn.
📺 : https://t.co/hgK56MEvEC
📊 : https://t.co/1iEpwUpe0b
🎟️ : https://t.co/gn6y6baEae
🚌: Leave from Edgerton at 4:45 p.m. pic.twitter.com/RGs5b89OZ4

— SHU Hockey (@SHUHockey) February 11, 2022
After Thursday night's loss to Sacred Heart, Bentley is just two points (31 total) ahead of Air Force for the final spot in the first-round bye. The Falcons' remaining schedule sees them face off against programs adjacent to them in the standings. Friday night's contest with Sacred Heart could mean a standings' jump. With series against Air Force and Holy Cross, the Falcons will have the chance to add major last-minute points against lower-seeded teams.
Air Force has come a long way after an uneven travel schedule in last year's pod-based format. Now, the young Falcons are taking strides forward and have no quit. With six games remaining, they have a good chance to add to their current 29 points that put them seventh in the conference and first team cut for the first-round bye. Series against Holy Cross, Bentley, and RIT bring major point potential that could mathematically see them earn a second-place finish. But Frank Serratore's team is focused on the bye not the points.
Don't miss any of the late-season action, stream every second of Atlantic Hockey action live right here on FloHockey.
---
Have a question or a comment for Jacob Messing? You can find him on Twitter @Jacob_Messing.