Men's CCHA Hockey
CCHA RinkRap: Homecoming For Brendan Furry
CCHA RinkRap: Homecoming For Brendan Furry
This week on RinkRap: the ultimate homecoming for MNSU's Brendan Furry, Grant Potulny can't believe his Lyin' Eyes and Rico Blasi's Tommies play spoiler.
Feb 7, 2022
by Tim Rappleye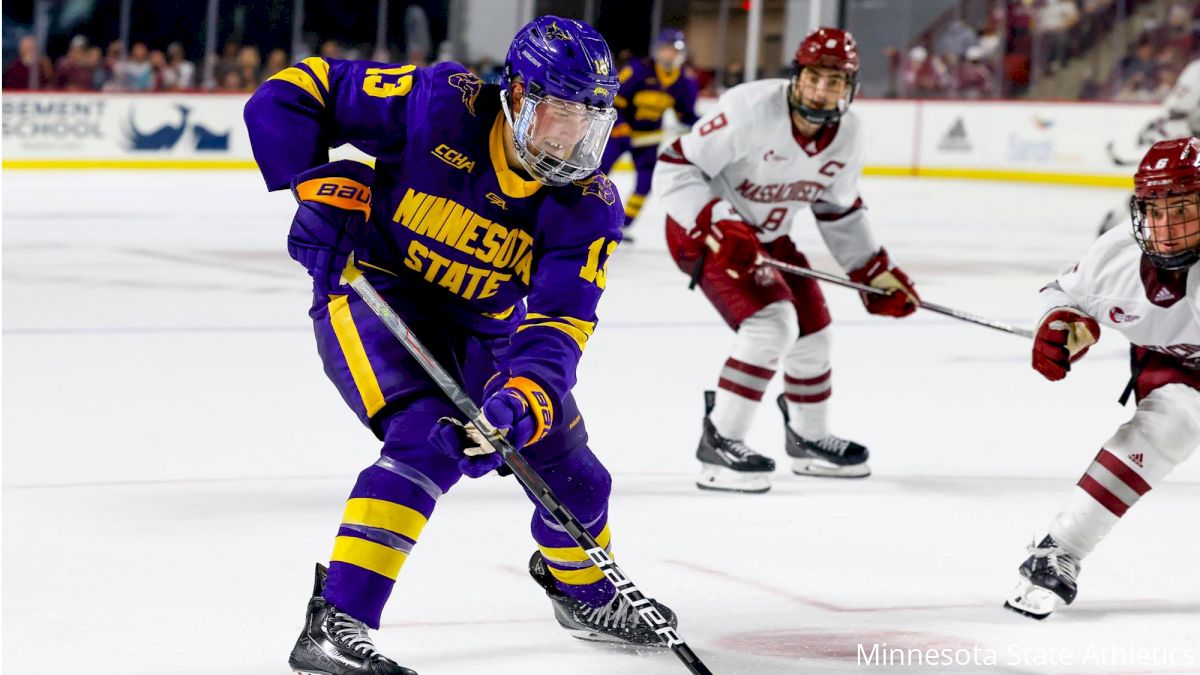 This week on RinkRap: the ultimate homecoming for MNSU's Brendan Furry, Grant Potulny can't believe his Lyin' Eyes in Bemidji and Rico Blasi's Tommies play spoiler.
The Return Of The Prodigal Son
MNSU head coach Mike Hastings—currently on his Olympic sabbatical—did not envy his assistant Todd Knott's plight: a trip to Bowling Green's Madhouse on Mercer this past weekend. The old barn has always presented a challenge to his Mavericks—it was the last venue where his team was swept. Little did he know that MNSU sophomore Brendan Furry would attract hundreds of purple-clad fans to BGSU, the prodigal son of neighboring St. Francis prep.
"It's unbelievable, you're able to feed off their energy," said Furry, who accommodated his fan club with three goals over the weekend. "To be able to play in an atmosphere like that, in an away building, it's something that not many players get to experience, so it was really cool."
Furry helped ‌St. Francis to a state championship in 2015, before departing for junior hockey. He was part of a loving hockey community in Toledo, one that traveled in droves to see their prodigal son in a starring role for the No. 1 team in college hockey.
"It's just family, friends, people that I grew up playing with, people that work with my parents, people all down the line since I was playing hockey when I was three years old, probably some I haven't seen in a long time. The St. Francis hockey team's here, the coaches, the president of the school, it really means a lot that they came out."
When the No. 1 team in the nation comes to town, eyes are on No. 13 from the 419@SFSAthletics alum Brendan Furry delivered in front of familiar faces — 2 goals, including an empty-netter to cap a 3-1 @MinnStMHockey win and snuff a furious fight from Bowling Green @BCSNsports pic.twitter.com/HPLKA3jKNE

— Joel Sebastianelli (@JJSebastianelli) February 5, 2022
There was no shortage of irony in Furry's return to northern Ohio. He was originally going to attend Bowling Green upon graduation from St. Francis, his goal simply to play club hockey for the Falcons. But fate interjected, and he agreed to attend a prospect's showcase tournament, where his life's fortunes changed course. Instead of attending college 25 miles from home, he embarked on the long road to Division I hockey. All those friends and family were treated to another huge weekend from their hero, whose three goals vaulted him into third place on the Maverick scoring chart, topping the magic point-per-game mark that identifies players as national stars.
The Mavericks clearly needed Furry's production this weekend, especially his two goals Friday night, because Bowling Green outshot and outchanced their visitors over the last two periods. Thanks to Furry—and 140 of his closest friends—the Mavericks escaped the Madhouse with six points in the standings. Half a world away, Team USA members Hastings and Nathan Smith got to breathe sighs of relief.
They're No Stepping Stone
St. Thomas has taken a lot of lumps this year, none more visible than when they got sideswiped by a snowstorm and No. 1 Minnesota State 7-1 in the regionally televised outdoor game. But veteran coach Rico Blasi still has his team believing in the precious process. This past Friday, in their first game since the snowstorm in Mankato, the Tommies claimed a tie with Michigan Tech, one of the hottest teams in the NCAA.
"To take the No. 15 team in the country to overtime and a shootout, that's pretty good for our guys," said Blasi, whose Tommies trailed by two goals in the third period before rallying. They tied the game on a Blaine Warnert goal with under five minutes to play. Although Tech managed to get the extra point in the CCHA standings by winning the shootout, the game goes into the books as a tie, and officially halted STU's eight-game home ice losing streak.
"Our guys have never given up," said Blasi. "Our focus is on the process and trying to get better every night and every game. Our guys have really bought into that, and we're not letting each other down. To me that's all we can ask for."
The following night was another tight affair, with Tech scratching out a 2-0 win. Tech coach Joe Shawhan, whose team had dropped a spot in the precious Pairwise, offering grudging praise for the new kids on the block.
"They've established a good work ethic, their goaltender was very good," said Shawhan on Saturday, still stinging from Friday's tie. "We'll take the five points, get on the bus and get the heck out of here."
The Eye-Test, Revisited
Last week in this space, it was predicted that Northern Michigan would suffer a sweep in Bemidji, a prediction based primarily on how NMU graded out on the subjective "eye test." They were allowing soft goals and taking gratuitous penalties. Bemidji was a veteran club, mired in a losing streak, but playing well. In a series that looked, smelled and tasted like playoff hockey, Northern Michigan split with the Beavers, and looked to everyone, including the Bemidji broadcasters, like the better team.
"They move the puck north-south as fast as I've seen," said Beaver radio color man Brian Bissonette, describing Cats' A.J. Vanderbeck hammering home his NCAA-leading 19th goal of the year, converting off a gorgeous cross-ice feed from David Keefer. "They are impressive!"
Vanderbeck was a victim of a sequence of events that was maddening for the visiting Wildcats, one that had a direct outcome in the game. Vanderbeck was elbowed in the head by Bemidji's star defenseman, Elias Rosen, a replay of which easily justified a major penalty. The CCHA officials dutifully went to check the replay, but there was a SNAFU in their replay equipment, forcing them to stick with the original call, a minor penalty on Rosen for interference. The problem was, the in-house video feed had a perfect replay of the dangers of the hit, and played it for everyone to see on the giant overhead scoreboard. NMU's Grant Potulny was incensed when officials stuck by the protocol, and refused to use the in-house feed that was playing for all to see.
Rosen ended up setting up the game-winning goal late in the third, and Vanderbeck took out his frustrations with a cross-checking penalty when the game was out of reach. Should these two teams meet in the playoffs, this game and its unsettled score of aggression and violence will frame the matchup.
So it is a skilled and angry bunch of Cats that return to the Berry Center in Marquette for Tuesday's showdown with rival Michigan Tech. The Huskies have an eight-game-win-streak against Northern at the Berry, but if you believe the eye-test, Potulny's Cats should end that streak, and put another dent into coach Shawhan's precious PairWise ranking.
St. Thomas Sports Information and the Buckeye Sports Network contributed to this report.