2022 Arizona State vs Minnesota State - Men's
CCHA Reasons To Watch: Battles For Home Ice
CCHA Reasons To Watch: Battles For Home Ice
This weekend in the CCHA: playoff positioning is the dominant story, as one series will be a battle for home ice, and another for second place.
Jan 27, 2022
by Tim Rappleye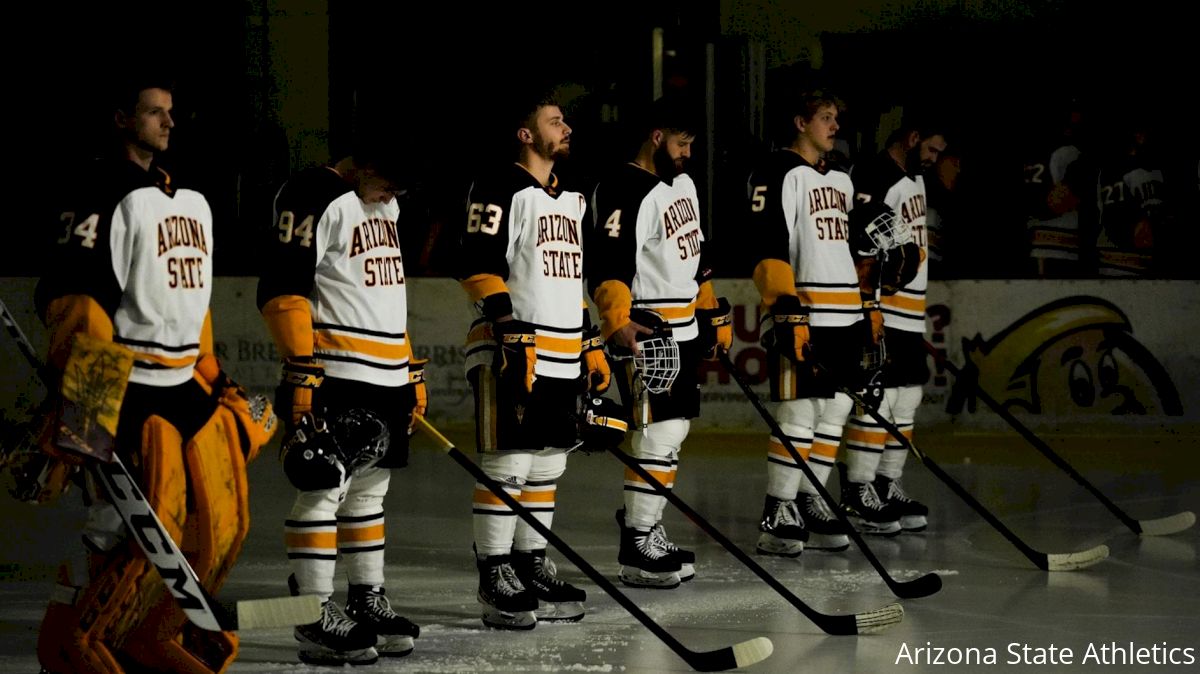 This weekend in the CCHA: playoff positioning is the dominant story, as one series will be a battle for home ice, and another for second place; a non-conference battle of heavyweights will have major PairWise implications; and the Cappo Cup will be awarded in Marquette this weekend. Let's break it down.
Bemidji Vs. No. 18 Michigan Tech
Payback. Last season Tom Serratore's Bemidji squad tormented Joe Shawhan's club, winning five of six and ending the Huskies season with a playoff sweep. Tech appears to hold the upper hand this weekend, fully rested and at home, while Bemidji limps into Houghton having been swept by Ferris. The Beavers' pride was battered by the Bulldogs and their NCAA hopes badly injured. Shawhan's biggest concern is over the Beavers' Sillinger brothers, Owen (senior) and Lukas (sophomore) are due to break out.
"The Sillinger's didn't score last weekend; you don't shut those guys out for very long," said Shawhan. "How they go, the team goes."
And that means taking care of business on special teams, a major story-line in this series, as these two clubs rank No. 1 and No. 2 in the conference in power play efficiency.
Prediction: Tech delivers a big payback, sweeping the Beavers, and leapfrogging into second place in the CCHA.
Bowling Green Vs. Ferris State
The Falcons have something that Ferris craves: a home ice slot in the CCHA standings. With a sweep, the Bulldogs could replace BGSU in that precious fourth spot, and unlike recent years, such an outcome is no longer inconceivable.
"I don't think there's a better coached team than Ferris," said Shawhan on his weekly radio show. "They're getting it right in the locker room."
Last Saturday at Bemidji, Ferris went into their locker room with a 5-0 lead in the second intermission, playing with proverbial "house money" for the first time in memory.
"Unless we didn't completely throw up on ourselves, that pretty much sealed it," said Bulldogs coach Bob Daniels, who now has the luxury of two solid goalies—Noah Giesbrecht and Logan Stein—and a hot line in Liam McDougall, Stepan Pokorny and Brendon Michaelian. The Dogs have size to help maintain all that momentum, which will make for a very trying weekend for Ty Eigner's Falcons.
Prediction: A split, as both teams tread water in the CCHA standings. Getting points every weekend is all part of Daniels' plan to get that final home ice slot.
No. 1 Minnesota State Vs. Arizona State
Although it may be hard to believe, MNSU coach Mike Hastings is sweating out the PairWise. Currently his Mavericks are ranked No. 2 on the computer, just a few precious points ahead of Denver. MNSU is competing with the Pioneers for the top seed in the coveted west regional in Loveland, Colorado, the same venue where Minnesota State had its NCAA breakthrough last year. Hastings knows the committee would love to place in-state Denver in Loveland, but you can't place two No. 1 seeds in the same regional. So, in the words of the late Al Davis, "Just win, baby."
That will be a challenge for the Mavs from Mankato this weekend, because they are hosting independent Arizona State, the school with the toughest road schedule in the land. They are trying to parlay its strength of schedule into its own PairWise parlay; the Sun Devils currently sit on the cusp of NCAA contention at No. 21. They are desperate, and Hastings knows that translates to danger for his club.
"They're about as aggressive, confident, physical and talented a team as we're going to see," said Hastings. "We're going to have to play very well to have an opportunity to win a game."
Fortunately for Minnesota State, playing very well is what they do. Last weekend transfer sophomore David Silye recorded the fifth hat trick for the Mavs this season, a first for the program according to Hastings' memory.
This series with ASU will likely be Mankato's Olympic sendoff for both Hastings and scoring star Nathan Smith. The men in purple will do everything in their power to make it a happy occasion.
Prediction: Mavericks in a sweep in a chippy, occasionally violent affair with the desperate Sun Devils. The referees will get plenty of air time.
Lake Superior Vs. Northern Michigan
The late Monsignor Louis Cappo remains a part of the Division I hockey fabric in Michigan's Upper Peninsula. A trophy in his name has been handed out to the winner of the Northern Michigan-Lake Superior State series since the early '90s. It was a consolation prize for Lake State in 2020 when they struggled through a losing season. Such may be the case again this year, as the Lakers are losers of their last four, three games under .500.
This weekend's series in Marquette could be the high point for Damon Whitten's season, as his Lakers need only a single point to clinch the 2022 Cup. It will be at tall order, however, as Northern is 10-5-1 at home, blessed with an arsenal of scorers.
Prediction: Northern in a lopsided split, but Lake State returns to the Soo with the Cappo Cup.