Men's CCHA Hockey
CCHA RinkRap: Snow Globe In 'Kato
CCHA RinkRap: Snow Globe In 'Kato
This week on RinkRap: the picturesque snow globe in Southern Minnesota, Bob Daniels' miraculous road trip and Mankato's technical wizard.
Jan 24, 2022
by Tim Rappleye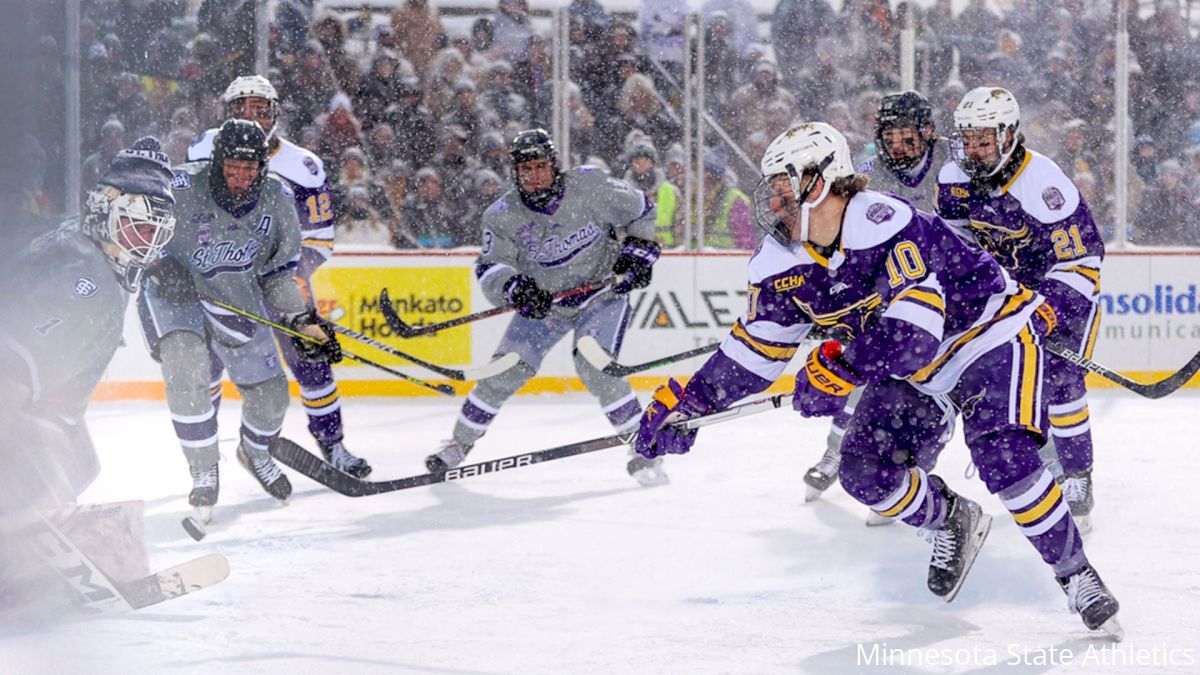 This week on RinkRap: the picturesque snow globe in Southern Minnesota, Bob Daniels' miraculous road trip and Mankato's technical wizard who operates in the shadows.
Snow Globe in 'Kato
Hockey was born outdoors. Back in 1565, Dutch Master Pieter Bruegel depicted a vast winter scene in his iconic painting "Hunters in the Snow," and in the background you can clearly see a vigorous pond hockey game being contested. A big reason Minnesota is by far USA's No. 1 hockey state is because of all the hockey being played on its 10,000 frozen lakes, without supervision, without time limits. A whole lot of hunters in the snow.
Saturday night in Mankato, yet another hockey game was played outdoors, in the driving snow and wind. That's not unusual for Minnesota in January, but instead of makeshift goals created by a pair of Sorel boots, the nets were framed by real iron; it was under television lights and it was played in front of 10,000 fans. It was the 15th annual Hockey Day in Minnesota, and it was glorious.
Brave spectators were treated to 60-minutes of intense hockey played inside a vigorously shaken snow globe, a rip-roaring exhibition of Minnesota's best college hockey team, the Mavericks of Minnesota State. Playing in stylish new kits that included snow-white helmets, the Mavs plowed through both the drifts and the St. Thomas Tommies to plant a 7-1 flag atop the Arctic carnival.
The podium for medals was more crowded than Mike Eruzione and his mates in Lake Placid, with the Bally Sports' production team, David Silye's hat trick, the 10,022 fans at Blakeslee Stadium and the shovelers from the two Mankato high schools vying for the top rung. This column votes for the latter, who kept the game playable despite snow accumulating at the rate of two inches per TV timeout.
The storytelling by the Bally Sports production team was comparable to a hockey Super Bowl, from former MNSU Olympian David Backes in the booth, to crystal clear two-way communication with both head coaches, to sideline reporter Marley Gellner, breaking a new origin of Dryden McKay's name. Hint: it's all about the 1990's teen drama 90210.
If you like college hockey, you'll love cueing up Saturday's Hockey Day in Minnesota. The consensus is that the 15th edition of HDM is the new standard, and kudos to the Mankato Organizing Committee for waiting two years to put on such a spectacular show. If Pieter Bruegel the Elder were still around, he would be awarding them the Hart Trophy as MVP.
Unlock this video, live events, and more with a subscription!
Get Started
Already a subscriber? Log In
The Technician At Work
The ultimate compliment in European hockey is to call attention to a player's "technical" skill. From Prague to Stockholm to Helsinki, greatness is not measured in rink-length rushes or wicked slappers—fame is won in small spaces. Technical skill allows one to come out of crowded corners with puck on blade, it's the skill a defenseman needs to hold the blue line and make a perfect pass despite being surrounded by puck hounds. When a player creates time to find the open man when a mere mortal would have panicked long before, the Euro's simply call it technical.
Minnesota State, the team with the stingiest goalie (Dryden McKay), the nation's most prolific scorer (Nathan Smith) and best record in the sport, is also home to the ultimate European "technician," a guy who doesn't receive a fraction of the recognition as his high-profile teammates, and he doesn't seem to care. German winger Julian Napravnik gets his rewards from plying his craft, making the Mavericks great through his technical wizardry.
Nathan Smith is representing the United States at the Olympics next month largely because he is having a monster year on the score sheet. Nine of his 15 goals were set up by his German wingman, eight of his assists were finished off by the badass from Bad Nauheim. Napravnik, the league's reigning offensive player-of-the-year, the NCAA's third leading scorer of 2021-22, has made the sensational routine.
Whether it be his pass-off-pad to Cade Borchardt versus Duluth or his 75-foot rink-wide assist to Nathan Smith last Thursday at St. Thomas, his plays are so technically refined that they are often overlooked by the TV analysts. He picked up three points in Saturday's Snow Globe, almost anonymous to the Minnesota-based announce team. When he pounded in his 12th goal of the year under the bright lights, there was no celly, just a hug for the man who set him up. Mike Hastings knows, astute hockey SID Paul Allan knows, and maybe the German Olympic team knows.
"I'm sure he is on their radar," said Jay Luknowsky, RinkRap's German hockey insider. The Fatherland's Olympic roster is due out this week, and they will be remiss if they do not select Julian Napravnik, the quiet technician with the supreme set of tools.
The Bulldogs Breakthrough Weekend
Bob Daniels has been humble and patient, but he knew, despite a five-year drought as a league contender, he knew this year's Bulldog team was "pretty good." And Daniels knows good—he has taken Ferris to the NCAA championship game in the past decade; he has reached No. 1 in the rankings and last Saturday he torpedoed the at-large hopes of Bemidji State.
Daniels' Dogs stunned last year's NCAA giant killers, sweeping the Beavers, 2-1 and 5-2. The two home losses dropped Bemidji like a brick out a window in the Pairwise, from No. 19 to No. 26, virtually eliminating Tom Serratore's club from another at-large berth. "They outworked us," said Beaver winger Alex Ierullo, one of the senior leaders on a team known for tireless labor.
After hanging on to beat Bemidji Friday night after a half dozen blown leads earlier this year, Daniels was appreciative.
"We have some scar tissue, [blew a game to St. Thomas] the previous Saturday night and some others. We were excited, everybody looked at the clock, let's get through this next minute."
One of the major keys to the Bulldogs sweep was the clutch play of goaltender Noah Giesbrecht, a mid-season transfer from the University of Windsor, one of a half dozen goalies Daniels has been shuffling in search of an ace. It appears he has found his trump card. Giesbrecht crafted two wins against the CCHA's second place team on the strength of a .953 save percentage. Six road points have vaulted Ferris into a tie for fifth place in the CCHA standings.
As for the rest of the season? Daniels would like to gain the upper hand come playoff time.
"You know, we'd like to get home ice. If we keep getting points every weekend we should be in good shape."
Historically, Daniels teams are over-achievers in the postseason, and although it is premature to project, Bemidji is one of two likely opponents for Ferris in the CCHA quarterfinals. That is the last thing Serratore wants to hear over his coffee this morning.