2022 ECHL All Star Classic
Ken Appleby Honored With First All-Star Selection
Ken Appleby Honored With First All-Star Selection
During a tumultuous seventh season, Appleby has played in both the AHL and ECHL. But it's paying off, as he was selected for his first all-star game.
Jan 14, 2022
by Mike Ashmore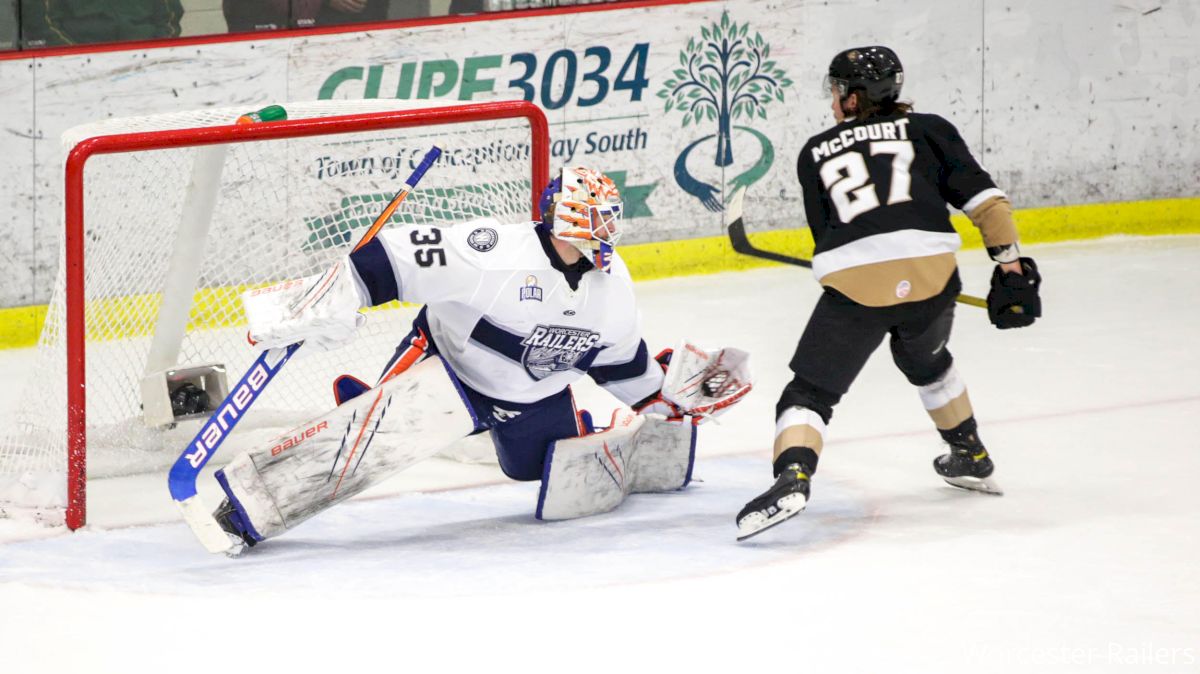 At just 26 years old, Ken Appleby has already had a career that's taken him just about everywhere he's ever wanted to go. This includes a very successful three-game stint in the National Hockey League with the New Jersey Devils during the 2017-18 season.
Now on an NHL contract with the New York Islanders, and playing with the ECHL's Worcester Railers, there was one thing Appleby had not done yet. He'd never played in an All-Star Game.
That will change shortly.
The North Bay, Ontario native was announced as the Railers representative for Monday night's 2022 ECHL All-Star Game at Jacksonville's VyStar Veterans Memorial Coliseum, which will be streamed on FloHockey, as well as broadcast nationally via NHL Network.
"It's definitely an honor, for sure," Appleby told FloHockey via cell phone.
"The team told me, and I really wasn't expecting it. I was just kind of going about my business here. This is my first All-Star Game, so it's definitely a nice honor. There's tons of really good goalies in this league, so to get to represent Worcester is an honor and privilege."
Appleby has split this season between the American Hockey League's Bridgeport Islanders and with Worcester, and has found success in both spots. In ten games with the Railers so far this season, he's posted a 2.77 goals against average and .920 save percentage, marks that are actually both slightly better at the AHL level.
Now in his seventh pro season, he's been able to use his experience of going back and forth between levels to help find success no matter what team he's playing with.
"I think maybe the results may not always be there with the wins, but I've been feeling good about my game and where it's at, and I'm pretty fortunate—whether I'm up in Bridgeport or here in Worcester—that both teams have great groups of guys and make me feel welcome wherever I am," he said. "It makes me feel comfortable to where I can just go out there and play. That's been a good thing to have this season. Fortunately for me, I've been around long enough and had seasons where I've been up and down a lot throughout the year, so I've been able to adapt to it and understand it. With that experience, it's prepared me for being ready for whatever comes my way and make the most of whatever situation I'm handed."
As Appleby tries to emerge out of a clouded Islanders goaltending depth chart behind Ilya Sorokin and Semyon Varlamov—Cory Schneider and ECHL alum Jakub Skarek have been the usual tandem in the AHL—he also realizes there is an opportunity in the All-Star Game, which traditionally sees a large scout turnout.
"I think any time you get this kind of an opportunity, it definitely doesn't hurt," Appleby said.
"That only bodes well for you. I'm just excited for the opportunity to go down there—I used to play in Jacksonville, so it'll be nice to go back—and I think it'll be an exciting couple of days. Just soak it all in. You don't really know how many of these you're going to get to be a part of, so with this being my first one, I just want to go down there and enjoy it."
Once he returns from Jacksonville, Appleby will catch back up with the Railers. The team has struggled for the majority of the year and are currently last in the league standings with just 22 points.
But, the one-time Devils standout recently recorded the Nailers 100th win in franchise history, and is hopeful that while he's there, he can continue to be a big part of turning their season around.
"Like many teams in this league, we've been going through lots of turnover in the roster with guys getting injured and obviously COVID, so it's been a challenging season for sure for us here in Worcester," he said. "But, I think we're getting guys back healthy now, and like you saw in our last game, we had a great game and got the win. I think things are going to start going our way a little bit, and we can start rolling out some wins."