2022 Minnesota State vs Northern Michigan - Men's
CCHA Reasons To Watch: Eight Teams, Four Competitive Series
CCHA Reasons To Watch: Eight Teams, Four Competitive Series
The race for home-ice is turning into a sprint as conference play continues in the knock-down-and-drag-out CCHA.
Jan 13, 2022
by Tim Rappleye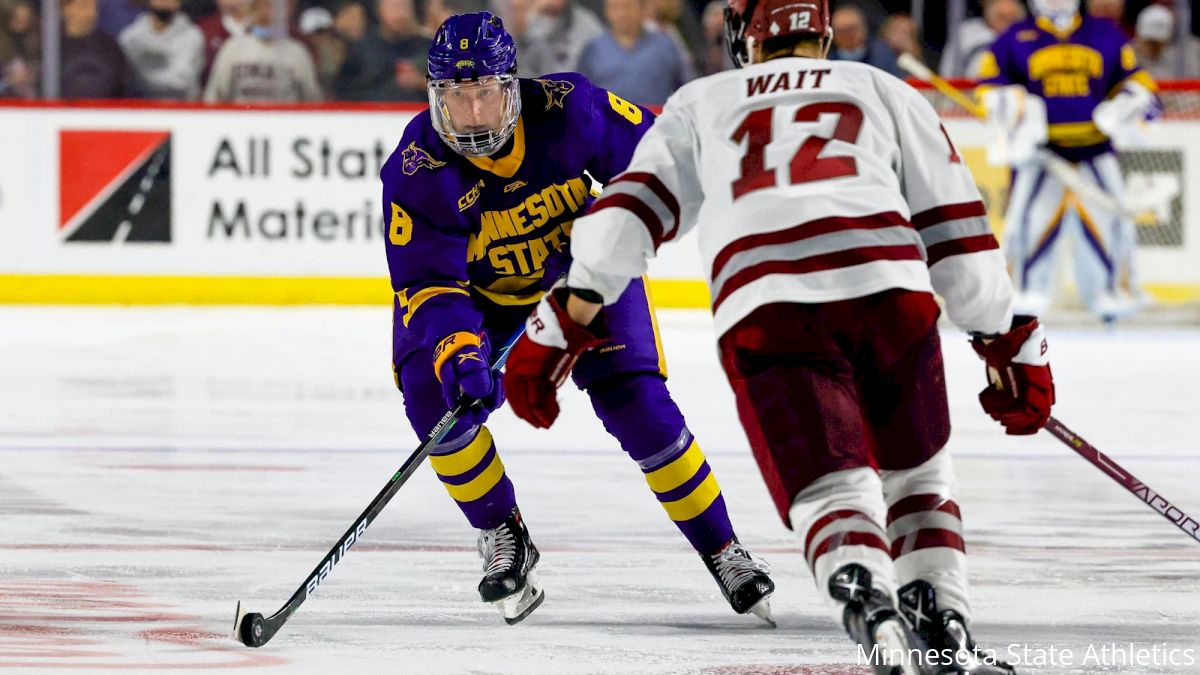 Eight teams, four competitive series. This is what pushes the pulse for fans of the CCHA. There's a case that can be made for all eight teams to pick up points in the standings, as the race for home ice turns into a sprint. Let's get started.
No. 19 Michigan Tech Vs. Lake Superior State
At first blush, you figure the nationally ranked Huskies should be clear favorites over the Laker squad who were just chased out of Bemidji, but think again. Michigan Tech hasn't played since before New Year's, and teams coming back from the break have taken their lumps, ignoring the rigors of the 200-foot game, just ask Damon Whitten.
The Lakers are always a tricky pick, and basing a prediction on the previous week's performance has been perilous. When we last saw Tech, they were still afflicted by the old shooting percentage bug-a-boo: lots of shots, very few goals.
Looking like a lopsided split for the home team Lakers, as Tech struggles to find the back of the net once again.
No. 1 Minnesota State Vs. Northern Michigan
The question is, will the Mavericks take a false step the rest of this season? If you dropped in on Mike Hastings' midweek presser, you might think his MSU club is jumping into the hot-tub time machine and is off to play the Gretzky/Messier Oilers up in Edmonton.
True, Northern is a top-5 team nationally in most offensive categories, leading the CCHA with a tidy 25 percent efficiency rate. But beware the hyperbole. The Mavericks are like Team Canada, they have enough depth to field two competitive teams.
CCHA viewers should tune in to the earliest games of the weekend not to witness a potential upset, but to watch the masters at work: Nathan Smith, Dryden McKay and Jake Livingstone. Let's call it the "Baryshnikov Syndrome," a chance to see the best performers at their position.
Plenty of goals in this likely road sweep for the Maverick juggernaut.
Bemidji State Vs. Bowling Green
"It's not who you play, it's when you play them," is a time-honored sports cliche, but it absolutely resonates with truth in the breakdown of this series. This is the absolute worst time to be playing Bemidji right now, having just blown out Lake Superior, climbed into the Top 20 of the PairWise, and everyone pulling oars in their climb to another at-large NCAA tournament berth. They are a veteran crew led by the truculent Sillinger brothers, a silky puck-mover in Elias Rosen, and a legit goaltender in Mattias Sholl.
Bowling Green on the other hand is in a gentle downward slide, too many newbies to contend with Tom Serratore's steely bunch. The Beavers' experience is hard-earned, including nine games against 2021 NCAA tournament teams, along with a pair against rugged Arizona State. They have emerged from the onslaught of national powers with a winning record overall, 10-4 in the conference. They are a major headache for any foe, road or home.
Likely a road sweep for Bemidji, and a warning shot to every team in the CCHA. Beware the Beavers.
St. Thomas Vs. Ferris State
This series is the equivalent of a relegation match in international soccer: two teams at the bottom of the standings, both playing with plenty of snarl, each trying to prove its superior mettle against at least one other club. Rico Blasi's Tommies gave Bowling Green fits last weekend, and came away with a regulation tie on Saturday.
Ferris got slammed in Mankato and were rewarded with a 10-hour bus ride home. Keeping the faith is the biggest challenge for both veteran coaches with impressive tournament resumes. Although they struggle on special teams, The Tommies are now a competent five-on-five team, as Ty Eigner will attest.
Predicting a legit split, as St. Thomas gets their second Division I victory in regulation down in Big Rapids.