NCAA DI Men's Hockey
CCHA RinkRap: Colgate Prep In U.P.; Hastings Answers Call
CCHA RinkRap: Colgate Prep In U.P.; Hastings Answers Call
This week in RinkRap, an Ivy Leaguer makes his name in the U.P., MNSU coach Mike Hastings called in by the U.S. Olympic team and other CCHA happenings.
Jan 11, 2022
by Tim Rappleye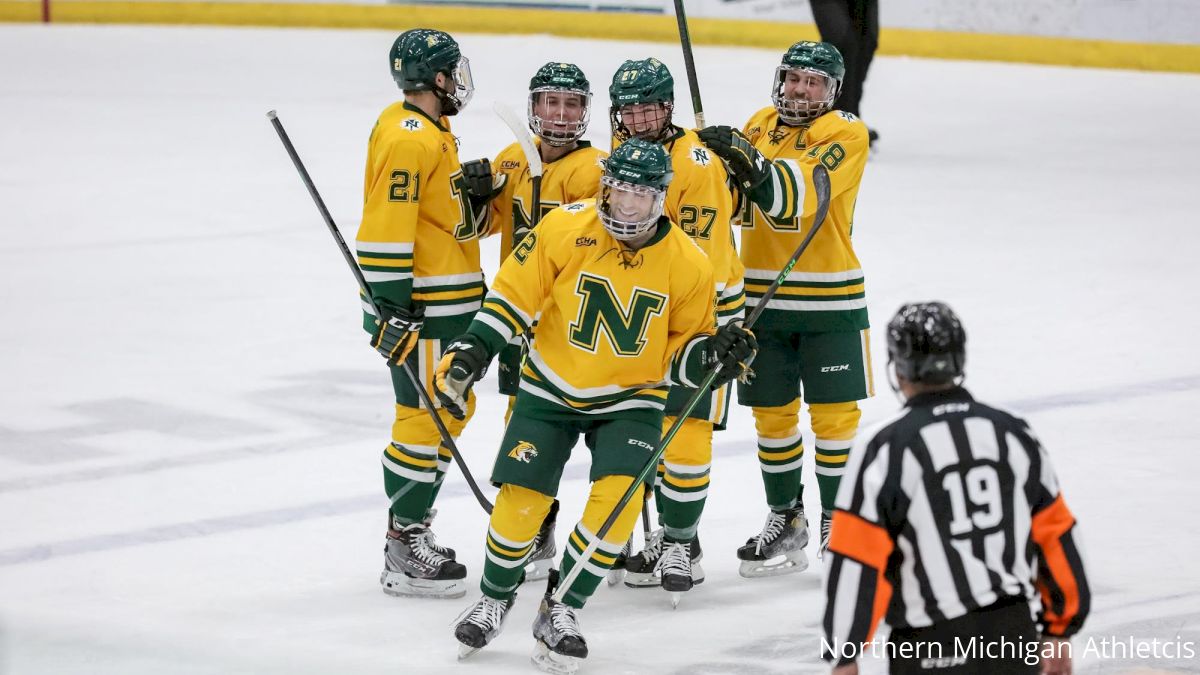 This week in RinkRap, a New England Ivy Leaguer makes his name in the U.P., Minnesota State coach Mike Hastings is called in by the U.S. Olympic team and other CCHA happenings.
New England Prep Finds His Stride In The U.P.
Northern Michigan transfer Trevor Cosgrove grew up as a faculty brat at Phillips Exeter Academy, the son of a science teacher at one of New England's oldest and most prestigious boarding schools. He enjoyed virtually limitless ice time at Exeter's two state-of-the-art hockey rinks before matriculating to Colgate University, another elite institution. He played four years for the Raiders in the ECAC, the conference of all six Ivy League hockey schools. Despite a world class education, Cosgrove's IQ about hockey in Michigan's Upper Peninsula, or even the league they played in, was seriously lacking.
"I wasn't aware of too many teams in the CCHA," said Cosgrove, who is now thriving on the banks of Lake Superior for Northern Michigan.
"I love it up here. We're kind of swallowed up with a couple of feet of snow. I'd say winter's a little more harsh than New Hampshire, but we're enjoying it, making the best out of it. I'm glad I came out early in August, it was beautiful."
Cosgrove had a beautiful series this past weekend against his former school, blasting three goals and racking up four points against Colgate in the Wildcats non-conference sweep. After Saturday's final horn, Colgate's acting coach Dana Borges shared an emotional embrace with his former player.
"He said he was impressed with the weekend, just encouraging me to keep going this season," said Cosgrove. "I wished them the same, best of luck in the ECAC."
How did this kid from the land of literary giants J.D. Salinger and John Irving end up in the rugged Upper Peninsula? You can track the answer in the fine print contained in Northern Michigan's hockey program. Cats' assistant Byron Poole is a Colgate grad, and he reached out to Cosgrove as soon as he entered the transfer portal. Poole initiated his pitch by discussing their mutual alma mater.
"He was pretty close to some of the old assistant coaches I had at Colgate," said Cosgrove. "We had a decent amount of connections prior to our conversation. Once I started talking to him and Grant (Potululny), it was an easy decision to come here."
Potulny is psyched to have his first major point producer on defense since All-American Phil Beaulieu graduated from Northern in 2020.
"Trevor has been a great addition to our program," said Potulny, "he plays important minutes; a consistent offensive threat." Potulny wouldn't mind finding more kids with Eastern prep pedigrees. "It would be nice to open up that recruiting line."
Cosgrove's blistering slapshot in Saturday's second period proved to be the game-winner, his career-high sixth of the season. It put him in seventh place nationally in goals by defensemen. The fifth-year senior celebrated by turning towards the fans in green and gold to share the puck love, while his old mates in crimson hung their heads.
Shortly after his triumphant reunion weekend with the Red Raiders, the ebullient Cosgrove spewed his truth to all his preppy peeps.
"I would just say to anyone on the East Coast that Northern Michigan is a great place to play hockey, the town of Marquette is great."
Hastings Answers The Call
U.S. Olympic coach David Quinn is a Boston native with a thick chowder accent, a guy who spent the late 1990s in Nebraska cutting his teeth as an NCAA assistant at Omaha. Meanwhile, a go-getter from tiny Crookston, Minnesota was running the USHL powerhouse across town. The odd couple of Mike Hastings and Quinn two couldn't help but connect and share tactics. Their accents may have been foreign, but they spoke the same language—hockey.
"When I was in the USHL, David helped build UNO in its infancy," said Hastings, who now sits atop the NCAA with No. 1 Minnesota State.
"We got to know each other a little bit there, and from that point on, we've stayed in contact. I've got a tremendous amount of respect for David, he's been incredibly successful at every level."
After being released by the NHL's New York Rangers last spring, Quinn was the obvious choice to coach the American at the 2022 Winter Games in Beijing. It surprised no one when he reached out to his old pal Hasty to join his staff. The former World Junior head coach didn't hesitate when the phone rang.
"When he called and asked, it's an honor to represent your country," said Hastings. "I really look forward to it, and very appreciative of the opportunity."
Hastings then reeled off all the other staff members he is so eager to learn from. They will depart on January 31, but work begins well beforehand, "We're going to spend a lot of time between now and then prepping for that."
And there lies the rub. Hastings' Maverick Club has been an absolute NCAA juggernaut this season, dominating both the CCHA and their non-conference opponents. His club will be near the top of both the polls and the Pairwise rankings when he leaves to serve the red, white and blue later this month. Despite his unwavering faith in associate head coach Todd Knott and the rest of the MSU staff, the absence of master and commander Hastings represents the biggest threat to the Mavericks.
Three years ago Hastings represented USA Hockey as head coach of the Americans' World Junior squad, and while he was in British Columbia he saw his Mavs lose and tie over the holidays. Back in 2019 Hastings had two months to right the ship; after the Winter games he will barely have two weeks before the post-season begins.
A note of reassurance to all the MSU fans wringing their hands in Mankato: Brett Larson of St. Cloud, one of MSU's chief competitors for the No. 1 seed in the NCAA's western region, will be working alongside Hastings as a fellow assistant in Beijing.
The Rink Rapsheet
Minnesota State's offense erupted for six goals in the second period Saturday against Ferris, which saw SID Paul Allen scrambling through dusty pages of the MNSU the record book.
ICYWW | Minnesota State just scored 4 goals in a span of 2:26. School record for fastest four goals is 1:46 (vs. Gustavus, Dec. 13, 1996).

— Minnesota State Hockey (@MinnStMHockey) January 9, 2022
Bemidji State took some lumps from No. 4 St. Cloud over the holidays, but that elite competition steeled them for this past weekend's games with Lake Superior State, who had been dormant for nearly a month. The Beavers slammed LSSU by a combined 10-2 score in the two-game series, allowing coach Tom Serratore a chance to use his favorite saying of the new year: "You've got to win the win." Translation: don't let your opponent off the mat when you have them pinned in the final period.
The headlines read that Rico Blasi's St. Thomas Tommies were swept by Bowling Green this weekend, but that news is misleading. On Saturday night STU had tied Bowling Green through regulation, securing another point in the CCHA standings and costing BGSU in the Pairwise, as the Falcons dropped down to 31st. Anyone tuning in to the game saw the Tommies and Falcons in a fierce struggle while at even strength; BGSU had the edge in special teams. It was clearly an uncomfortable game for Ty Eigner's Falcons, and another step forward for STU, tying one of the CCHA's top four teams.
"We played hard, I thought our details were better tonight," said St. Thomas coach Rico Blasi. "At the end of the night, they won the game and we didn't. We have to stay positive, got back to work on Monday, and try to get better.
And finally, a professional tip of the cap to Northern Michigan SID Katherine Harvath, who worked her last game for the Wildcats Saturday night, and coordinated the Trevor Cosgrove interview for FloHockey as one of her final contributions. She will now take her considerable skills and energy to Vanderbilt University.