2022 Iowa Heartlanders vs Rapid City Rush
Heartlanders' Cole Stallard Makes Smooth Landing In ECHL
Heartlanders' Cole Stallard Makes Smooth Landing In ECHL
Stallard spent the last few seasons in the SPHL, but recently got the call up from the Heartlanders. Fulfilling a professional and personal goal.
Jan 7, 2022
by Mike Ashmore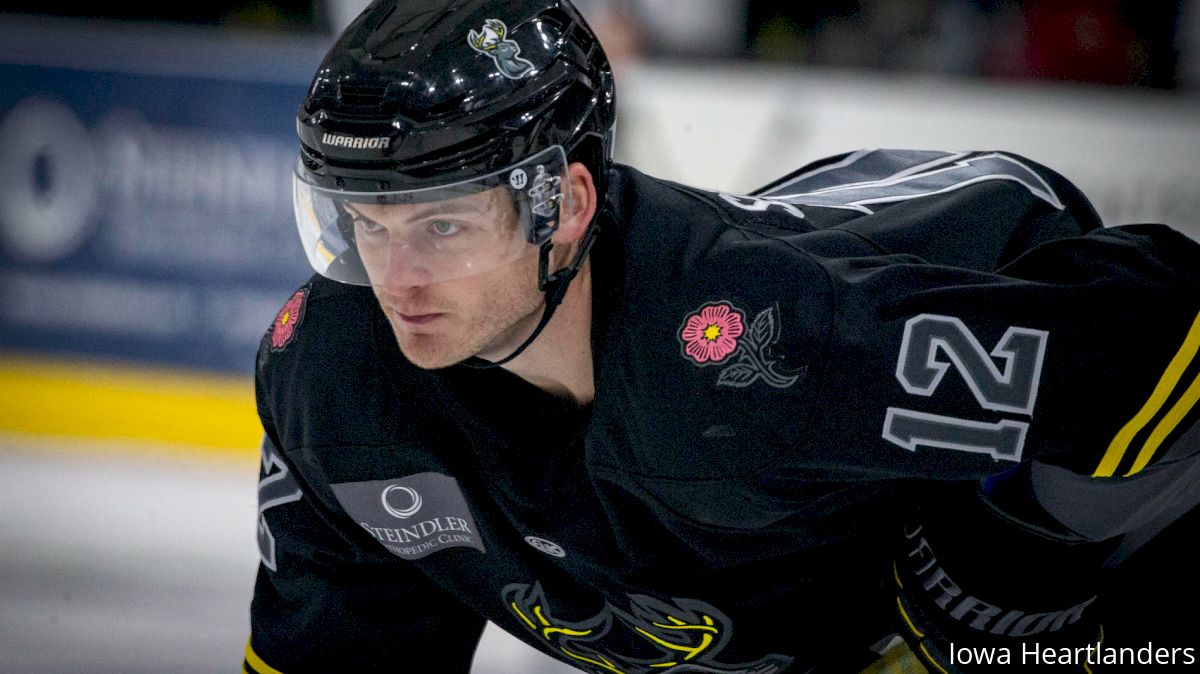 It was the phone call that Cole Stallard had been waiting three years for, and it couldn't have come at a worse time.
But that wasn't going to stop him from finally getting his chance in the ECHL.
"It was quite the experience, definitely not how I expected my first call-up to go," Stallard told FloHockey via cell phone.
The 27-year-old Stallard was with the Southern Professional Hockey League team, the Evansville Thunderbolts, between stops on a road trip. The SUNY-Plattsburgh alum was getting ready to get breakfast with his teammates when Iowa Heartlanders assistant coach Derek Damon gave him a call, asking if he could come join the team in Cincinnati.
Of course. A "no-brainer," as Stallard put it.
There was only one problem.
"I was in Vermillion County, in Danville, Illinois, and of course I'd love to go play, but we were quickly trying to figure the logistics of how I'd get out to Cincinnati," he said.
"I don't know if you know anything about Danville, but there is nothing in that place at all. They were wanting me to try to set up a rental car for me so I could drive out there, but there was nothing in the area; they were either all closed or they just didn't exist when I looked it up. I tried to find an Uber, and there was nobody who did Uber or Lyft in that town, which was kind of hard to believe. But, I was able to find this cab service where this nice lady was kind enough to take me three hours from Danville all the way to Cincinnati. We got that lined up probably right around 1:30, and at 2 o'clock, I was in the car with her."
They made the three-hour drive, getting there well in advance of the scheduled 7 p.m. puck drop that night. It wasn't that easy, of course. Nothing ever is these days.
He had to fill out paperwork, get his physical done and go through other league protocols, so he wasn't even able to take on-ice warm ups with the team prior to his first-ever ECHL game.
Other than that? A perfectly normal day. And, since then? Truthfully, a pretty normal stay with the Heartlanders, which has provided the kind of roster stability and steady production—he's potted eight points in his first 19 games—that's been exactly what the team was looking for.
Not bad for a kid who'd spent the entirety of his pro career in the SPHL, waiting for
the phone to ring after solid seasons with the Birmingham Bulls in which he'd scored 39 points in his first 70 career games.
"It's definitely something that's always been on my mind," said Stallard of a potential call-up to the ECHL.
"Even in my first year, when I was in Birmingham, I was getting told a lot that my time would come, my opportunity would come, things like that. And then, next thing, we get towards the end of the season and COVID happened and canceled our season. At that point, I've always been looking towards the next year and seeing how things would pan out…I was grateful to still play last year and have a place to play during that time. Even in that weird situation though, I'm still thinking about trying to get to the next level even though it was probably twice as hard at that time. But, I've always wanted to get to the (ECHL), because I've always felt like I could play at this level."
So far, he's proven himself right, sliding into one of the league's two expansion teams, earning quality minutes at a higher level.
"You've got to just dive in," he said. "At this point, I feel like I've adjusted really well, and I love it here in Iowa. It's a great place to play, I don't have one bad thing to say about playing here, that's for sure. It's been a big jump; the pace of play is quicker, everything is a little bit more clean out there with plays from zone-to-zone. You've got AHL guys coming down, and you can obviously see the difference in the hockey IQ that guys have at this level."
After years of simply trying to get to the ECHL, Stallard has arrived, taking the road less traveled to do it.
Literally.
Now that he's seemingly gotten up there and stuck, however, the goals have changed.
"When I first started, I gave myself a three-year period to see what would happen with my hockey career playing pro," Stallard said.
"With COVID happening, it makes you re-evaluate a little bit, because it messed up a whole year for everyone. But for me, my whole goal was to see how far I could get, and after that time period, re-evaluate and see if it makes sense to keep playing… Now, I'd love to stick here, but even to get to the next level, that's always something that's on your mind and something you want to reach towards, absolutely."