Atlantic Hockey
Coast To Coast: North American Storylines To Watch In 2022
Coast To Coast: North American Storylines To Watch In 2022
Teams and players across the continent and through every level will begin seeking better fortune in the New Year, regardless of what 2021 brought them.
Jan 7, 2022
by Jacob Messing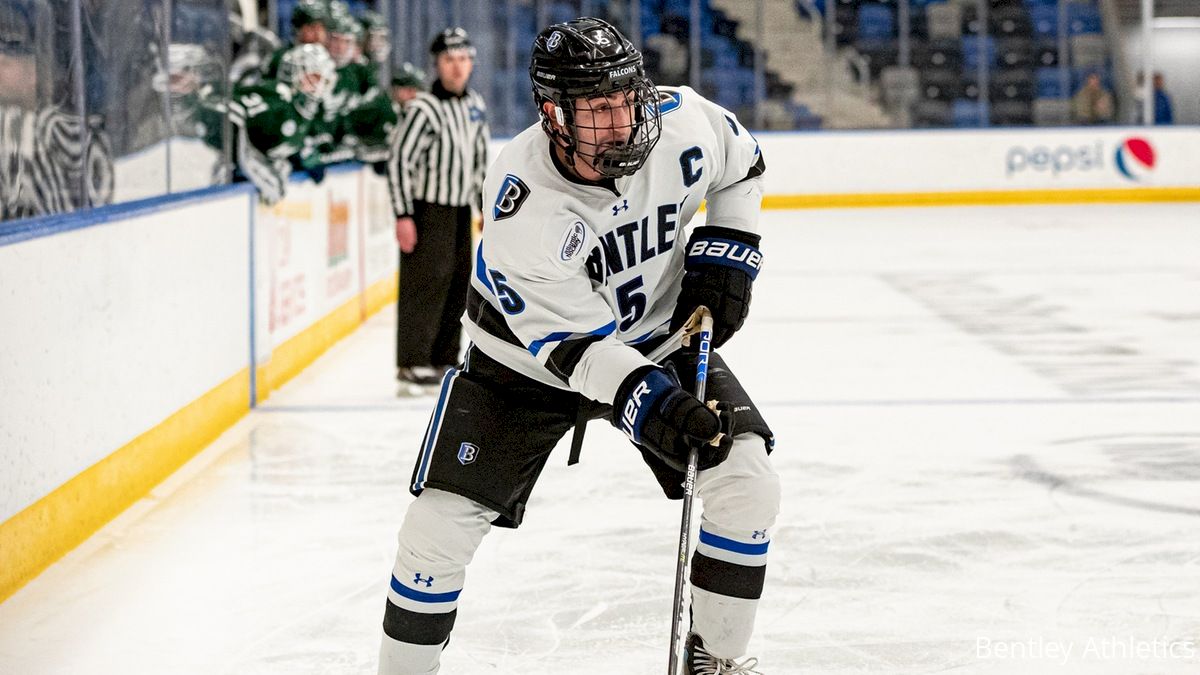 Coast To Coast is FloHockey's monthly, cohesive news on North American hockey and live-streaming partnerships.
---
Teams and players across the continent and through every level will begin seeking better fortune in the New Year, regardless of what 2021 brought them.
The ringing in of 2022 is certain to bring even more exciting storylines as players including Connor McDavid, Alex Ovechkin, and Shane Wright sweep through hockey headlines.
Add in the upcoming Winter Olympics, regardless of the unlikelihood of NHL participation and development leagues are once again likely to be called on to represent their country.
Many of those future reps can be watched weekly in NCAA hockey and the ECHL, streamed live right here on FloHockey.
Atlantic Hockey Race For First Place
The Bentley Falcons hold a three-point lead in Atlantic Hockey, a win ahead of 20-point Canisius and AIC, which hold a one-point lead on Army West Point. Always in the shadow of other conferences, Atlantic Hockey has taken significant strides in recent years as the collegiate hockey world grows its developmental system and parity inflates.
The Falcons, along with Canisius and Army, are threatening a new conference champion after AIC claimed that title in 2019, 2020, and 2021. After a rocky fall semester, the Yellow Jackets have strung together three consecutive wins and are rediscovering the winning culture founded under Eric Lang.
The winter semester is bound to be a battle in Atlantic Hockey where several teams each have a unique path to the top of the standings by March. At the very least the contention for home ice in the conference tournament will be significant without an overtly promising frontrunner for the automatic bid.
Close Calls In The CCHA
Minnesota State head coach Mike Hastings was recently appointed to the USA Olympic coaching staff, not least of all because the powerhouse program is USCHO's current No. 1. If the past is any indication, the team will need to buckle down over the next few weeks. In December of 2018, Hastings departed the team to coach at the World Juniors and the Mavericks started his absence with a 0-3-1 record after going 14-2 in their previous 16 contests.
🚨BREAKING: Mike Hastings will be an assistant coach for the 2022 Olympics Men's Ice Hockey Team!😈🇺🇸 pic.twitter.com/BLvqiKXDBz

— Minnesota State Hockey (@MinnStMHockey) January 6, 2022
It feels like a strange thing to say for the current No.1 that sits 18-4 overall, but the missing voice of one of the best active collegiate coaches is worth a mention. Add in that aforementioned parity and programs including Quinnipiac (No. 2), Western Michigan (No. 3), Michigan (No. 6), and annual contenders St. Cloud State (No. 4) and Minnesota Duluth (No. 8) and the Mavericks will have a lot of competition to hold onto their current praise.
The lone other CCHA ranked program, No. 20 Michigan Tech might have the CCHA looking a little more bleak than past years (as the WCHA), but given that second through sixth place are separated by just seven points—a hot stretch will be enough to topple the current standings.
While the Mavericks hold an 11-point lead in front of second place, the loss of Hastings coupled with five hungry programs ready to make second-half moves could spell bad news. There is a lot of time left and if the Mavericks show a similar response to 2018 the race will only get tighter.
Everblades Skating Over ECHL
The scoring prowess of Florida Everblades' Blake Winiecki, Alex Aleardi, and Joe Pendenza, who sit third and tied for fourth in league scoring, have one of the ECHL's model franchises turning a corner.
The Everblades have won eight of their past 11, lifting them from a lowly 8-6-2 record to a 16-8-3 mark that places them third in league points. Including the canceled 2019-20 season, the Everblades have earned a playoff berth in each of the past seven seasons.
They have also eclipsed the 40-win mark in each of those seasons, claiming at least 50 wins twice. The trio of electric scoring, mixed with support from two-way defenseman Jake McLaughlin and netminder Cam Johnson, makes for a formidable opponent.
NHL Scoring Race, Standings
Approaching the halfway point of the season, McDavid and Ovechkin continue to be the most exciting players to watch. Among points leaders, McDavid is tied with teammate Leon Draisaitl, who holds a two-goal lead over Ovechkin in goal scoring. The trio are the only players to hit the 50-point mark thus far.
🏆 NHL Awards Watch 🏆
Hart: McDavid
Norris: Hedman
Selke: Bergeron
Vezina: Shesterkin
Calder: Zegrashttps://t.co/S0w3j50YtS pic.twitter.com/ojo6D9Hbpf

— dom at the athletic (@domluszczyszyn) January 6, 2022
Ovechkin, 36, is showing no signs of slowing down, in fact he's on pace for a career year, which says a lot for both his age and four previous 100-point seasons. He's a strong bet to pass Wayne Gretzky in all-time goals in the next few years and his frame, dedication, and persistence will help carry him past two lockouts, and two pandemic-shortened seasons. Russian machine truly never breaks.
In the standings, New York Rangers sit among league leaders and the 2021 Stanley Cup runners-up Montreal Canadiens are in danger of a last-place finish. On the reverse side, the Anaheim Ducks and Detroit Red Wings are beginning to show off their prospects and what their promising futures hold with a nice climb from the end of last season.
---
Have a question or a comment for Jacob Messing? You can find him on Twitter @Jacob_Messing.