2022 Lake Superior State vs Bemidji State - Men's
CCHA Reasons To Watch: Bemidji, Lake Superior Rematch
CCHA Reasons To Watch: Bemidji, Lake Superior Rematch
The undisputed No. 1 Mavericks look to avoid another upset by Ferris and Lake State and Bemidji meet in the frigid north.
Jan 6, 2022
by Tim Rappleye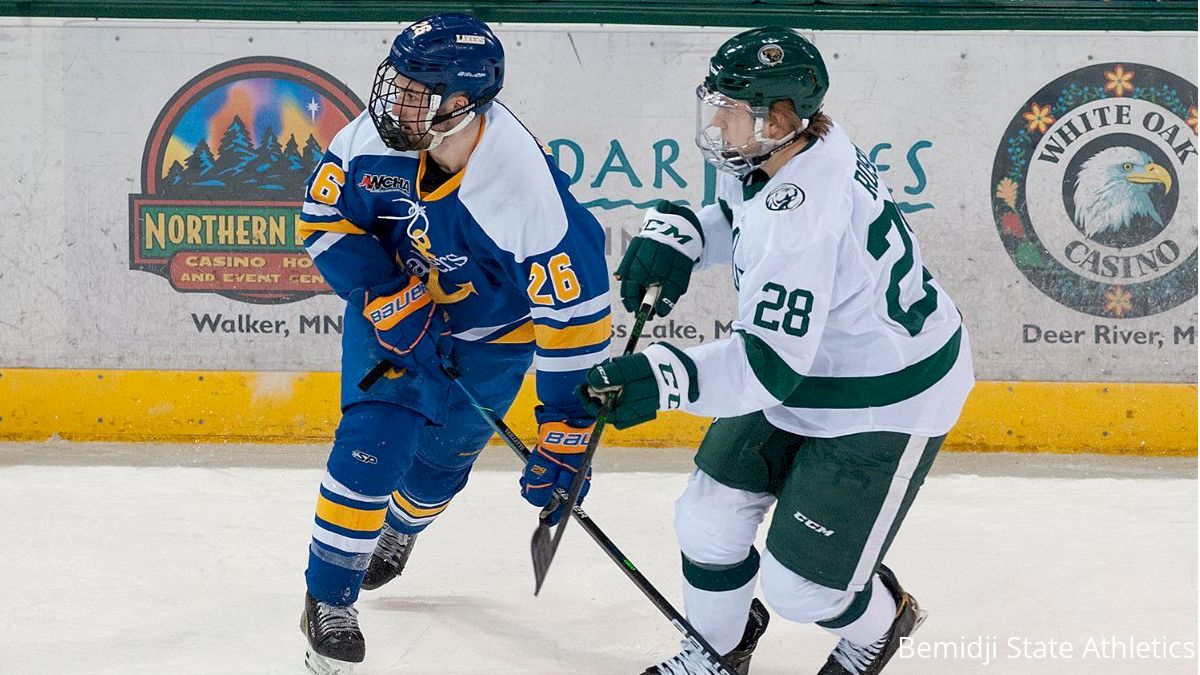 The unofficial start to the second half of the CCHA season resumes this weekend with seven teams engaged in four series: the undisputed No. 1 Mavericks look to avoid another upset by Ferris; Grant Potulny's Wildcats host Colgate in non-conference play, and Bowling Green tries to claw back home-ice in the CCHA postseason picture.
But ‌ the most compelling series is being played in the arctic tundra of Bemidji, between two programs that have become angrily familiar with each other. Let's break it down.
Lake Superior State Vs. Bemidji State
Thank the lord it's indoors. Despite a 25-degree climb, Friday's game time temperature in Bemidji is still projected to be five below zero. Fortunately, the Sanford Center is fully insulated, and once the fans have defrosted, they'll be in for competition sure to warm their cockles. If it is true that familiarity breeds contempt, then you will see two angry squads battling for every loose puck.
The Lakers and the Beavers have met in the post-season three straight seasons, and have already knocked heads twice this year.
Second place Bemidji is smarting from being swept last week by in-state powerhouse St. Cloud, while fourth place Lake Superior is positively giddy at having practiced with a full squad for the first time since being swept by the Beavers at the Soo. Sitting at No. 23 in the Pairwise, Bemidji still has dreams of another at-large bid in the NCAA tournament; the Lakers no longer have that path, but last year's run to the conference playoff title is still fresh in their minds.
Both teams have player-of-the-year candidates worth tuning in for: Owen Sillinger of Bemidji and Louis Boudon of Lake State, both gunning for the CCHA scoring title. A look at the league goaltending leaders reveals a logjam of all four goalies dressing for this weekend's game hovering near fourth place, so there is no decisive edge between the pipes.
The medical woes that ravaged Lake State in November may prove to be an asset in the new year. Coach Damon Whitten has given prime-time minutes to his entire program, lifting competition for spots and confidence to every player on the roster. Give the edge to Lake State.
Ferris State Vs. No. 1 Minnesota State
In their previous series, Ferris stunned the hockey world by knocking off No. 1 Minnesota State in Big Rapids. That scar is still visible on MNSU's record, and the Mavs are determined not to suffer another.
The CCHA website beams three MNSU superstars in its monthly accolades: goalie Dryden McKay, defenseman Jake Livingstone and sniper Nathan Smith. But in the midweek press conference from Mankato, it was bottom-six forward Ondrej Pavel that received the spotlight.
The sophomore revealed the key to MNSU's winning formula: "Every single guy on this team has the mindset to do whatever is in your power to help the team win," said the Czech native, a shot-blocking penalty killer. "Everyone buys in, whether you are power play, penalty kill or bottom-six forward, you just go out there and do your absolute max."
The Mavericks should sweep but one game should see Ferris threaten.
More Reasons To Watch
For all you CCHA game-hoppers, if you find yourself checking in on Northern Michigan and Colgate, look to see if Cats tandem of Hank Crone and A.J. Vanderbeck are on the ice. If they are, put down the remote. Crone and Vanderbeck are college hockey's answer to the legendary NHL superstars Brett Hull and Adam Oates of the Blues, two guys that solved hockey's smothering defenses with creativity and raw shooting power. It's the best show in college hockey, one that should be savored.
Finally, be aware of the St. Thomas-Bowling Green series in St. Paul. The Tommies had a spirited exhibition with the cross-town Gophers in South St. Paul last week, and continue to threaten. One of their two games with the Falcons will be a toss-up, a chance for the Tommies to snatch their second Division I win in school history. It is also a chance to see BGSU freshman Austen Swankler, who should be weighing pro offers in two months. For young prospects who want to see the playing style that brings out the scouts, watch Swankler for a shift or two. Grit and guts will get you to the next level.