2022 Minnesota Duluth vs Minnesota State - Men's
CCHA RinkRap: Three Presents From Minnesota State Vs. Duluth
CCHA RinkRap: Three Presents From Minnesota State Vs. Duluth
A home-and-home college series between No. 1 Minnesota State and No. 6 Minnesota Duluth gave us three shiny presents to unwrap.
Jan 3, 2022
by Tim Rappleye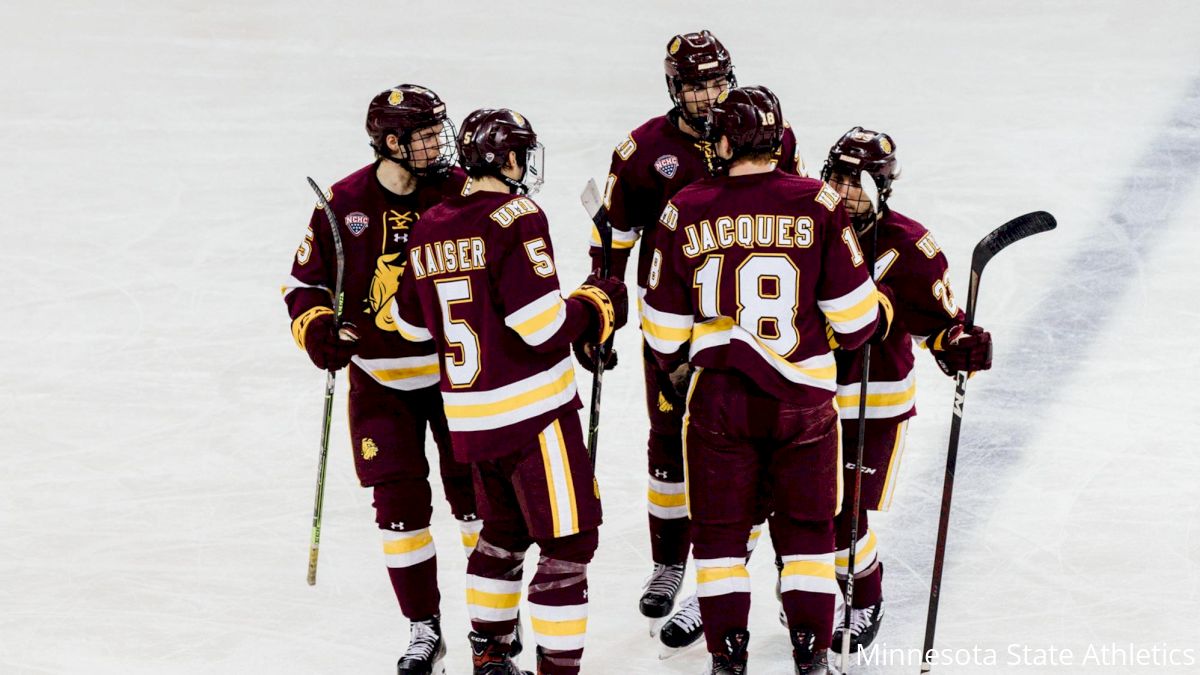 Just when you thought the Grinch had finally stolen hockey's Christmas, the state of hockey came to the rescue.
First, COVID torched the World Juniors and then haughty Michigan torpedoed the Great Lakes Invitational. For fans who delight in watching prospects play high-stakes hockey over the holidays, New Year's was shaping up as a true downer. Then all eyes turned to the Bold North. Not only was there the NHL's annual Winter Classic in Minnesota's sub-zero tundra, but a home-and-home college series between No. 1 Minnesota State and No. 6 Minnesota Duluth, one that had three shiny presents to unwrap.
Present No. 1: Tinkering With The Pairwise
Going into last Thursday's opener, MNSU was ranked No. 1, and Duluth was No. 3 in the Pairwise rankings. Forget the polls. As Mike Hastings says, "That's just a popularity contest." The Pairwise rules college hockey—not only does it determine who gets at-large bids into the national tournament, in the case of Duluth and MNSU—it determines who gets the four No. 1 NCAA regional seeds. The ultimate prize for Western teams is to get the top seed overall and a trip to the Loveland NCAA regionals, where last March, MNSU had its feel-good breakthrough to its first Frozen Four. Conference standings are checked weekly, but the Pairwise rankings are checked daily.
With Duluth in danger of being shut out seven minutes into the third period in Thursday's opener, UMD senior Jesse Jacques closed within 20 feet of MNSU's All-American goalie Dryden McKay, and then cleanly beat the All-American goalie. Not only did it silence most of the 5,000 fans in the Mayo Clinic Events Center, but because it propelled his Bulldogs into overtime, it earned Duluth 45 percent of a win in the Pairwise formula. Had Duluth lost in regulation, they would have dropped four or five places. Thanks to the Jacques snipe, they gained a virtual tie with extra weight thrown in for success on the road, allowing them to tread water in the Pairwise. MNSU's fantastic finish, a bar-down breakaway by Cade Borchardt which sent thousands of delirious fans reveling into the streets of Mankato, had very little impact on the Pairwise. According to the arbiters of college hockey rankings, the hero of the night was really Jacques of UMD.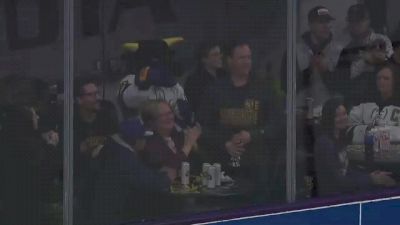 Unlock this video, live events, and more with a subscription!
Get Started
Already a subscriber? Log In
Saturday's finale in Duluth was moving day for the Pairwise. In a game that was clogged by a conga-line to the penalty box, the purple-clad Mavericks manhandled the hometown Bulldogs, an organization known as Seal Team Six of the NCAA postseason. Hastings' Mavericks—minus top forwards Nathan Smith (27 pts) and Reggie Lutz (17 pts)—put on their hard-hats and dominated puck possession in all the battle zones. They systematically broke the will of a program that has earned three championship rings using that exact M.O.
Sensitive not to insult his friend and coaching counterpart Scott Sandelin, Hastings would only concede that, "Our compete level was good."
The 3-0 victory created plenty of separation between Minnesota State and second place Denver, while Duluth plummeted five spots to No. 8. This 123-minute battle for Minnesota hockey dominance was a crossroads affair, as the Mavericks galloped away while the Bulldogs scratched themselves, searching for answers.
Present No. 2: Richter Award Showdown
For the past two seasons, MNSU's elite goalie Dryden McKay has been the frontrunner for the Richter Award as the sport's top goalie, but twice he has been the bridesmaid. His detractors cited MNSU's unimpressive strength of schedule for shrinking his GAA and pumping up his shutout total. This season's back-to-back blankings of newbie St. Thomas (22 total saves) fueled the doubters once again.
His counterpart in the Duluth crease was this season's favorite flavor—the stylish and stingy Ryan Fanti, a guy who has put up numbers similar to McKay, but against the powerhouse NCHC. This past weekend, McKay had the chance to face down his biggest challenge to the 2022 Richter Award, and settle it face-to-face. After 122 minutes of gripping hockey, with both games stretched to the limit, the winner, by unanimous decision, was McKay.
The most decisive play of the series was deep into overtime in game one, when McKay turned away Duluth's Kobe Roth from the top of his crease, kicking the puck to Brendan Furry. Furry went on to set up Borchardt's overtime winner, McKay being credited with an assist on the winning goal. He turned a potential loss into an emotional victory. When McKay followed that performance with his nation-leading seventh shutout two nights later, he had given the Richter committee all it needs to make him the clear front-runner for this year's award. He has also done something no other goalie has done in the annals of hockey-rich Minnesota: compiling shutouts over all five Division I teams in the state: the Gophers; St.Cloud; Bemidji; Duluth; and St. Thomas.
His goals allowed over his last nine games are a string of ones and zeroes, prompting the MNSU sports information offices to dub McKay the "Binary Man."
When NCAA DI men's hockey career shutouts leader Dryden McKay plays, it becomes binary code. Lots of 1s and 0s. #HornsUp @collegehockey @teeraps @Buccigross @CCHAHockey @jzulgad @BallySportsNOR @RJstrib @DawnAtFOX9 @ChrisLongKSTP @hockeydayKATO @HockeyDayMN pic.twitter.com/SCijN3CEAT

— Minnesota State Hockey (@MinnStMHockey) January 2, 2022
Present No. 3: Family Feud
Unless you've been living under a rock, all college fans know that MNSU's power forward Ryan Sandelin is the son of Duluth coach Scott Sandelin. We know this because it is now year three of the same story, one that got a lot of play this past weekend. Here is the latest: Ryan scored the series dagger into an empty net on Saturday, his team-leading 13th goal of the season and his first against dad's Duluth squad. In an interview with local Duluth television, young Ryan says his dad always gets the last word at the family dinner table due to his three NCAA championship rings.
The younger Sandelin's growing success is in contrast to the falling fortunes of his dad's Bulldogs, losers of five of six. Ryan is now 4-0 against his father, who probably wishes that his wife Wendy hadn't gotten involved in the recruiting process, urging Ryan to play for family friend Hastings down in Mankato. Hastings has watched Ryan grow from part-time player to offensive mainstay in his three seasons in Mankato.
"He's been about as consistent a forward as we've had, him and Nathan Smith and Brandon Furry," said Hastings to RinkRap after Saturday's win. "Night in and night out he's found a way to make an impact on the game, sometimes scoring goals, but he always finds a way to make a positive impact. I'm happy for him because we're playing in his backyard. He's put in a lot of work to make sure he has an opportunity to [succeed] every day."
Two wins against the iron of the NCHC, a great present for Ryan and the CCHA and a lump of coal for dad's Dogs.