2021 Kalamazoo Wings vs Toledo Walleye
T.J. Hensick Living In The Moment With Walleye
T.J. Hensick Living In The Moment With Walleye
Toledo Walleye veteran forward, T.J. Hensick, is pacing the ECHL with 31 points in his first 20 games
Dec 16, 2021
by Mike Ashmore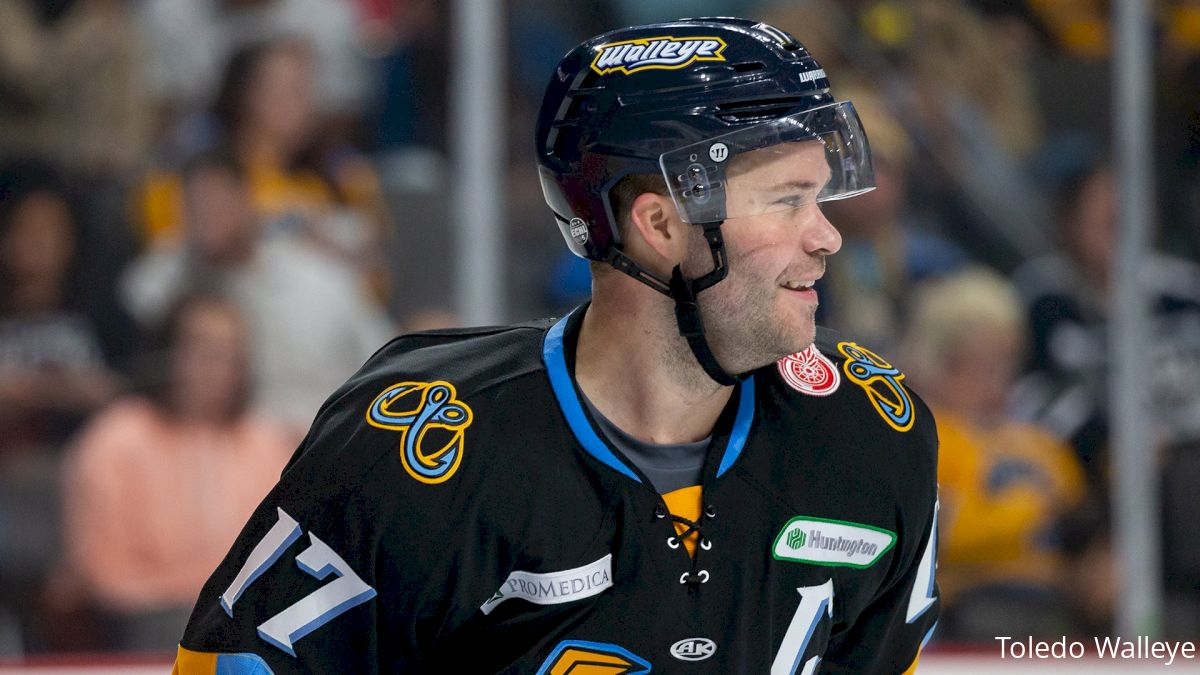 It has not been surprising throughout the course of T.J. Hensick's career to look up the statistics of whatever league he's been in and see his name at the top of the leaderboard.
Perhaps, at 36 years old and in the middle of a season he wasn't even sure he was going to be a part of, it finally should be.
The veteran Toledo Walleye forward is pacing the ECHL with 31 points in his first 20 games—good for an incredible 1.55 points per game pace—and is a key part of a team that has emerged as a clear Kelly Cup contender.
"It's a little surprising, honestly," he told FloHockey. "I didn't really even know if I was going to play hockey again after the pandemic season ended. My wife ended up having twins about a month after that, and I wasn't really thinking about hockey. It's a crazy world we're living in, so I navigated through that and then I've always had a good relationship with (Toledo head coach Dan Watson) and he reached out to see if I wanted to play."
The answer? Let's find out.
Hensick hadn't played since finishing up with the Walleye in 2019-20—a year in which he posted 56 points in 57 games—but put the equipment on for the first time in 15 months and started skating locally in Toledo before the season started.
He felt good, he said. He's looked good, too.
The four-time American Hockey League All-Star and veteran of 112 NHL games with the Colorado Avalanche and St. Louis Blues is tied for the league lead with 14 goals so far this season, and simply chalks it up to having a good group around him.
"It's been a good start, I've been playing with some good players," he said. "Obviously, Toledo has a pretty good history of having a good team in the ECHL, so I knew that going in that would be a huge positive to be a part of. So, I decided to play, and so far, so good."
With teammates Matt Berry and Josh Dickinson both having been recalled to the AHL with the Walleye's affiliate in Grand Rapids, Hensick has still managed to maintain a high level of production, with a focus being on going out a champion rather than trying to attain any sort of individual success.
"I'm not looking to strive to get back to the NHL," he said. "At my age, realistically, it's almost impossible. So, I'm enjoying what most likely will be my last season, and just having fun with it as we progress."
A return to the AHL certainly doesn't seem out of the realm of possibility, though Hensick says it hasn't been a consideration for him.
"Honestly, I haven't even thought about a call-up," said Hensick, a five-time 60-point scorer at the AHL level. "I don't expect one at my age, but I guess I'd have to cross that bridge when I cross that bridge. Things are going well, but that league is so young now that I don't think they're looking for a guy at my age. But, you never know. It would have to be the perfect storm, perfect situation. The Walleye have worked with me so much on things, and 'Watty' is so good in making sure I don't miss family moments, and that's something I wouldn't be able to experience if I did get a call up. So, I'm just taking this a day at a time and enjoying the moment."
Hensick thinks the time away from the game perhaps helped rejuvenate him for this last run, as well as the thought of getting to play in the Walleye's "Winterfest" series of outdoor games on December 26 and December 31. More than that, though, is the thought of going out on his own terms, and not being told his career was over after the 2019-20 season abruptly came to an end.
"Just little moments, like hanging out with my wife after a game or letting my six-year-old run around the locker room, it's the little things that I'm pretty sure I'll never get to experience again," he said.
"Whether it's parents in the stands, friends and family coming to games, card games on the bus, dinner out on the road, those things that once you're done playing, you're never going to experience again. Those are the little moments you're really going to miss."