2021 Ohio State vs Bowling Green
CCHA Reasons To Watch: Battle Of Ohio Resumes
CCHA Reasons To Watch: Battle Of Ohio Resumes
Friday night's clash between Ohio State and Bowling Green has the makings of a non-conference barn-burner.
Dec 15, 2021
by Tim Rappleye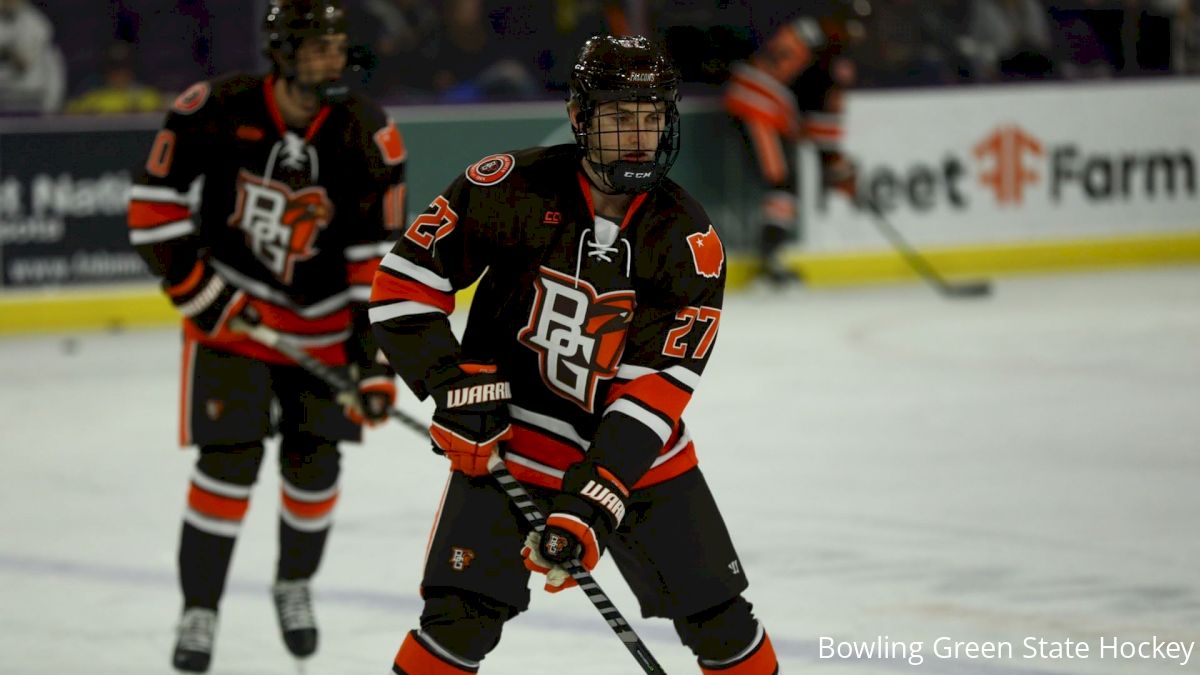 It doesn't have the hockey panache of neighboring Michigan, but the battle of Ohio is a very big deal to its combatants. Friday night's clash between Ohio State and Bowling Green has the makings of a non-conference barn-burner.
The Falcons, representing the CCHA, just came off a stirring come-from-behind victory Saturday versus a determined Ferris State squad. The Big Ten Buckeyes topped that with a 6-1 thrashing of No. 3 Michigan.
Both teams need a bump in the Pairwise (BGSU No. 25/OSU No. 16) to contend for an at-large NCAA berth, and since non-conference games dry up starting in the new year, there is a sense of urgency to these games. Anyone who was at the Slater Family Arena for these two schools' last Battle of Ohio in October, 2018, will not forget the three lead changes at the conclusion of Game 2. It was a series whose computer points helped catapult BGSU into the national tournament at season's end. Bowling Green head coach Ty Eigner expects a similar battle in which every foot of ice is contested.
There aren't many remnants from that 2018 series: Ty Eigner, who was in his final year as an assistant, and Sam Craggs, who was watching his older brother Lukas, a power forward who plays the same crash-bang style. Eigner's current lineup is a patchwork of transfers and freshmen, epitomized by BGSU's high scoring line that all arrived unexpectedly: freshman Austen Swankler, the only NCAA player from Canadian major junior; fourth year senior Nathan Burke, a Minnesota native who abandoned his dream with the Golden Gophers to get more playing time with BGSU; and Coale Norris, a fifth-year transfer from league rival Ferris. The trio has combined for 21 goals and 41 points in sixteen games for the Falcons. In this new era of college hockey free-agency, Eigner has proven to be an adept GM.
He is also a history teacher, giving pointed lessons about what it means to play for the Falcons.
"We talked to the team about playing hockey here at Bowling Green, and believing in the Brown and Orange," said Eigner, "just like the guys who had All-American careers here, guys who won Hobey Baker Awards and and won national championships. Just like those guys, we've got to believe."
Eigner shared that message last Saturday morning, and Swankler took it to heart, setting up the tying goal and then scoring Saturday's winner late in the third period. In the post game he shared dreams that far exceeded expectations for the CCHA's fifth place team.
"We're Falcons, we're all in this together," said Rookie-of-the-Week Swankler, who then channeled his inner Mark Messier. "We're a great team, we have a really good chance of winning a national title."
Whoa, cue the record skip. Falcons aren't exactly on the short list of national contenders, but the audacious quote was appreciated by all the news outlets. Eigner gave a slightly more sober assessment.
"We don't talk about national championships on a daily basis," said Eigner, "we talk about being relevant, we talk about being a team that can play anybody anywhere."
And that's what's happening this weekend, as a formidable team from a glamor conference comes to a loud old barn to play a team that's been drinking the Brown and Orange Kool-Aid. Based on last Saturday's fantastic finish, Eigner expects another Madhouse on Mercer.
"Friday night at BG is going to be absolutely insane," said Eigner, who has coached and played at Slater Arena going on two decades. "The amount of people in there, the vibe that will be in that building, it will be unbelievable."
Friday is the latest installment of the Battle of Ohio, with no other CCHA games to distract viewers. It's Bowling Green as David and Ohio State as Goliath. After finding a way to end a losing streak Saturday, the Falcons have been unleashed.
"Now we feel good about ourselves," said Eigner, "going against a team, in-state rival Ohio State. It's a big deal for everyone around here."