Men's CCHA Hockey
Coast To Coast: Be Thankful For CCHA, Atlantic Hockey Power Couples
Coast To Coast: Be Thankful For CCHA, Atlantic Hockey Power Couples
Through November it is no surprise that the teams leading their respective divisions, conferences, and leagues are boasting scoring depth early on.
Dec 1, 2021
by Jacob Messing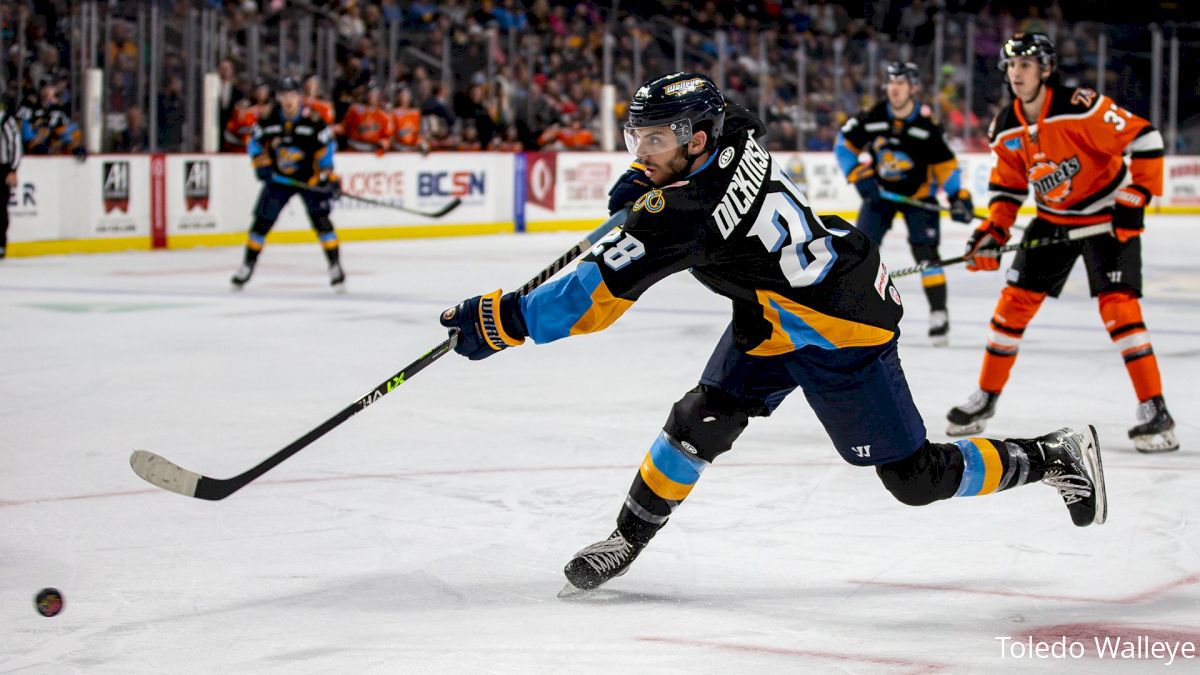 Coast To Coast is FloHockey's monthly, cohesive news on North American hockey and live-streaming partnerships.
---
Depth has always been an important variable in sports and through November it is no surprise that the teams leading their respective divisions, conferences, and leagues are boasting scoring depth early on.
CCHA Combos
Sitting fourth and 12th in NCAA scoring, juniors Nathan Smith and Brendan Furry are leading the No. 2-ranked Minnesota State Mavericks toward its fifth-consecutive MacNaughton Cup.
A 2018 third-round pick for the Winnipeg Jets, Smith is enjoying his best paced season to date with 22 points in 16 games. His nine goals have already matched his totals as a freshman and sophomore and come in a year of increased responsibility, after a pair of 27 and 25-point campaigns.
Joining Smith on the ride up the scoring list, Furry is also utilizing his increased ice time fully. He's eclipsed last year's 13 points in 28 games with 19 points in just 16 this season. The pair are leading the always-deep Mavericks as they eye another go-round at the National Tournament.
But the red-hot Northern Michigan Wildcats have just one loss in their past eight games, dating back to the beginning of November. Sixth in league scoring, transfer Hank Crone is showing off the skills that brought him to the University of Denver as a freshman in 2019.
With a role more suited to his style, Crone now has 21 points in 15 games after scoring just 25 points in 44 games from 2019-2021.
Crone is helping carry the Wildcats and fellow juniors Andre Ghantous and AJ Vanderbeck. Ghantous' six goals and 19 points in 15 games put him on pace to eclipse the point-per-game mark for a second-straight year.
Completing the top of the depth chart, AJ Vanderbeck's 19 points are challenging for the team's scoring lead. As the premiere finisher, Vanderbeck holds 12 goals in 15 games, which places him third in the NCAA in goals.
Don't miss any Atlantic Hockey or CCHA hockey; stream it all live, right here on FloHockey all season long.
ECHL Explosiveness
Sitting at 10-5, the Toledo Walleye are second in their division and sixth in the league standings. But with the league's first, second, and fifth leading scorers, the Walleye are biting.
League-leading scorer TJ Hensick is off to a scorching start in his third season with the Toledo Walleye and it appears taking the 2020-21 season off—due to Toledo's opt out—is working wonders for the 35-year-old. Hensick has been a dominant player throughout his AHL and ECHL careers.
Hensick's 12 goals and 25 points in 16 games put him well on pace to eclipse 16 goals and 56 points accumulated in 57 games in 2019-20. Riding shotgun to Hensick are Matt Berry and Josh Dickinson, whose younger legs are likely reinvigorating Hensick.
Berry is second in league scoring with 24 points in 15 games while Dickinson has recorded 21 points in 14 games. Both are in the midst of their best starts to their ECHL careers and the trio's consistency will be the deciding factor in Toledo's season-long performance.
Watch Hensick and the Walleye live, all season long right here on FloHockey.
NHL Scoring Neighbors
The NHL is showing off a few power couples of its own with each of the following players sitting among the top ten in scoring entering December.
There's no surprise that Leon Draisaitl and Connor McDavid slot in at No. 1 and 3 in league scoring. Draisaitl's league-leading 40 points are backed by a league-leading 20 goals and 20 assists in just 20 games.
Add in McDavid's 14 goals and 36 points in 20 games and the pair have casually lifted the Edmonton Oilers to a 15-5 record.
Lurking close behind are the Metropolitan Division-leading 14-3-5 Washington Capitals, led by the ever-dominant Alex Ovechkin and his 19 goals and 37 points in 22 games. While the 36-year-old is enjoying the best start of his career, a bounce back from Evgeny Kuznetsov has gone a long way in stabilizing the winger's longevity.
Kuznetsov sits tied for fourth in league scoring with seven goals and 20 assists in 22 games as Ovechkin's playmaker.
Joining Kuznetsov in the bounce back category is Johnny Gaudreau, whose 25 points place him sixth in the league. Alongside him is the consistent Elias Lindholm, whose 23 points bring up the rear of the top ten in league scoring. The pair lifted the Flames—behind goaltender Jacob Markstrom—to a 13-4-5 record as the top team in the Pacific Division.
---
Have a question or a comment for Jacob Messing? You can find him on Twitter @Jacob_Messing.