ECHL
Indy Fuel's Cale Morris Records First Shutout As Pro
Indy Fuel's Cale Morris Records First Shutout As Pro
Morris was the 2018 winner of the Mike Richter Award as the best goaltender in the country, and a two-time Big Ten Tournament MVP as a member of Notre Dame.
Nov 29, 2021
by Mike Ashmore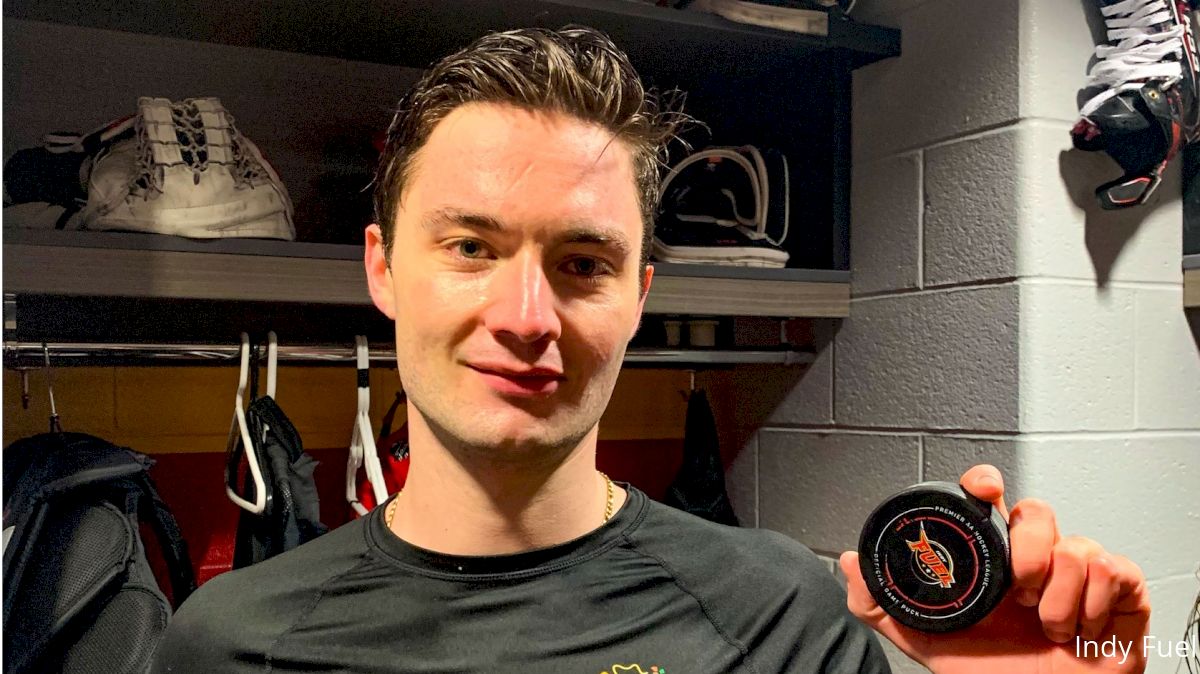 One of college hockey's most decorated netminders in recent memory is slowly starting to rack up the accolades on the pro side as well.
Cale Morris, the 2018 winner of the Mike Richter Award as the best goaltender in the country, and a two-time Big Ten Tournament MVP as a member of Notre Dame, has been finding his stride with the ECHL's Indy Fuel in his second professional season.
His first pro shutout, a 1-0 blanking of the defending league champion Fort Wayne Komets on November 17, was seen exclusively on FloHockey, and served as an excellent display of the athleticism that's gotten him to this point.
"That was awesome," Morris told FloHockey via cell phone. "That was a big win for the team. We started playing the right way, and defending the way (head coach Doug Christiansen) wants us to, with focusing on the smaller details of the game. It was a cool accolade to get, but I'm more happy just to get the win with the guys and hopefully get on track here moving forward."
The 25-year-old has been one of the bright spots in a tough start to the season for Indy, who entered this weekend's games as the team with the worst points percentage in the league with just four wins and a shootout loss in their first 13 games this season. Morris collected three of those victories while posting a 2.84 goals against average and .897 save percentage, and is hopeful things will turn around for the group as a whole shortly.
"With every team and every season, there's some learning curves," he said. "We're starting to find that identity as a team now, and hopefully we can continue to play the right way and keep listening to what 'Dougie' and (assistant coach Duncan Dalmao) are preaching to us throughout the week and getting us to apply it in the games. The more consistent we can get in doing it night in and night out, the better off we'll be in the long run."
Morris has made the most of what many might call a difficult situation. He spent the entirety of last season in the American Hockey League with the Rockford IceHogs, and played well, putting up a 2.52 goals against average and .923 save percentage in his first seven pro games. This year, with a crowded goalie depth chart, Morris was assigned to the ECHL to start this season, sharing a net with Mitch Gillam and Tom Aubrun.
The differences between the AHL and the "E" are more subtle than they used to be, but getting started at a higher level of play has helped Morris get acclimated to seeing the starter's share of minutes with the Fuel this season.
"With the COVID year, you kind of just got thrown into the fire, and it was a sink or swim thing, but it was a good year to get adjusted to the pro game and fly right into it and not have to worry about too much," Morris said.
"I definitely valued my time in Rockford. Last year, there weren't too many broken plays, and guys were in spots they needed to be, whereas this year, guys won't necessarily make mistakes, there are just different chances that you're going to see. That's just the game night in and night out, it's going to be different every night, but both leagues are very skilled. There's top end guys from top to bottom in both leagues, you've just got to be ready."
Morris has shown he's capable of that ever since his college days with the Fighting Irish, where he took the team to within one game of the national title in 2018, suffering a 2-1 loss to Minnesota-Duluth in the Frozen Four championship game. Now, he's back in an area of the country where fans are very familiar with him, and has been appreciative of the support he's received from their vast fanbase as he hopes to make the climb up to the National Hockey League.
"I saw a couple Notre Dame jerseys during our last home game, and that always makes me smile and makes me happy to see [the] Fighting Irish community reach the lengths that it does," he said. "It's been great to stay in the Midwest here. I played juniors in Chicago, and then obviously school in South Bend. Illinois and Indiana are almost a second home to me now, so I'll always enjoy my time here."