Atlantic Hockey
Mercyhurst Offense Ready For 14-Game, Non-Conference Stretch
Mercyhurst Offense Ready For 14-Game, Non-Conference Stretch
An offensive surge last week saw Mercyhurst's depth shine as the Lakers enter non-conference territory for the foreseeable future.
Nov 26, 2021
by Jacob Messing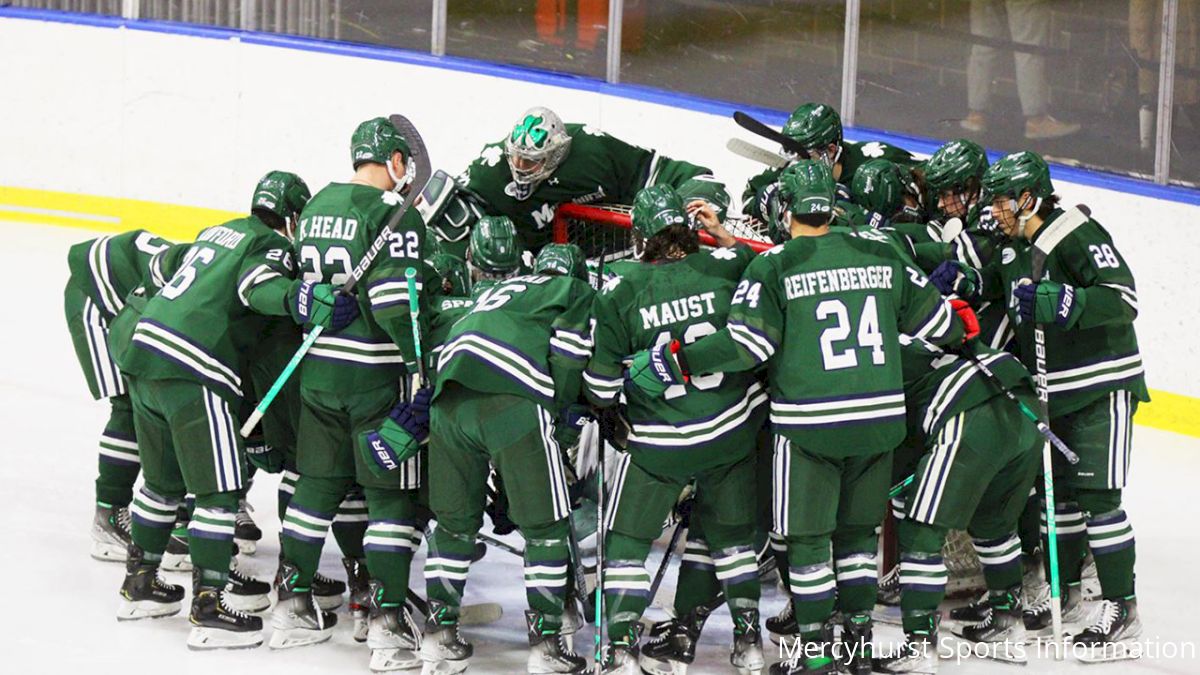 An offensive surge led by 10 point-getters during last week's 5-2 win over Canisius saw Mercyhurst's depth shine as the Lakers enter non-conference territory for the foreseeable future.
The win capped off the Lakers' last conference play until Feb. 4, a stretch of 14 games. This stretch will have large implications for the chance at an at-large bid when the Pairwise Rankings take into account schedule strength, overall record and more come March.
A pair of games at No. 17-ranked Ohio State will kick off their two-month long stretch, which also includes contests against No. 19 Boston College and one against either New Hampshire or Dartmouth at the Ledyard Bank Classic to close out 2021.
The Lakers have found some traction in a current six-game stretch that features just one regulation loss. With the recent barrage by the offense and putting themselves in a position to win every night, the Lakers are blossoming beyond just three players.
Lakers head coach Rick Gotkin doesn't have a problem with his team playing last goal wins, so staying close is the first step to turning close losses into narrow wins and the Lakers have the offense to do just that.
In the early part of the 2021-22 season, the offense leaned heavily on its sophomore trio of Carson Briere, Dante Sheriff and Austin Heidemann. Respectively, they sit first, second and third in team scoring.
A 2020-21 Atlantic Hockey Rookie of the Year candidate, Briere has taken the next step with eight goals and 12 points in 10 games. He has added unpredictability. When goalies could expect a pass last year, Briere has opted to take more shots this season and is being rewarded with a flurry of goals.
"He's a gifted player," Gotkin told Josh Reilly of Erie Times News. "He's got great hands. He sees the ice well. He's got a good shot. He's a goal-scorer. He's scored goals everywhere he's been."
Briere has been the glue sticking Sheriff, Heidemann and himself together on one of the nation's most exciting lines to watch. The pair of fellow sophomores have done their part, with Sheriff's 11 points (2 G, 9 A) trialing on Briere and Heidemann's 10 points (5 G, 5 A) tied for third with Briere's long-time friend junior Jonathan Bendorf (2 G, 8 A).
The Lakers hold a 3-3-4 conference record and sit third in Atlantic Hockey standings with 14 points. Their 39 total goals for is second in Atlantic Hockey but has not translated to their overall record, sitting at 3-5-4.
But the latest series, a split with Canisius, has shown the Lakers have four lines of depth when it comes to offense, where 12 different players contributed to the teams six goals scored in the series.
Claiming the second-half of the series against a strong Golden Griffins team, the Lakers' bounce back is coming at the most opportune time as nationally recognized programs are on the horizon.
Mercyhurst holds a 3-4-1 record against nationally ranked opponents during the tenure of its sophomore trio, a rather impressive feat that includes wins over No. 18 Bowling Green and a sweep of No. 17 Robert Morris. Throw in a narrow overtime loss to No. 7 Clarkson and the Lakers show they can't be intimidated by weekly rankings.
Briere and company will need to hold onto that "why not us" mentality this coming weekend with a trip to No. 19 Ohio State. The Lakers have plenty of time to rewire, fine-tune and all that jazz with conference play on the shelf and potentially enter February with a new outlook and new confidence.
Have a question or a comment for Jacob Messing? You can find him on Twitter @Jacob_Messing.