ECHL
Michael Houser's Circuitous Journey Between Three Leagues
Michael Houser's Circuitous Journey Between Three Leagues
Houser has split time with Mat Robson, forming one of the best goalie tandem's early in this ECHL season.
Nov 23, 2021
by Mike Ashmore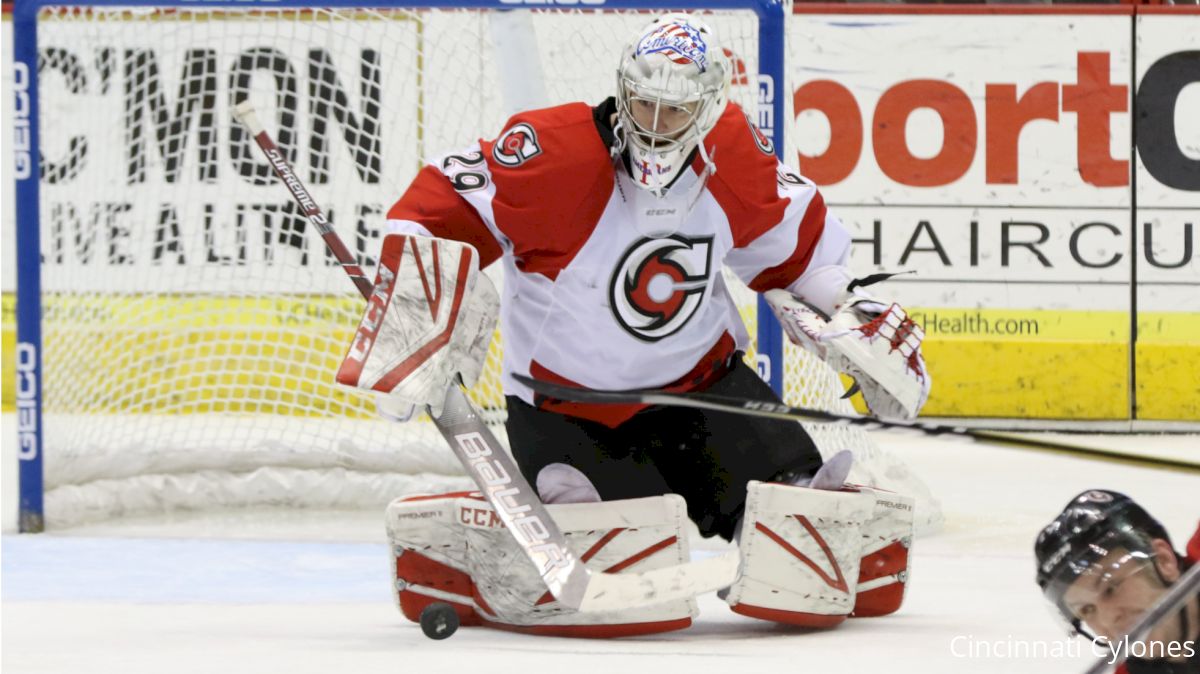 Cincinnati Cyclones goaltender Michael Houser had never been a stranger to having his story told.
But, there'd always just been one big chapter that was missing.
The veteran goaltender had long served as an inspirational tale of sorts; born with bilateral club feet, he endured an incredible 14 surgical procedures before he turned two years old, and went through another two surgeries at the age of 11.
That he could walk was one thing. That he could play goal was another.
And he was good. Real good.
Houser played his junior hockey with the perennial powerhouse London Knights, and won the Ontario Hockey League's honors for Goaltender of the Year, Player of the Year and led the Knights to an OHL championship. It wasn't enough, somehow.
Undrafted, he ultimately signed an entry-level deal with the Florida Panthers prior to the start of the 2012-13 season, but an opportunity at the National Hockey League level was seemingly never going to come.
The following eight years saw Houser play exclusively in the minors, getting into 257 regular season contests between the American Hockey League and the ECHL. But, over the last few years of that stretch, he was almost entirely playing in the "E," save for 20 minutes of a game with the AHL's Cleveland Monsters in 2016-17 and another nine-minute mop-up stint for the Tucson Roadrunners a year later.
In short, the dream was fading.
Until, all of a sudden, it wasn't.
Late in his ninth professional season, Michael Houser was finally getting the call to play in the National Hockey League, summoned off the taxi squad by the Buffalo Sabres to make his debut late last year.
"It was very, very exciting at the time," Houser told FloHockey via cell phone. "But, you still want to go out there and compete. I was trying to win hockey games. In all honesty, whether I'm in Cincinnati, or Rochester, or when I was in Buffalo last year, that's all that I really wanted to do, go out and try to win. I think when you fall into that kind of mindset, just the competition of sport and hockey and trying to win, it makes it easier."
Remarkably, his May 3 debut, a 4-2 win over the New York Islanders, was his first game of any kind since the 2019-20 season with the Cyclones; Cincinnati had opted out of last year's ECHL season, and Houser was kept on the taxi squad instead of being assigned to the AHL's Rochester Americans.
"It was just kind of weird that I thought I was going to go that whole season last year and not play a game," Houser said.
"I started to think about it a few weeks before that, that the season was winding down, and Rochester's games were winding down, so I wanted to make sure I was ready. I thought that after Buffalo's season ended, I'd go back to Rochester and get a game or two or whatever it might be, so I just wanted to stay in shape and be ready for that. It would have been all I had to show myself to get another job for this year. I knew that whether it was because I was in there or not, they were playing so hard. It was really fun to play behind him when we were clicking like that. It was really fun. Whether you play your first NHL game your first year pro or your tenth year pro, it's always something that you'll remember."
Houser ultimately played in four games for the Sabres, posting a 2-2 record with a 3.46 goals against average and .901 save percentage, numbers that are somewhat skewed by an 8-4 loss in Pittsburgh that was sandwiched between games in which he allowed no more than three goals in any of them.
It's safe to say that facing Sidney Crosby is a bit different than what he became accustomed to in the ECHL, but says it's not quite the level of an adjustment you may think.
"Everybody is so skilled now; all three leagues people have awesome, awesome skill," he said. "You've started to see that over the last half decade or so, guys trying more creative stuff and they're getting really good at it, and now it's part of everyone's game. That kind of stuff translates all the way up and down, but the fun part for me up there was it's just so structured. You make a save, it goes to the corner, the defenseman goes and gets it and he knows exactly where his outlets are; he knows the D is going to be there for a bump behind, he knows the center is going to be low, wing on the boards. It's that kind of stuff, and they're always there on plays like that, breakouts and regroups, the routing and guys being in the right spot. Guys can stickhandle, guys can skate, guys can shoot, but it's that part of it that really separates it as being so detailed."
Now, Houser finds himself back in the ECHL for the start of the year—he'd been recalled to the AHL's Rochester Americans at the time of this story, but had yet to see game action—forming an early-season tandem with third-year pro Mat Robson that was one of the best in the league in the first few weeks.
All while battling for the net and a hopeful return to the game's highest level, the 29-year-old has always been more than willing to serve in a mentor role for his younger teammate, and his understanding of needing to fill that type of spot has only added to his level of respect within the organization.
"Since I've been with Rochester, I've always had a younger guy alongside of me while I've been in Cincinnati," Houser said. "The first year, it was (future NHL'er Jonas) Johansson, the second year it was (future NHL'er) Ukko(Pekka Luukkonen) and now 'Robbie' is there. He's played a few years pro, so he gets it, but I do what [I know] works for me, and that's always getting on the ice early, getting warmed up and stuff like that. If younger guys can take anything from that, it's having a good routine and making sure you're ready each day."