2021 St. Thomas (MN) vs Minnesota State - Men's
CCHA Reasons To Watch: Minnesota State Vs. Tommies; LSSU Vs. BGSU
CCHA Reasons To Watch: Minnesota State Vs. Tommies; LSSU Vs. BGSU
It took until the seventh week of the season, but finally it has arrived: all eight CCHA teams in action against one another.
Nov 19, 2021
by Tim Rappleye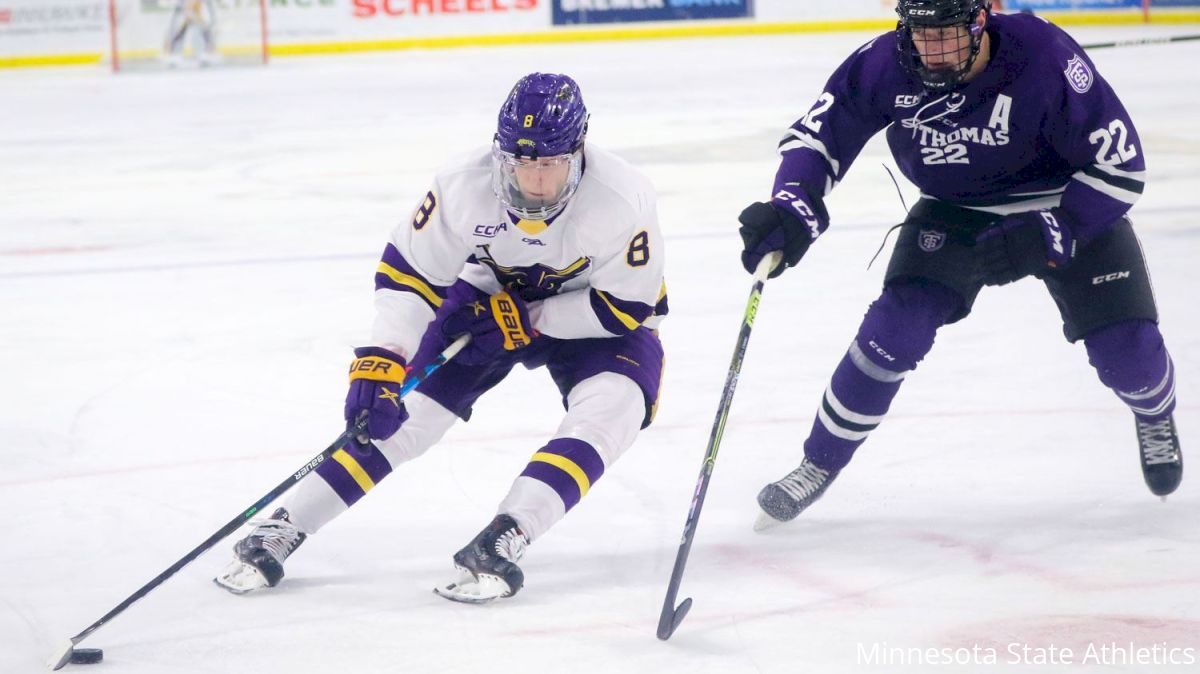 It took until the seventh week of the season, but finally it has arrived: all eight CCHA teams in action against one another: four weekend series, all in-league affairs worth a total of six points in the standings. They all contain reasons to watch, but for entirely different reasons.
No. 3 Minnesota State Vs St. Thomas
The action kicked off Thursday night with the all-Minnesota matchup between visiting St. Thomas and host Minnesota State. The result of the first game, a 9-0 thumping from the Mankato elite. Saturday they meet again.
A few years from now this should be a tasty rivalry with high school pals facing off in the college ranks. But today it is the Harlem Globetrotters and the Washington Generals, with the No. 3-ranked team in the country, Minnesota State in the role of the dominant Globetrotters.
This home-and-home series is not about competition—the results are a foregone conclusion—but there are two compelling reasons to watch, 1) The 'Before and After' meter. This is the 'Before' shot for Rico's Tommies, before his cavalry of fresh recruits comes to the rescue in a year or two. It will be interesting to see the stretches of game time between goals in which the Tommies are on equal footing with MSU. Based on prior performances, there should be plenty.
The second reason to tune in is to see what might be the best forward line in the country: Julian Napravnik centering Nathan Smith and Cade Borchardt (CSN). They combined for 10 points last weekend while swamping Bowling Green, and should hit double figures again. There's no substitute for greatness, and fans of offensive hockey will be able to feast their eyes.
Lake State Vs Bowling Green
The biggest drama coming out of the Slater Family Ice Arena should come an hour before Friday's puck drop, when LSSU reveals their line charts. How many of their 'stricken six' will be back in the Laker lineup? In coach Damon Whitten's weekly radio show, he implied that sophomore transfer Harrison Roy should be in the lineup, but that still leaves gaping holes in LSSU's bench, especially up front.
The fans at the Madhouse on Mercer should be at full throttle this weekend, as this matchup between original CCHA stalwarts is a big draw. But as the saying goes, it's not who you play, but when you play them, and Bowling Green couldn't have picked a better time to play the gang from the Soo.
For fans who like tracking professional prospects, this is an opportunity to see the Falcon's freshman force Austen Swankler. He plays with the angry determination of Sam Craggs, but he has the silky mitts required to bury goals and dish the disc.
The Lakers all won purple hearts last weekend in their hard-fought losses to Bemidji, but even if they could sustain that over-the-top effort, they simply won't have the horses to gallop 60 minutes a night. The Falcons likely sweep at home
Northern Michigan Vs Ferris State
All Ferris needed to do last Saturday night was survive half a game against Michigan State after roaring off to a 3-0 lead. They fell short in excruciating fashion, dropping their record to 3-8-1. Although Daniels's Bulldogs have made terrific strides since last year's nuclear winter, losing, like winning, has become a habit.
Northern hasn't reached it's potential yet this season, but they have a first-rate goalie in Rico DiMatteo and a ton of skilled veteran forwards waiting to explode. Captain Joe Nardi and A.J. Vanderbeck have both dazzled at Ewigleben Arena over the course of their careers, and this weekend should see more of the same. These are the types of games in which Mikey Colella should ink up the scoresheet as well.
Look for the Cats to find their footing, climb over .500, and get on the plus side of their season's goal differential after this series in Big Rapids. Northern will probably come out on top, taking two competitive games.
Michigan Tech Vs No. 20 Bemidji State
Cue the big orchestra playing behind the immortal voice of NFL Films' John Facenda. The November winds have blown powerful Michigan Tech north and west to the banks of howling Lake Bemidji. This series is a showcase for CCHA power, two foes who will be battling not only for home ice in the CCHA playoffs, but a chance to host a conference semifinal. It's contender versus contender, it's why we watch college hockey.
In a recent radio show, Tech coach Joe Shawhan recalled bristling after an exchange with Tom Serratore upon playoff elimination last year. His Huskies had dominated possession, territory and shots on goal by a large margin, yet still lost. Much of that has carried into this season, as Tech continues to tilt the ice in their favor, often with maddening losses to show for it. Last Saturday in Marquette, however, Tech's scorers got healthy, firing in 5-goals against Northern. Joe can only hope that continues.
It will not be easy at Bemidji's Sanford Center. Serratore's Beavers were just boosted by a road sweep of league rival Lake State, and despite the Lakers being shorthanded, there is no denying the confidence gained from a six-point leap in the standings. Owen and Lukas Sillinger are both making their NHL dad proud, lighting up the score sheet and throwing their weight around in the attacking zone. There is a ton of veteran muscle on the Beavers, the heaviest team in the CCHA.
Most college fans peak at the national rankings every weekend, and the respected USCHO poll provides an interesting backstory to this series. Bemidji's sweep catapulted the Beavers into the 20th and final spot; Tech is the first one in line to get in, with the most votes not in the elite 20. The winner of this series will be on the marquee, the loser will be on the outside looking in.
This series is looking like a split, but a lopsided one. Tech's superior goaltender—ultra competitive Blake Pietila—will be the difference in one of those 72.5-27.5 computer splits, where Tech's loss will come in overtime, their victory in regulation. Look for Tech to leapfrog Bemidji back into the national rankings.