Atlantic Hockey
Army West Point's Abric & Bilek Putting Atlantic Hockey On Notice
Army West Point's Abric & Bilek Putting Atlantic Hockey On Notice
Bilek has found his game just in time for the Knights to enter conference-heavy play, which includes seven more games ahead of the winter break.
Nov 19, 2021
by Jacob Messing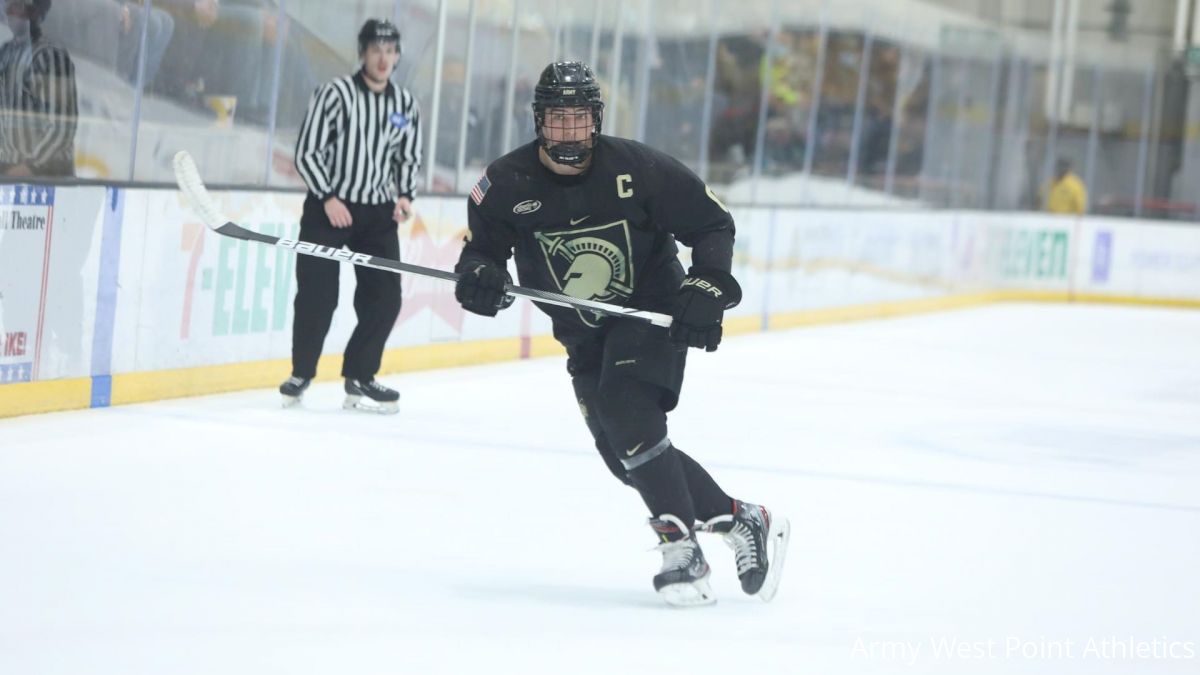 Army West Point's Gavin Abric & Colin Bilek Putting Atlantic Hockey On Notice
After a breakout season that landed him among the NCAA's points-per-game leaders in 2020-21, Army West Point forward Colin Bilek couldn't find much luck during the Black Knights' opening season gauntlet.
Bilek scored 18 goals and 25 points in 22 games last season, leading the Knights to a 15-6-1 record and a near at-large bid to the National Tournament. Coach Brian Riley decided to give the Knights an immediate test in the early part of the 2021-22 season with a game against No. 12-ranked Providence and a series facing RIT, Wisconsin, and AIC.
The gauntlet did not bode well for the Knights, which got off to a 0-5-1 overall record.
"Last year we were on a 12 or 13-game unbeaten streak and I remember thinking during that streak a lot of those games we won we could have lost. And the start of this season, you take away the Providence game—which we had no chance—but every other game leading up to these three wins, we were in a position to win those games," Riley said.
Bilek did not fare much better with just a goal and three points in his first six games.
"It was kind of discouraging that he wasn't getting the results that he was hoping for and what we had hoped for, because he is our primary scorer and we're gonna need him to kind of lead the way," Riley said.
But a win over rival and Riley's former assistant Eric Lang and his AIC Yellow Jackets helped right the ship and the Knights finally found a close game that concluded in their favor.
That win turned into a two-game streak with a 4-1 win over Princeton eight days later. Then two-games turned into three and a real streak was made with the Knights downing another Ivy League program against Yale for a 6-3 victory.
⚔️ BUILT DIFFERENT ⚔️

With wins over Princeton and Yale, Army now has defeated two Ivy League teams in the same season for the first time since 1995-96 👏👏#GoArmy pic.twitter.com/LqhuZuwNko

— Army Hockey (@ArmyWP_Hockey) November 17, 2021
At the heart of that victory was Bilek. The senior opened the scoring with a shorthanded goal; just over four minutes later Army would take a 2-0 lead. About halfway through the game the Bulldogs would knot it at a 2-2 tie, but before the period could end Bilek had the primary assist to re-establish the lead.
The Bulldogs proved persistent, tying the game back up at 3-3 with 13 minutes to play.
Then Bilek took over, adding what would stand as the game-winning goal on the powerplay and an insurance empty-net goal to seal the game.
"What I figured from the game against Yale, Friday night in here, this is just what Colin needed."
His three-goal, four-point night has lifted him to four goals and seven points in nine games, a much more suitable stat line for his work ethic.
"His slow start wasn't due to a lack of effort, I mean this kid, nobody puts in the time that he does to work on his game. He has been on the ice religiously before and after practices."
Bilek has found his game just in time for the Knights to enter conference-heavy play, which includes seven more games ahead of the winter break, with six coming on the road.
Even if Bilek doesn't continue to pitch in four-point outings, the Knights offense is gathering steam and has been given a chance to win every game courtesy of Gavin Abric.
The sophomore netminder entered this year without a second of playing time to his name in his NCAA career. And despite a 3-3-1 record, his 1.86 GAA and .946 SV% are among league leaders.
"He's been our best player, no doubt, and if you want to have a good team you have to have a good goalie," Riley said. "For a coach it's nice to go into a game where you're not even thinking about your goaltending."
That goaltending will be the backbone of the upcoming stretch, where games against Atlantic Hockey rivals leave a lot of points up for grabs and the potential to make up significant ground in the standings ahead of the semester break.
Don't miss any Black Knights action this season with every game streamed live, right here on FloHockey.
---
Have a question or a comment for Jacob Messing? You can find him on Twitter @Jacob_Messing.