ECHL
Journeyman Goaltender Barone Shows Value With Solar Bears
Journeyman Goaltender Barone Shows Value With Solar Bears
The 30-year-old has been a revelation for the Solar Bears this year, providing a much-needed boost to a group that was decimated by injuries and call-ups.
Nov 19, 2021
by Mike Ashmore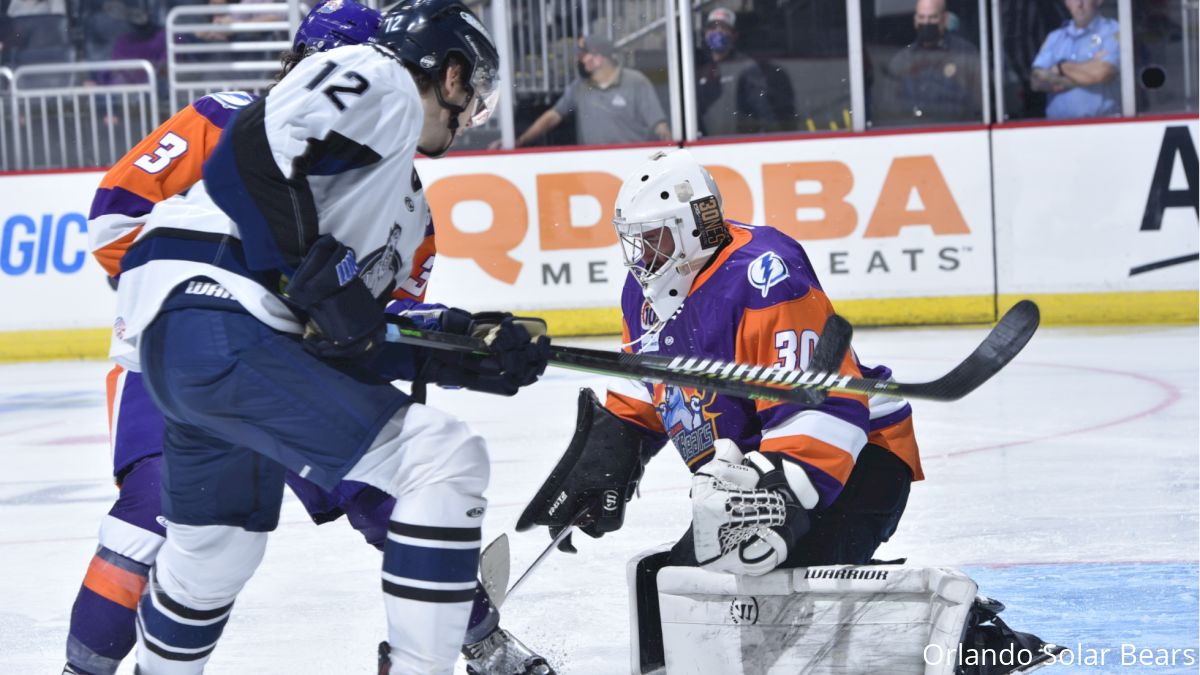 For a while, the good-natured joke had always been that Orlando Solar Bears goaltender Brad Barone has had so many stops in his professional career, they all wouldn't fit on the back of his hockey card.
And then the Utah Grizzlies went to make a card for Barone during his most recent stay with them over the past two seasons.
"We almost ran out of space on there from all the different teams," he deadpanned.
"It's been quite a journey having the suitcase packed at all times, but I've gotten to play with some really good players and meet a lot of my best friends and, on top of that, see some really cool parts of the country and Canada too."
For the majority of Barone's career, even dating back to his collegiate run with Boston College, it's mostly been wrong place, wrong time. Stuck behind two of the most well-decorated netminders in program history in Parker Milner and Thatcher Demko, the gregarious Medfield, Mass. native played in just eight games over a three-year NCAA career, including three starts.
Since turning pro after his college eligibility ran out, he's suited up for no less than 16 teams since 2014-15—playing for all but two of them—but has never played more than 11 games for any one franchise in any one season outside of lengthy runs in the Southern Professional Hockey League, an "A" level-circuit that is sometimes a feeder to the ECHL.
"It's certainly been a challenge, but I was told early on in my pro career by a guy who actually played for the Florida Everblades a few years back, Mike Cornell, he said, 'You become comfortable being uncomfortable,'" Barone said.
"I think that sunk in for me, and I started to discover how true that little phrase really is. Once you realize and accept the fact that you may be moving around and you may have to deal with different challenges related to travel and related to meeting new people, and you embrace it, it becomes probably the coolest job I'll ever have."
Entering this season, Barone has been on the roster of/or played for the South Carolina Stingrays, Florida Everblades, Berlin River Drivers, Louisiana IceGators, the Everblades again, Atlanta Gladiators, Mississippi RiverKings, Roanoke Rail Yard Dawgs, Reading Royals, Greenville Swamp Rabbits, the Rail Yard Dawgs again, Norfolk Admirals, Newfoundland Growlers, Rapid City Rush and Utah Grizzlies.
But maybe, just maybe, he can finally start to think about buying and not renting.
The 30-year-old has been a revelation between the pipes for the Solar Bears this year, providing a much-needed boost to a group that was decimated by early season call-ups and injuries.
"He's played really well for us," Orlando head coach Drake Berehowsky said. "We're really happy with him, and we're thrilled that we were able to get him. His agent reached out to us, and I'm not sure what the plan is with the goalie situation. We'll probably end up carrying extra just in case something like this ever happens again, we always want to protect ourselves that way as an organization to make sure we're prepared for anything that comes our way."
In his first seven games with the Solar Bears, Barone has posted a 3-3 record with a 2.41 goals against average and .933 save percentage, and was a runner-up for the ECHL's Goaltender of the Week honors. He's also coming off a dazzling 50-save performance in a tough-luck loss to the Florida Everblades at Hertz Arena on Wednesday, a week after nearly single-handedly stealing two points in the same building.
"The culture of the team here, the core group of guys sort of lead the way in the room by example and verbally as well," Barone said. "I'm just trying to be a true pro myself every day, whether it be at a practice, a game, a travel day, a day off, a team event. It resonates when we had all these different guys getting called up and the way Coach Berehowsky preached that next man up mentality and expectation, it brings a certainly level of responsibility to an organization that's had so much success over the years. ... I've learned from being in so many places that you want to leave better off for you having been there."