ECHL
Zerter-Gossage Shows Potential In Five-Goal Masterpiece
Zerter-Gossage Shows Potential In Five-Goal Masterpiece
The 26-year-old Maine Mariners forward scored five goals and added one assist in a wild, 8-7 overtime loss to Trois-Rivieres.
Nov 16, 2021
by Mike Ashmore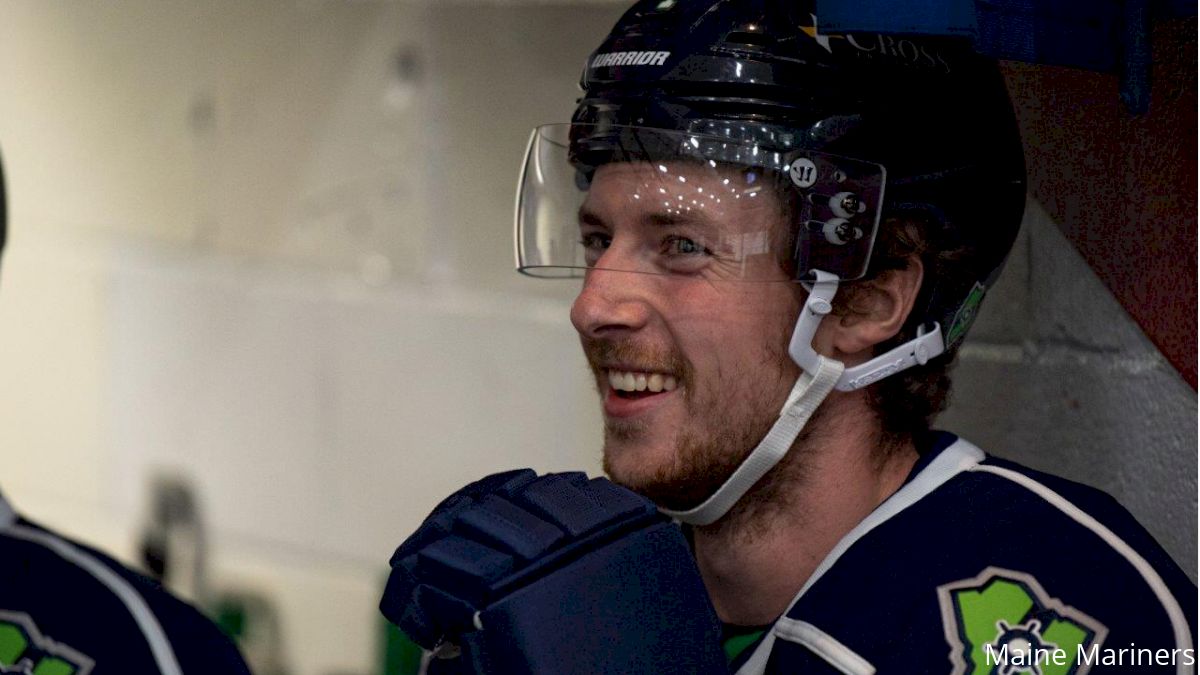 Originally, Lewis Zerter-Gossage's "Ogretzkin" Twitter handle was a little bit of a tongue-in-cheek reference to a little self-deprecating humor he came up with when he was in and out of the lineup during his freshman year at Harvard.
"I made a joke about how my player comparison was 'Ogretzkin,' a mix between Gretzky and Ovechkin," Zerter-Gossage told FloHockey via cell phone. "At the time, as a freshman kid who wasn't playing a ton, it was just a little bit of a sarcastic joke."
On Friday night, it sure looked pretty accurate.
The 26-year-old Maine Mariners forward scored five goals and added one assist in a wild, 8-7 overtime loss to the expansion Trois-Rivieres Lions in Portland, as seen exclusively on FloHockey. The five goals and six points are season-highs in the ECHL.
"We went down really early, and we kind of knew after the first that it was going to be one of those back-and-forth games," he said. "There was a lot of transition back and forth, and then our power play was really clicking."
Zerter-Gossage lit the lamp for the first time at the 15:16 mark of the first period on the power play, and then followed that up with the primary assist on Pascal Laberge's goal just two minutes and 20 seconds later, part of an eight-goal stanza that had Trois-Rivieres up 5-3 through 20 minutes.
But, after Shawn St. Amant's early second period tally upped the Lions lead to 6-3, Zerter-Gossage single-handedly erased it and then some, scoring an extraordinary four consecutive goals between the 5:17 mark of the second period and 4:02 mark of the third that gave Maine an improbable 7-6 lead before they ultimately fell late in overtime.
"You score that first goal, and you're feeling pretty good about yourself, but then that next period, we had a string of good shifts where I scored my second, a couple power plays, and then we got a 5-on-3 that I scored on and then I immediately scored on the 5-on-4 after that," Zerter-Gossage recalled.
"I've never really experienced anything like that, at least not since I was maybe nine years old or so. That's a feeling that's only been matched maybe by a hat trick that I scored in college, which I only did once. In this case, to do it at the professional level, and to do it in a game where we were fighting back since the start, it was definitely super emotional. Losing in OT was a dagger, but overall it was certainly an interesting game for myself and the team."
To put Zerter-Gossage's night in context, his partial Twitter namesake, Alex Ovechkin, has never scored five goals in a game at any point in his NHL career. Wayne Gretzky accomplished the feat four times, and it's only been done just four times in the new millennium, most recently when Mika Zibanejad potted five goals for the New York Rangers on March 3, 2020.
Friday night was, depending on which half of Zerter-Gossage's career stats you look at, either somewhat inevitable or a complete surprise. After that tough start to his collegiate career, the Montreal native became one of the Crimson's most prolific scorers in recent memory throughout his final years, posting 29 goals over that span and earning the honor of serving as the team's captain in his senior season.
At the pro level, however, that scoring touch hasn't always translated. Following a brief stay with the American Hockey League's Hartford Wolfpack to close out his 2018-19 campaign after his time at Harvard came to a close, Zerter-Gossage signed an AHL contract with the parent New York Rangers, and split the following season between Hartford and Maine before being dealt in an AHL-level trade that technically sent him to the Lehigh Valley Phantoms, although he ended up being assigned to the ECHL's Reading Royals to finish up his whirlwind first pro season.
But, in 46 games between the combined three stops, he posted a modest 4-9—13 stat line, mostly the product of how he ended up getting utilized.
"I think a lot if it has to do with what your role is," Zerter-Gossage said.
"At school, I saw my role increase offensively with each year. I think my first year pro, I just about split it 50-50 between Hartford and the (ECHL). A lot of it is that it was hard to come into the lineup in the (ECHL) and get into a rhythm with players that I hadn't been playing with a ton, and special teams too, when they already had a good thing going. I wasn't necessarily the first guy to get called on for the power play, and I think a lot of my success this year as well as our success has been on the power play. We've really been clicking. Obviously, that can really drive your scoring opportunities and your stats. For me, I've always put in a lot of effort to work on my scoring touch and always believed that once the opportunities come like they had in college and at the start of this season—that if you put in the work in the summer and then before and after practice that when you get those chances when they count, you can put them in."
Friday night would seem to be a prime example of just that. Back in North America after playing in Germany last season, Zerter-Gossage had jumped all the way into a tie for second place in the scoring race with 12 points. His points-per-game average of two was tops among qualifying players heading into this weekend's slate of games.
As short-term career goals go, a return to the American Hockey League level would be a good one, and if nothing else, perhaps the perception of how he could be utilized if that call-up does arise has been changed.
With that said, he's remained humble, and is sticking with a commitment to the two-way game that he believes will pay off for both the team and himself in the long run.
"I've never been someone who's been overly concerned with statistical output in terms of trying to get called up," he said. "I know if I do, it's not going to be like I'm jumping right onto the first power play. Even (Friday), I went into that game trying not to think about stats, just trying to play a solid game and impact the game on both ends. Some games, you get a bunch of chances and get points, but obviously there's a lot more to the game than that. For me, showing people that I can be helpful in different facets of the game, if I am trying to get an opportunity up in the 'A,' that's something I have to show. I think that's something that will also translate to our team's success here. Team success will result in personal success."