ECHL
Goalie Mat Robson Finds Rhythm With Cyclones
Goalie Mat Robson Finds Rhythm With Cyclones
After spending last season in Germany, Robson is happy to be back playing North American hockey, and he's finding success.
Nov 12, 2021
by Mike Ashmore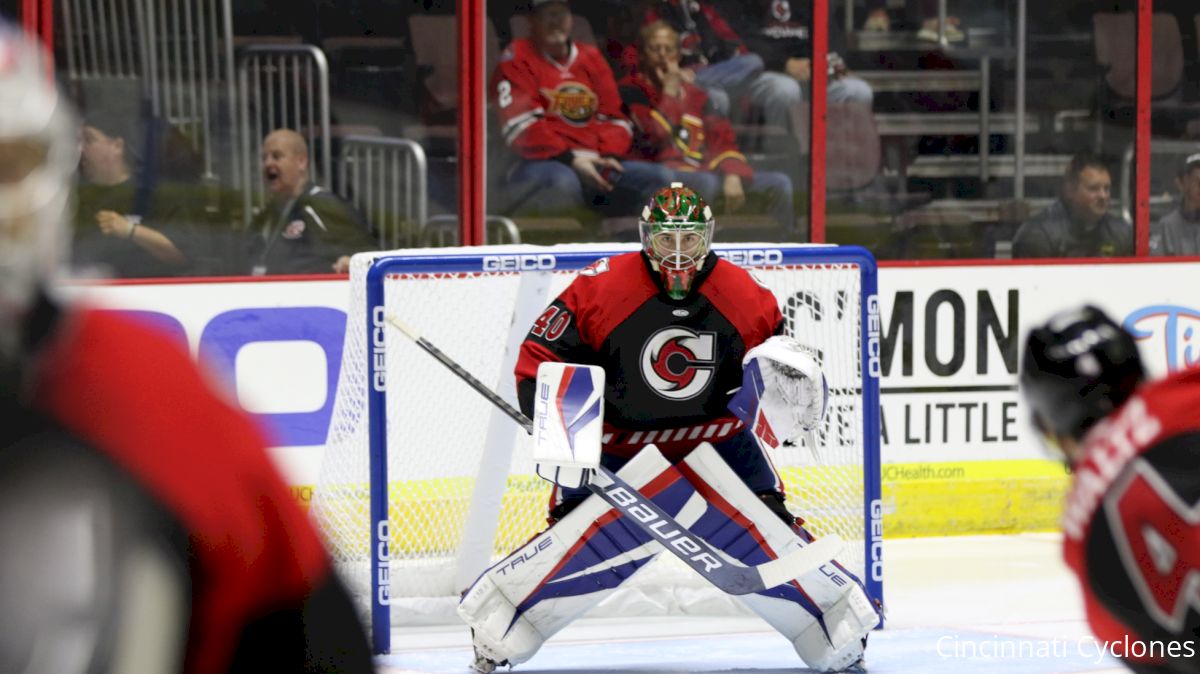 Mat Robson is making the most of his first chance at a second impression.
After a one-year, largely successful stay in the Minnesota Wild organization ended with him not being extended a qualifying offer to return, the former University of Minnesota standout had to scramble to find a job playing in Europe last year. He returned to the States this year on a one-year, two-way American Hockey League deal with the Rochester Americans.
Taking advantage of their strong affiliation with the ECHL's Cincinnati Cyclones, they assigned the 25-year-old to Cincy, where he flourished early on to start the year; Robson has won four of his first five starts, posting a 1.77 goals against average and .924 save percentage along the way.
How has he managed to be so good, so early?
"It's probably just my preparation," Robson told FloHockey via cell phone. "I had a summer where I know I needed a bounceback year, but I think a lot of people did after COVID. It was kind of a write-off of a season, almost, and I'd been itching to get back into the swing of things and find some normalcy. I was working all summer to be ready to go. Some of it is puck luck and things like that, but I'll chalk it up to preparation and having a really good team in front of me."
Robson has also very much taken advantage of a strong tandem in net this season as well.
Although the latter is currently called up to Rochester, Robson was paired with veteran Michael Houser with the Cyclones early on this season. He credits his teammate, who made his long-awaited NHL debut last year with the Buffalo Sabres, for some of the early strides he's been able to make.
"It's just a good situation," Robson said. "We have a good relationship, and we can tell jokes and get along great. He's a really, really nice guy and works hard. That rubs off on me. We want to compete, and obviously in a position that we play, only one guy can be in the net. So, we want to be the best, but we have a really good working relationship and we're able to push each other but still get along off the ice. That's been huge."
So too has been finding a stable situation after a short stint overseas last year with Straubing Tigers of Germany's Deutsche Eishockey Liga (DEL), in which he appeared in just nine games and posted a 1-8 record, 3.61 goals against average and .861 save percentage.
"I don't really know what happened behind the scenes there (in Minnesota), but I guess they went a different direction with their draft picks, so I was the odd man out, but it would have been nice to know a little bit sooner," Robson said.
"We scrambled a little bit, I went down to Minnesota to kind of gather my things, and regroup and see where we'd be off to. While I was doing that, I got a call from my agent asking if I'd want to go to Germany, and I said, 'Yeah, for sure.' Not even knowing if there was going to be a season in North America, we just kind of took that and ran with it. It was a really cool experience. I'd been before, but not as an adult, not old enough to appreciate everything that Europe has to offer; the culture, the buildings, the people, the food. With COVID, everything was kind of cut in half with not being able to have fans at games, or go to restaurants or see what the nightlife is like, but that's fine.
"I went there to play hockey, and I was able to go over there and practice and play and compete at a high level for a few months. Stats-wise, it was a down year, one of those things that happens. I battled through a few injuries. But, I was grateful for the opportunity to go over there. I'm happy to be back in North America, but that's not because I didn't enjoy that experience, I'd happily go back there at some point for sure. The dream is to make it as far as I can in North America before that happens."
Robson has gone a long way so far this year to make that dream a reality once again. Originally signed as one of the more sought-after college free agents by the Wild in 2019, Robson spent the entirety of the 2019-20 season at the AHL level in their organization, posting a 2.97 goals against average and .901 save percentage in 26 appearances for the Iowa Wild.
Although the Sabres organizational depth chart in net leaves little room for movement. Under normal circumstances, Craig Anderson and Dustin Tokarski form the NHL tandem, while Aaron Dell and top prospect Ukko-Pekka Luukkonen man the nets in the AHL. Robson is hopeful that his early-season performance will open some eyes and get him back to the top level of the minors at some point soon.
"I'm not too far off my entry-level deal, COVID kind of put a bit of a buffer in that, so I just had to re-establish myself in North America and play a lot of games," Robson said. "I'm not reading too much into the contract or anything like that, I know what I'm capable of. A good start definitely helps; it helps build your confidence and your team's confidence in you. So, it creates a trust factor, which helps throughout the season. I can't speak to other people's opinions, but hopefully people are watching and taking notice."