ECHL
Solar Bears Coach Berehowsky Earns 200th Win
Solar Bears Coach Berehowsky Earns 200th Win
Berehowsky made the jump to coaching after 13 seasons in the NHL with six different teams.
Nov 12, 2021
by Mike Ashmore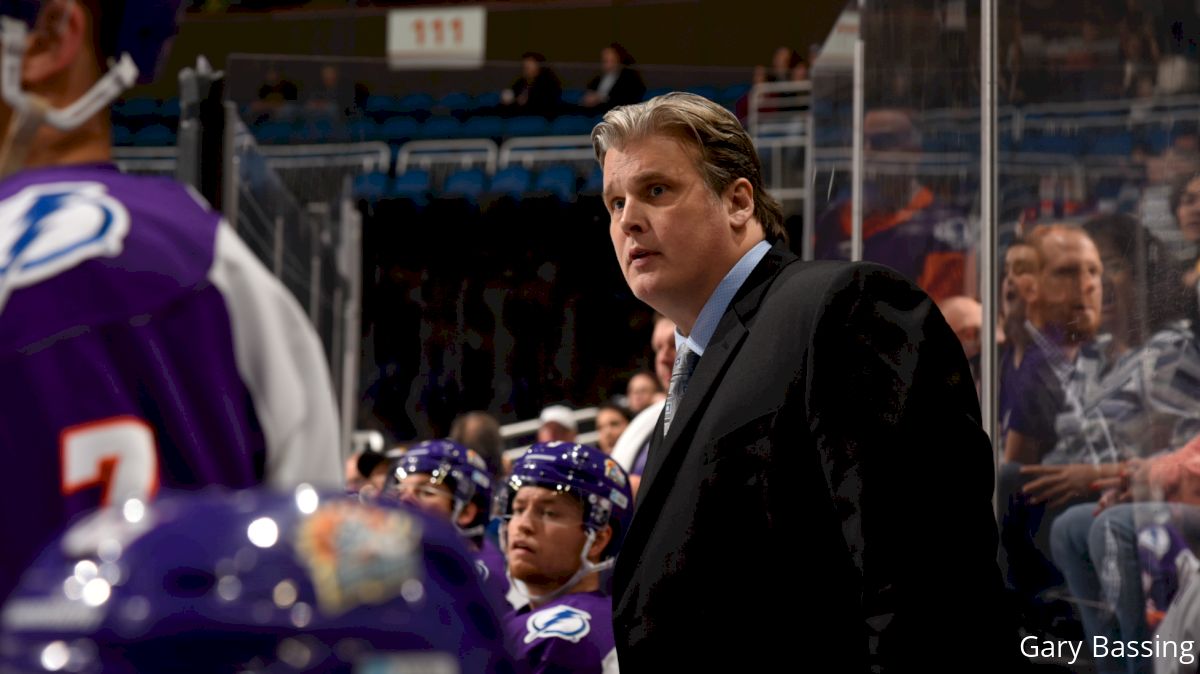 If this whole hockey thing never worked out for Orlando Solar Bears head coach Drake Berehowsky, he says he would have wanted to be a teacher.
Hockey, however, has worked out for Berehowsky.
Has it ever.
A veteran of all or parts of 13 seasons in the National Hockey League with six different teams as a gritty two-day defenseman, Berehowsky made the jump to coaching shortly after his playing career was done. He has been a staple behind the Orlando bench for the past six seasons.
As seen exclusively on FloHockey, the affable 49-year-old earned his 200th victory as the Solar Bears bench boss on Wednesday night in a dramatic, come-from-behind, 3-2 win over the Florida Everblades at Hertz Arena.
"It was real nice that the guys gave me the puck after the game," Berehowsky told FloHockey via cell phone. "I heard about (the potential milestone) a couple weeks ago, and then I just forgot about it. Those are things I try not to worry about too much. But, it's nice to achieve those moments, but it's even nicer to achieve them with such a great franchise and such great players."
It is, perhaps, fitting that the accomplishment came with this particular group, as it may be some of his best work coaching yet. Only a few weeks into the season, the Solar Bears have been decimated by call-ups and a handful of injuries, and Berehowsky, who also serves as the team's general manager, has been keeping plenty busy.
"It's been tough, but my associate coach, (Jared Staal), he's been unbelievable," he said. "I think I've got a pretty good line on a lot of players, and I've had a lot of players wanting to come back. I think our reputation as an organization has spoken for itself, and agents call me. When I need players, I can always call, and we have a pretty far pipeline that helps me, because we do such a good job and we treat the players so well."
Berehowsky played in 549 regular season NHL games throughout a 16-year professional career, suiting up for the Toronto Maple Leafs, Pittsburgh Penguins, Edmonton Oilers, Nashville Predators, Vancouver Canucks and Phoenix Coyotes before finishing up in Europe.
He says an interest in teaching kids was what led him into coaching, where he's enjoyed a lengthy and very successful run ever since his debut at the junior level with the Ontario Hockey League's Barrie Colts in 2007-08.
"I was fortunate enough to live the dream, and it's been good to me," he said. "I always thought it was important for me to give back. So many people gave me tips and taught me things, so I wanted to pass along that knowledge as well. It's been great, seeing players get called up and have the opportunity to play at the next level, that's always the most exciting thing."