2021 Michigan State vs Ferris State - Men's
CCHA Reasons To Watch: Ferris Vs. Michigan State; MNSU Vs. BGSU
CCHA Reasons To Watch: Ferris Vs. Michigan State; MNSU Vs. BGSU
This weekend the CCHA features a veritable feast of games including three in-league rivalries, and an inter-conference in-state special.
Nov 11, 2021
by Tim Rappleye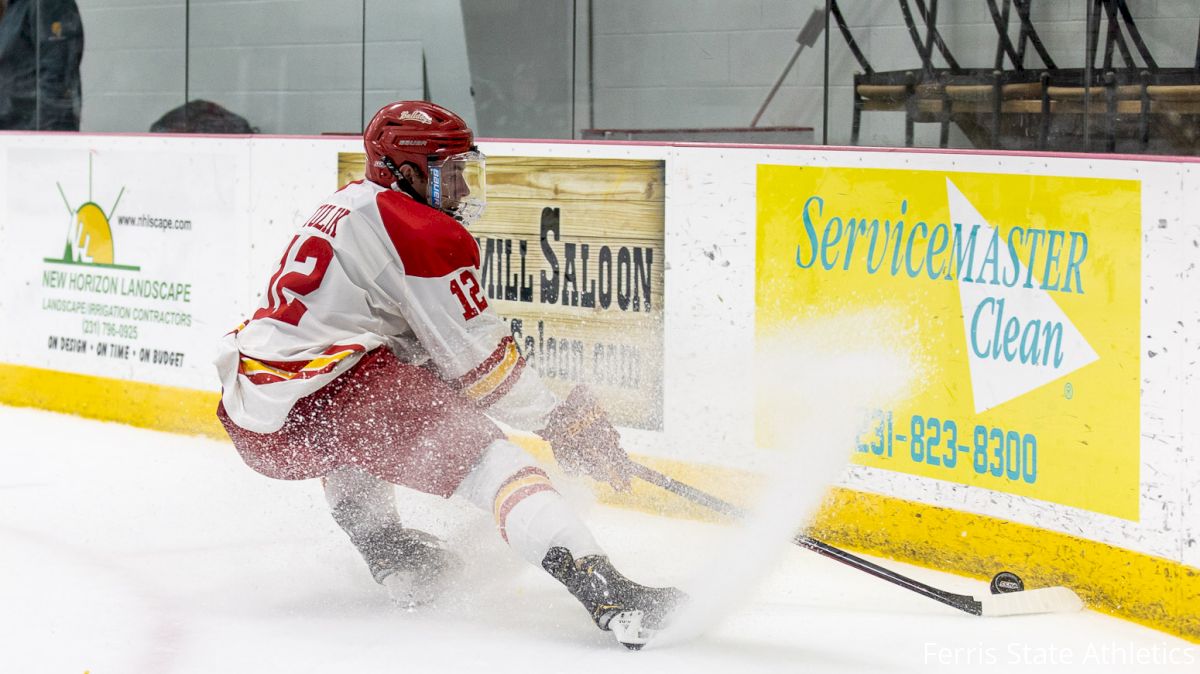 This weekend the CCHA features a veritable feast of games two weeks prior to Thanksgiving: Three in-league rivalries packed with history, and an inter-conference in-state special with loads of Pairwise implications. Let's start unpacking.
Ferris State Vs Michigan State
Getting a jump on the weekend, the newly recognized Ferris State Bulldogs are looking to claim their third non-conference win (not a misprint) Thursday night versus their mid-Mitten rival Michigan State. The back end of this series will be on FloHockey on Saturday night.
A one hundred twenty mile bus ride, Bob Daniels returning to his alma mater, foes that have split the last time they played pre-COVID: That's all window dressing.
Here's the skinny: Daniels and his loyal charges have successfully crossed the frozen wasteland of a winless season. They've announced themselves to the hockey world by beating Minnesota State last weekend. Bulldogs have ascended a vital rung of the ladder to contention: they are now a tough out. And that's legit. Just ask Mike Hastings.
How does beating the number two team in the nation affect morale in Big Rapids? "We're really confident," said senior forward Justin Michaelian in an understatement, who admits he is positively geeked to be playing with his twin bro Brendan. As to playing a "name" school this weekend? "Everyone loves these games, it's a Big Ten team, we wanna prove to people we can play." Justin, you already have.
There is a meaningful idiom in sports that applies here: "It's not who you play, it's when you play them." Ordinarily, a brand-name team from a brand name conference would be a logical pick over little Ferris. Not so fast. State is licking their wounds after getting slapped around by Michigan, and Ferris is riding high.
Ferris will likely capture a victory in this home-and-home, the win probably coming Saturday at Ewigleben. That will make for three out-of-conference wins against three different conferences for the surging Dogs. Seven CCHA coaches should send flowers to Big Rapids.
Bowling Green Vs No. 3 Minnesota State
'Kato boss Mike Hastings spent his weekly presser building up Bowling Green, stating history and annual tendencies and competitive nature of everyone involved at BG. He also implied he's expecting a split. Don't buy it. Unlike last week's prep for the Ferris State gut-punch, Hasty's had four full days (as opposed to two the week before) at the Mayo Clinic Center to whip his Mavs, and he had their full attention.
Bowling Green is a model franchise in this circuit, whether it's the WCHA or either of the CCHA's, but Ty Eigner's bunch is simply not equipped to handle Minnesota State's A-game. The Mavs' powerplay is clicking, Cade Borchardt has regained his scoring touch, and a week-on-the-shelf, offensive player of the year Julian Napravnik should be back in the Mavs lineup.
MSU likely sweeps, balance of power in the CCHA returns to southwest Minnesota.
Bemidji State Vs Lake Superior
Oil versus Water; defense versus offense, power play vs penalty kill; a battle of contrasts make this November matchup quite intriguing up in the American Soo. Two contenders for CCHA home ice in the long term, a spot the national rankings for the short term. Ordinarily, forecasters lean toward the defensive-oriented squad (Bemidji) in a gut-check series like this.
But upon further review, Lake State has simply too many weapons to ignore. Michigan Tech's Joe Shawhan simply gushed about Laker newcomer Logan Jenuwine (clearly an early front-runner for best name in college hockey), calling him LSSU's best forward from their recent series split, but there are three Lakers who are averaging over a point-per-game. Shawhan took a peek at Jenuwine's Elite Prospects page and saw his 60-goal season in his final year of junior hockey.
Home ice will be a factor, as Bemidji will have a 10-hour bus ride along the 47th parallel before playing in the tight confines of Taffy Abel Arena. Coach Tom Serratore hopes his Beavers will play up a notch due to their the bye-week, but rust might trump rest. Goals come in bunches up in the Soo, and Bemidji doesn't have the arsenal for a shootout.
Take the irresistible force (LSSU) over the immovable object this weekend, as the Lakers band of snipers fire their way into the national rankings.
Michigan Tech Vs Northern Michigan
This should be the most entertaining series of the weekend. Ninety miles separate the two campuses, and there will be plenty of fans from both sides going behind enemy lines, especially Tech zanies invading Marquette. Anyone who recalls their 2019 quarterfinal playoff relishes that kind of intensity.
Coach Shawhan admits that his Tech squad differs from Northern from the ice up, how Grant Potulny built his Wildcats with forwards who relish the rush, and have mobile defensemen who exploit the extra-large ice sheet at the Berry Events Center. Tech on the other hand, devotes itself to giving opponents fits trying to advance from one zone to the next. There is 15% less ice to maneuver in Houghton as there is in Marquette. Shawhan conceded that the Cats might have an edge in adapting from one sheet to another because they do it so frequently.
Wildcats miniature sniper Mike Colella will be worth focusing on this weekend. Can he find soft ice in the MacInnes center and build off his hat trick against BU last weekend? Clearly Shawhan would love a finisher like the kid from Jersey, the Tech coach suffered a weekend of lost sleep from yet another session of missed chances. He continues to search his soul over how to convert all those shots into goals.
Grant Potulny describes a typical Cats game as "the race to three [goals]." In Tech's case, a pair of goals is a windfall.
As a simple formula, Tech likely wins a grinding, one-goal affair on small ice in Friday's opener. Cats answer in a shootout on the big pond Saturday. Horses for Courses.