Atlantic Hockey
Canisius Breakout Players Have Golden Griffins On The Rise
Canisius Breakout Players Have Golden Griffins On The Rise
After coming one win away from being the lone rep for Atlantic Hockey in the Big Dance, the Griffins entered the 2021-22 season with hunger.
Nov 11, 2021
by Jacob Messing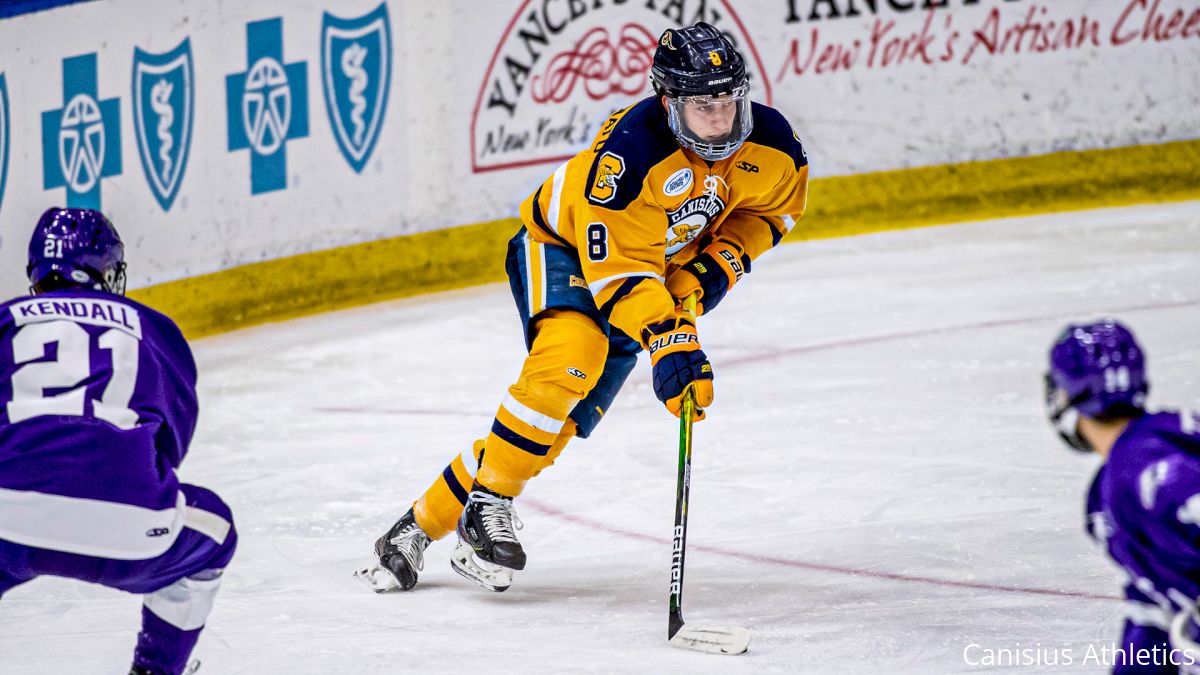 Last season the men's hockey program at Canisius fought through a stop-and-go schedule, via postponements and holidays, finishing with an 11-6 overall record and 4th place finish in Atlantic Hockey.
The Golden Griffins' .647 winning percentage was their best under coach Trevor Large, who took over in the summer of 2017. Large's team defeated two other impressive programs last year in RIT and Army West Point for a trip to the conference championship.
The Griffins wound up on the wrong end of a 5-2 game with American International, who won the conference tournament championship and booked its second consecutive trip to the National Tournament (excluding the 2020 cancellation),
After coming one win away from being the lone national rep for Atlantic Hockey, the Griffins entered the 2021-22 season with hunger to build on their promising pod season of 2020-21.
Off the ice, the Griffins put pen to paper with former volunteer assistant coach Daniel Paille, bringing him onto the coaching staff full-time.
"We are all excited to have Dan join our staff on a full-time basis," Large said in an August news release.
"His hockey knowledge and background are at the highest level. In his time with our program, Dan has continually shown the commitment, passion and drive needed to become an elite coach. Having an individual with a resume such as Dan's continues to be an enormous benefit to help assist our players becoming the best they can be every day, both on and off the ice."
A veteran of 11 NHL seasons, and 2011 Stanley Cup winner, Paille brings a wealth of experience in two-way hockey and defensive tactics for forwards.
A better defensive awareness will help forwards including Keaton Mastrodonato, Max Kouznetsov, and Randy Hernandez build their confidence on the other side of the puck and bring more cohesion to the team's defensive play.
Mastrodonato turned heads as a freshman in 2019-20 with 10 goals and 17 points in 34 games and took the next step under Paille's second season as a volunteer. Mastrodonato then led the team with nine goals and 18 points in half as many games.
Now Mastrodonato has continued his development with five goals and 11 points in just nine games this season. Joining his ascent is Max Kouznetsov, who already sits just two goals (and as many points) shy of his freshman numbers (4 G, 3 A, 7 pts. in 17 games) through nine contests this season.
Series splits have been the theme of the Griffins' season thus far as the offense continues to search for consistency. The Griffins have split all four series they have played in this season, which has led to a 4-4-1 record, including a tie versus Clarkson.
In their four wins, the Griffins have accumulated 15 goals, juxtaposed to just seven goals in their four losses. As team chemistry continues to build, specifically with the seven transfers brought in, the Griffins should find more production from their depth.
That depth shone through last week, with Austin Alger and starting netminder Jacob Barczewski taking home AHA weekly honors.
Time for our #AtlanticHockey weekly awards for week 6️⃣! Congratulations to Austin, Rourke, Jacob and Carter!

📰 : https://t.co/pNwY1lBqqG#GoGriffs | #WeAreSHU | #RIT pic.twitter.com/bYuYuHcJ0F

— Atlantic Hockey (@Atlantic_Hockey) November 8, 2021
One the transfer side, Randy Hernandez has left a lot to be desired after being named the 2021 AHA Rookie of the Year with Robert Morris. Hernandez recorded 11 goals and 25 points in 24 games but has found the back of the net only twice in eight games with the Griffins, with a total of four points.
A hot streak could start to tip wins in the Griffins' favor.
The Griffins have a gauntlet of tests upcoming with series' against RIT, Mercyhurst, and AIC to close out November.
All six games will be streamed live, right here on FloHockey, starting this weekend with RIT.
---
Have a question or a comment for Jacob Messing? You can find him on Twitter @Jacob_Messing.