2021 Lake Superior State vs Michigan Tech - Men's
CCHA Reasons To Watch: Lake State Vs. MTU; Mavericks Vs. Ferris
CCHA Reasons To Watch: Lake State Vs. MTU; Mavericks Vs. Ferris
This week the CCHA on FloHockey features a clash between Lake State and Michigan Tech, which should snuff out who is for real and who is not.
Nov 5, 2021
by Tim Rappleye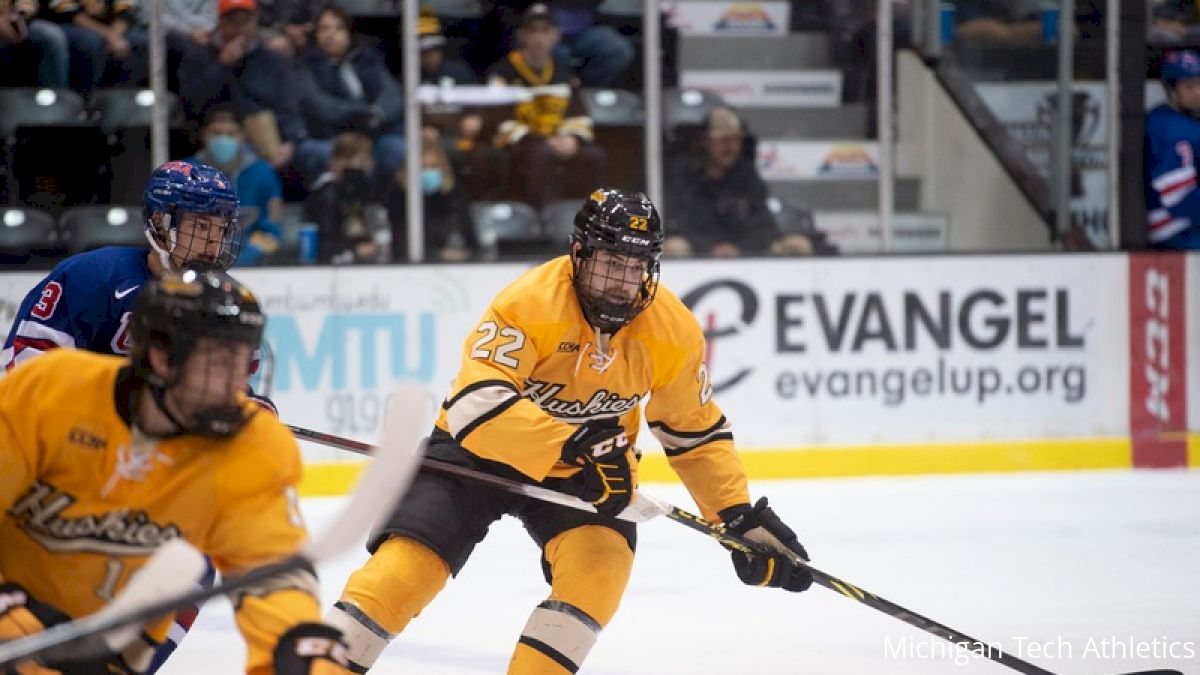 This week the CCHA on FloHockey features a clash between Lake State and Michigan Tech, which should snuff out who is for real and who is not. Also, Minnesota State takes on Ferris State and BU travels to Northern Michigan.
Lake Superior State Vs. No. 18 Michigan Tech
This is the classic "pretender versus contender" series, though we're not sure who is who. Joe Shawhan's Tech squad has played a tougher schedule, stifling Wisconsin, taking Notre Dame to overtime and splitting a tough series at Clarkson. The biggest Tech takeaway from that limited sample is the stingy goaltending of junior Blake Pietila, with his stellar .945 save pct.
Despite Shawhan's exhortations and line-juggling, his Huskies are struggling to score of late, averaging less than 2 goals per game since their opening weekend blitz at Wisconsin. Despite this being only the first series of November, Tech appears to be in playoff mode where a single puck-bounce determines victory or defeat.
Lake State on the other hand, has been feasting on lower-rung ECAC competition and the newbies from St. Thomas the past six games, averaging a whopping five goals per game over that span. The respective coaches are not embellishing when they praise their opponents this weekend.
"They're absolutely a good hockey team that could come in here and do some heavy damage," said Shawhan.
"They've got great experience, especially in their forward group," said LSSU coach Whitten, "and they get good goaltending. It's a big, big match early on, on the road, back to CCHA play."
It's easy to get enamored with offensive explosions coming from LSSU, but this weekend is like playoff hockey, with six points in the CCHA standings hanging in the balance. Tech has the experience and the edge in goal. It is very hard to sweep in this league, but give Tech the edge at home.
No. 2 Minnesota State At Ferris State
This appears to be a no-brainer, the CCHA's best versus a Ferris club hoping to avoid the league cellar. But upon further review, this one might not be the lock most fans would expect. Mavericks coach Mike Hastings watched tape of the Ferris series against No. 10 Western Michigan and came away impressed with the Bulldogs. "Big and physical," said Hastings about the men in red.
Add in the fact that Ewigleben Arena is essentially an oversized rod-hockey dome that plays like a pinball machine, along with a jacked-up fan base, and fans should expect the unexpected.
"Things happen real quick in that building, and because of the confines of the rink, it seems that things happen even quicker," said Hastings. "The student section, which is one of the best in the country, is right on top of your goaltender for two periods each night. They make it difficult for you to win hockey games in that building."
This series will remind fans of MSU's trip to Big Rapids in January 2019, when the Bulldogs gave Hastings fits with tight games, one that included overtime. The Mavericks won't suffer a loss, but one of the games will be a nail-biter. Don't be surprised to see an extra period of hockey at Ewigleben this weekend.
Boston U. Vs. Northern Michigan
This is no ordinary non-conference matchup; this is the 30th anniversary of the greatest NCAA Championship of them all.
"It was the only game in which both finalists had three-goal leads," said BU hockey historian Bernie Corbett to RinkRap, "end of argument." This from a guy on the losing side.
Current Northern coach Grant Potulny and BU boss Albie O'Connell have a mutual respect for history, and each other, and have been trying to get this game played for over a year. Former Northern star Dallas Drake will never forget the band of brothers who helped the Wildcats to their only NCAA hockey title in 1991.
"A lot of pride in that group," Drake told RinkRap. "Probably the best group of guys I have been around." High praise for a 16-year NHL vet who won a Stanley Cup in Detroit.
Northern should have a rollicking crowd at the Berry Events Center to propel Potulny's Cats. Expect a couple of NMU wins over a mercurial Terrier squad. Cats over Dogs in a sweep.