ECHL
Michael Prapavessis Finds Home With Steelheads
Michael Prapavessis Finds Home With Steelheads
The 25-year-old is leading all ECHL defensemen with six assists in his first five games with the Idaho Steelheads.
Nov 3, 2021
by Mike Ashmore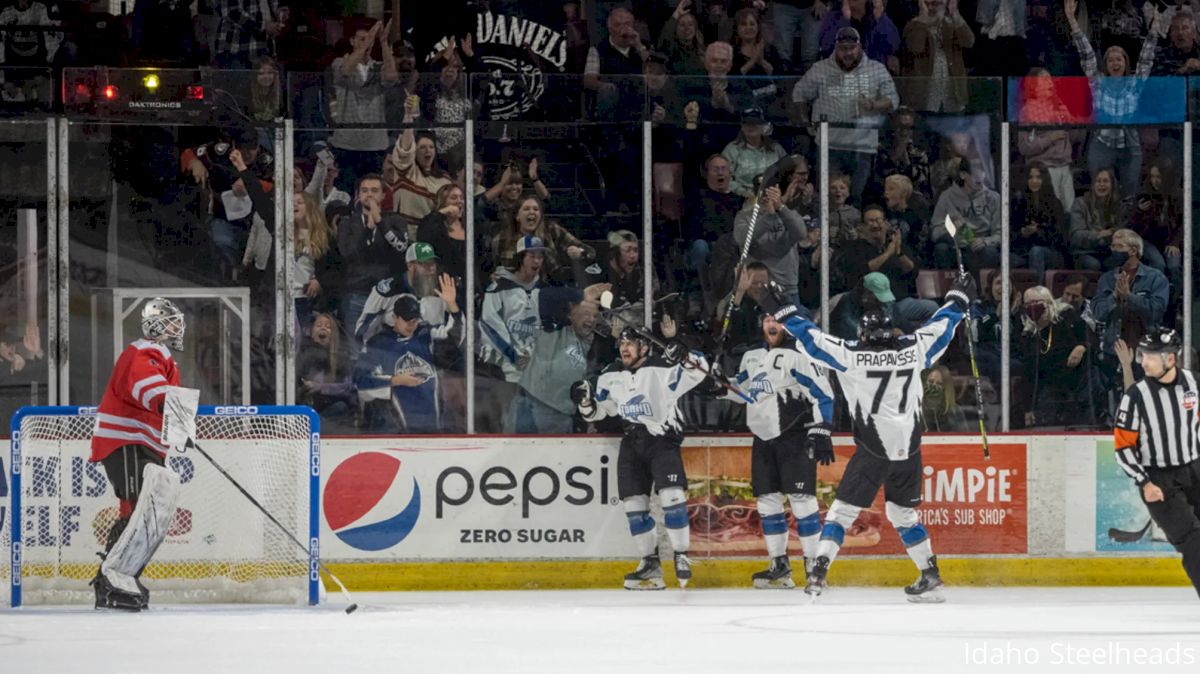 It was never a question of skill for Michael Prapavessis. Simply one of fit.
A solid two-way defenseman once drafted by the Dallas Stars in the fourth round of the 2014 National Hockey League Draft, the former RPI standout has provided a steady blueline presence wherever he's been at the pro level. He has also chipped in with his fair share of points as well.
Never quite like this, though.
Simply, the 25-year-old has found the right spot where all aspects of his game can flourish, leading all ECHL defensemen with six assists in his first five games with the Idaho Steelheads.
"I've been playing a lot, but I'm playing in a good system and in a situation where I've been put into it to succeed," Prapavessis told FloHockey via cell phone. "I've always had a lot of confidence in myself, but it's still early and it's a small sample size, but I give a whole lot of credit to the coaches and the players around me to be put in that good spot. I'm hoping to just kind of keep things going here."
Making it all the more impressive is the roller-coaster year that the 6-foot-2, 185-pounder went through during the 2020-21 season.
Prapavessis caught on with the Orlando Solar Bears a few weeks into the ECHL season, and posted four assists in 15 games before being dealt to the Utah Grizzlies in mid-March, for whom he potted a goal and four assists in 20 games until they surprisingly released him in early-May.
He finished up with the Wheeling Nailers, who claimed him on waivers, and rewarded them with four assists in 15 games as they wrapped up their season.
"I think the biggest thing for me this season was just getting to start in training camp, starting with a fresh organization and new team," he said. "Last season, I started late and was playing catch-up, and that was probably the biggest disservice I did to myself. (Last year), it was definitely demanding. There was a lot of games in a short period of time, and stepping into a season where guys had already been going at it for a while, that was tough ... But for sure, I was looking forward to having a fresh start."
Prapavessis has at least one point in each of Idaho's first five games—the Steelheads are off to a 3-2-0-0 start and are tied the third-most points in the league with six—and started off his season with back-to-back multi-assist games in consecutive wins against one of his former teams, Utah.
Rewarding as it may be to have gotten off to a hot start like he has, the Oakville, Ontario-native has done his best to keep an even keel throughout it.
"You try not to think too much about it," he said. "It is a small sample size, and obviously team success is more important. That's the focus. But I'm trying to treat every game on a standalone basis and prepare for that, and right now we have three games in Tulsa this week, so it's more wanting to get focused for them."
It's hard, however, to keep what the continuation of this strong start may mean for Prapavessis' career out of his mind. A veteran of 52 games at the American Hockey League level—all with the Cleveland Monsters. But with none under his belt since March of 2020, it would seem the pass-first defenseman, is knocking on the door of another trip to the highest level of the minors.
"Still being a younger guy, and yes it's my fourth-year pro, but the goal is always to move up as high as you can," he said. "The NHL is obviously the end goal, but you have to get there one step at a time. You just want to keep your mindset to one game at a time, and that's all I can control. But that's definitely something I strive for, and I'm hoping to move up."