ECHL
Reading Royals' Matthew Strome Tries To Keep Hot Hand
Reading Royals' Matthew Strome Tries To Keep Hot Hand
The 22-year-old helped pace the ECHL through its opening weekend with a remarkable two goals and four assists showing.
Oct 29, 2021
by Mike Ashmore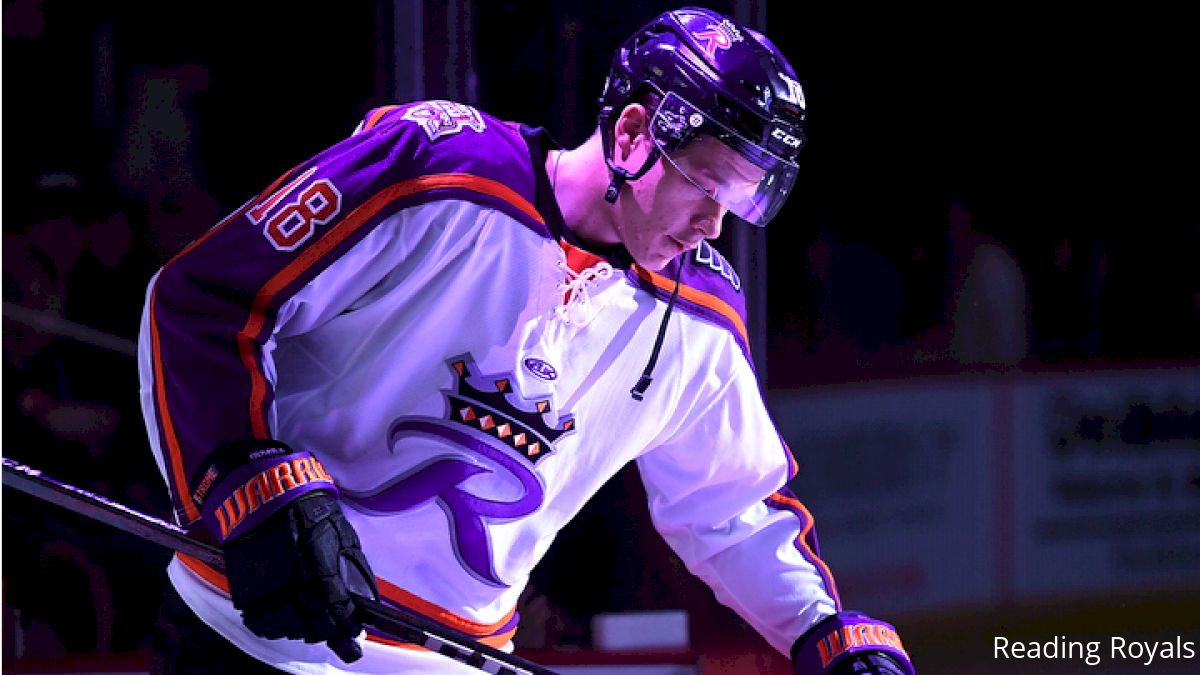 Silly as it may seem on the surface, it's not entirely ridiculous to ask Reading Royals forward Matthew Strome if this kind of scoring pace is sustainable.
Close, but not entirely.
The 22-year-old helped pace the ECHL through its opening weekend with a remarkable two goals and four assists showing in his team's home-and-home series split with the Norfolk Admirals.
"I mean, I hope I can average three points a game," Strome said through a dry chuckle. "That would be pretty impressive."
Indeed it would be for the fourth-round pick of the Philadelphia Flyers back in 2017. Strome is in the last year of his entry-level deal he signed after turning pro at the end of the 2018-19 season after a prolific four-year run with the Ontario Hockey League's Hamilton Bulldogs.
Royals power play goal! Matthew Strome snipes the top corner to give Reading a one-goal lead early into the 3rd period.

REA 3 | NOR 2 pic.twitter.com/HgXqVOSD2F

— Reading Royals (@ReadingRoyals) October 23, 2021
Strome—yes, he's the brother of NHL'ers Ryan and Dylan, currently with the New York Rangers and Chicago Blackhawks, respectively—has never managed to come close to replicating his numbers in juniors; he was a 30-goal scorer twice and posted a career-high 79 points in his last year with Hamilton, but has mostly struggled to find his way at the next level.
He split his first full two professional seasons between the Flyers' top minor league affiliate, the AHL's Lehigh Valley Phantoms, and the ECHL, playing for Reading in 2019-20 and the Greenville Swamp Rabbits last year. While he was a nearly a point-per-game player with the Royals (9-11—20 in 25 regular season contests), the Mississauga native managed just seven points in 26 games in 2020-21, and was held off the scoresheet in five Kelly Cup Playoffs games.
In short, it would be huge for Strome to finally put together that sustained breakout performance everyone's been waiting for, especially as he looks towards earning that next contract.
"It's huge, it's always in the back of your head," Strome said. "But, when teams have success, each individual has success on their own. For me, it's in the back of my head, but wherever I'm playing, I just want to do everything I can to help the team win."
For the 6-foot-4, 206 pound forward, that process re-started this off-season, where he skated and worked out with his brothers frequently.
"Seeing them work out and seeing how they eat in the summer with their nutrition and things like that, I think it really helps," Strome said. "But, one of the biggest things for me is seeing everything they do. That's where almost everybody wants to be playing hockey, in the NHL, and to get to see that firsthand, I think that's a big advantage for me."
The youngest of the three brothers—Ryan is 28, while Dylan is 24—Matthew is also the biggest of the bunch, which is something that can add a different element to his game while still implementing the best of what his siblings have shown him.
"There's a lot of similarities with us," Matthew Strome said. "The way Dylan shoots the puck, I've always liked the way he's done that, especially in juniors, and in the summer, I was working on that. Ryan, I think it's more the playmaking skills he has, he's a pass-first kind of player, and I really like that too. But, at the same time, I think he can put the puck in the net. The advantage of watching Ryan playing in the OHL when I was 11 years old, I realized from a young age and seeing everything they did and trying that in my own practices and hoping it translates to the games."
Just as importantly, as Matthew Strome has been making a name for himself these past few years, he now seems to have finally rediscovered the scoring touch to match a physical brand of play that should one day get him to join his brothers at the next level.
"I'm a little bit bigger than they are, and I'm a little more physical than them, so I think I try to use that part of my game to create a name for myself and I think that's really going to help me down the line," he said.