2021 Bemidji State vs Northern Michigan - Men's
CCHA Reasons To Watch: Bemidji Vs. Northern Michigan; Ferris Vs. St. Thomas
CCHA Reasons To Watch: Bemidji Vs. Northern Michigan; Ferris Vs. St. Thomas
This week, clash between two CCHA playoff favorites, a two-game survivor series, and the latest installment of "The Bergeron Bowl."
Oct 21, 2021
by Tim Rappleye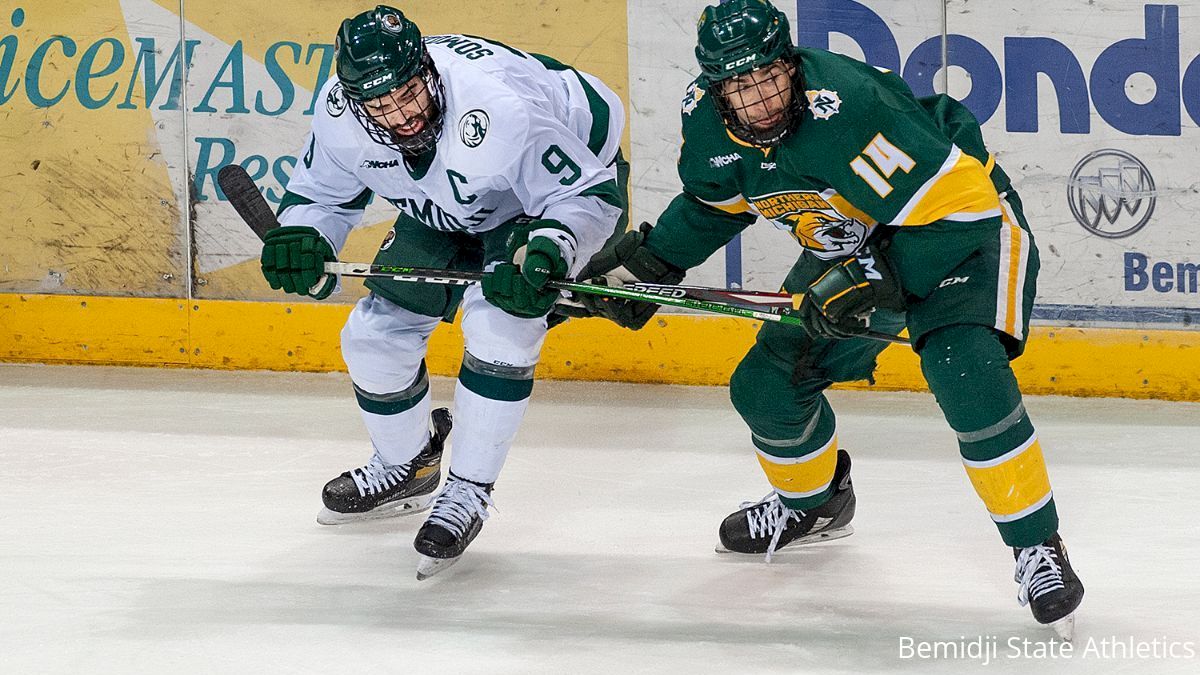 This week the CCHA on FloHockey runs the gamut with three compelling matchups: A clash between two schools favored to secure home ice in the CCHA playoffs; a two-game survivor series vital to both teams confidence; and the latest installment of "The Bergeron Bowl," heightened by the addition of an All-Conference transfer.
No. 19 Bemidji At Northern Michigan
Northern's new starting time of 6:30 ET takes all the guesswork out of which game to start your hockey viewing this weekend, and this one is a gem. These two programs, along with Michigan Tech, are jockeying for the perceived No. 2 spot in the CCHA power rankings. A sweep by either team will vault the winners into that spot.
Bemidji has played the tougher schedule by far, losing four excruciating games to national powers Duluth and North Dakota before finally puncturing the win column against the Fighting Hawks in overtime. The Beavers' punishing offensive style is personified by coach Tom Serratore's favorite trio of Tyler Kirkup, Alex Adams and Jakub Lewandowski.
"There's over 600 pounds right there," said Serratore last weekend. "They're pretty good hockey players, and they've got to play heavy."
"That's our league," said Cats coach Grant Potulny. "There's no place to hide. You win or lose from the tops of the circles in."
Despite losing to Notre Dame 5-2, Northern impressed last Saturday at home, outshooting and out-chancing the Irish after coughing up three first-period goals. It led to a goalie change, and coach Potulny now finds himself with a second ace in his deck, as freshman Charlie Glockner is now challenging last year's All-Rookie selection Rico DeMatteo for playing time. Glockner picked up All-CCHA honors for his perfect 19-for-19 against Irish shooters. "He's earned the trust of our players," said Potulny. "Charlie will see action this weekend."
Playing on the Olympic sheet will allow for more consistent zone entries and longer puck touches for both clubs, making for a viewer-friendly battle between these two veteran squads. Wildcats broadcaster Dave Danis claims that you can't judge teams before Thanksgiving, but the rest of us can trust our own eyes this weekend, as the CCHA's early season balance of power will be determined in Marquette. Right now, the edge goes to Bemidji based on their quality of prior opponents.
Ferris State Vs. St. Thomas
This is a matchup of two master class coaches who are both mired in major rebuilding; the two programs have only one win between them this season. Rico Blasi has been guiding St. Thomas on their maiden voyage through the Division I waters with little or no pressure, competing but losing to CCHA foes Northern Michigan and Lake Superior State, finalists in last year's league championship game. But now they are at home against the team they will need to topple in order to stay out of the CCHA cellar. This is a series in which they truly need a win to maintain optimism for both the players and the friends of St. Thomas hockey. That translates to pressure.
Bob Daniels and Blasi have both reached the NCAA championship game in the not-so-distant past. This weekend, however, they are battling head-to-head to avoid the bottom rung of the college hockey ladder. This is the equivalent of an international soccer relegation match, as viewers will tune in to see who survives. At home, St. Thomas should have the edge, and the Tommies could celebrate their first Division I win in history.
Miami Vs. Bowling Green
The latest edition of the "Bergeron Bowl" has a new twist. Not only is Miami coach Chris Bergeron returning to face the program he spent a decade resurrecting, but he is bringing along play-making defenseman Will Cullen, last seen in BGSU's Slater Arena as an All-Conference scoring star. At the very least, introductions will be must-see TV: how will the fans at the Madhouse on Mercer treat the return not only of their former coach, but also their show-stopping defenseman? At times, Cullen performed like the proverbial "human highlight film" during his three seasons at Bowling Green.
The post-game handshakes are appointment viewing, not only for Cullen greeting his ex-locker room pals, but for the intersection of current BGSU coach Ty Eigner and his former mentor Bergeron. Unlike his first return to the Madhouse, there may be no fairy tale ending for Chris Bergeron. Look for Eigner's troops to hang a couple of losses on Miami, and the fans at Slater to serenade Cullen with lusty boos.