Men's Big Ten Hockey
FloHockey Sits Down With Notre Dame Coach Jeff Jackson
FloHockey Sits Down With Notre Dame Coach Jeff Jackson
This past weekend Jackson returned to the Upper Peninsula, leading No. 17-ranked Notre Dame to a sweep of Michigan Tech and Northern Michigan.
Oct 19, 2021
by Tim Rappleye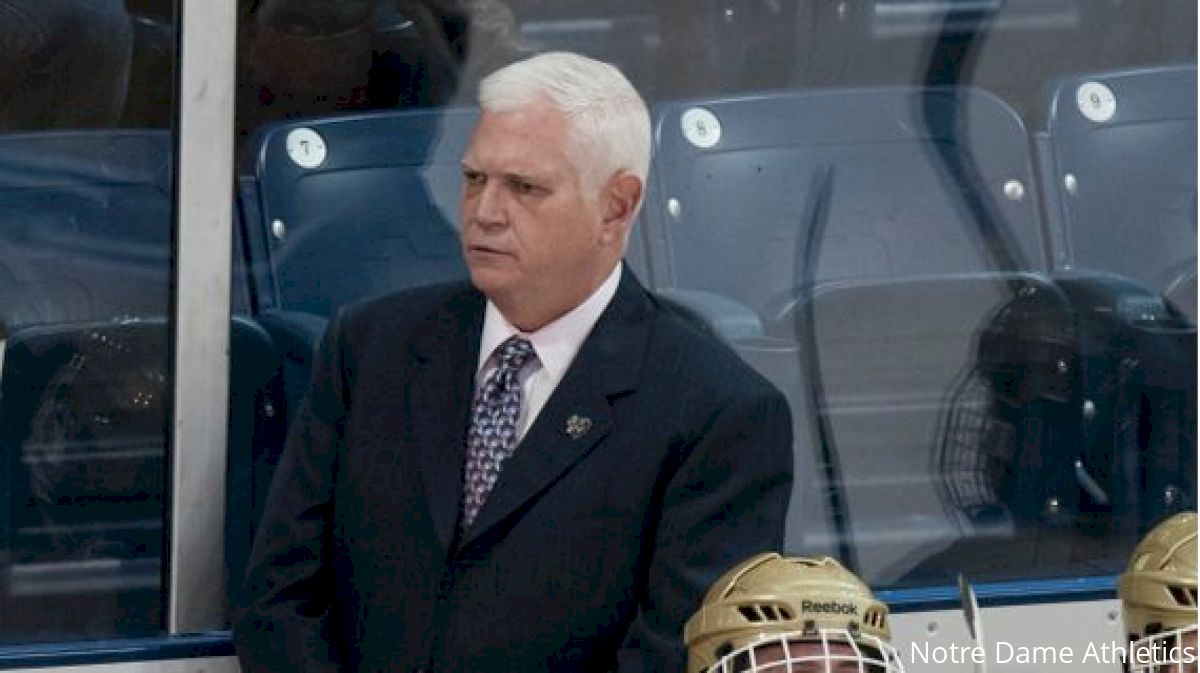 Notre Dame coach Jeff Jackson ranks second nationally among active Div-I coaches with 530 career wins. Although he has led the Irish to two NCAA title games, he will forever be remembered for his dynastic Lake Superior State clubs of the early '90s. This past weekend Jackson returned to the Upper Peninsula, leading No. 17-ranked Notre Dame to a sweep of Michigan Tech and Northern Michigan. FloHockey's @TeeRaps caught up with the living member of the Mt. Rushmore of college hockey coaches to discuss the state of hockey in the U.P., a link to his glory years up in the Soo, and his future in the game.
---
FloHockey: Congratulations on your weekend, was it any sweeter the fact that is was in the U.P.?
Jackson: It's always good to win. I haven't been in those buildings in a number of years. It was fun to get back to Houghton and Marquette.
Both buildings were packed, over 3800 fans at the Berry Center, and MacInnes Arena was jumping.
And we always bring out the best in people, people that hate Notre Dame [laughs].
I don't know about that. Let's talk about Michigan Tech coach Joe Shawhan. You two go way back at Lake State.
He was a senior goalie when I first started as an assistant coach under Frank Anzalone. He then coached the Soo Indians, the junior team in town. He'd come over and watch us practice all the time. He was an inspiring coach, coming over and watching, trying to learn. He reminds me of [myself] a little bit, because that's how I learned starting out.
You crushed his dreams in the NCAA's back in 2018, his first time in the NCAA tournament when your ND squad beat Tech in overtime.
We had five or six [playoff] games that went to overtime, they were the first one in the NCAA tournament [ND lost the championship game to Duluth 2-1].
Did you and Joe get in some chit-chat Friday?
Just a little bit after the game, obviously it's busy times for him. I had plans to meet some people up in Calumet. It was the 100th anniversary of Notre Dame hockey up in the U.P., and the connection with the famous N.D. football player George Gipp, he's from up there.
Interesting history, the Gipper from the U.P., I did not know that.
I learned about it as well. We have one alum up there that gave me all the background. He's been hoping that we could get up and play there a long, long time. Notre Dame played in the early 1900s in Calumet in that historic arena.
Bringing it back to this latest trip to the Keweenaw Peninsula, when you saw that Michigan Tech had just swept nationally ranked Wisconsin in Madison, did that motivate you and your squad?
It certainly raised eyebrows, that they could go to Wisconsin and have that kind of success. I'm not surprised, though. I expected Michigan Tech and Northern Michigan, for that matter, to be top four teams in that conference, maybe challenge to be conference champion. So I wasn't overly surprised they had success against Wisconsin, but to win two in that building is not an easy feat for anybody.
Northern battled you despite being in a huge 4-0 hole Saturday.
I thought they played well, I talked to Grant [Potulny] after the game. We took advantage early, used our speed effectively, scored a few goals. They gave us all we could handle as the game progressed.
Although you didn't make it to the Soo this trip, they hung another banner into the rafters of Taffy Abel Arena, crowding out some of yours. What do you think of the state of Lake State?
I think it's going in a much more positive direction. I think Damon's [Whitten] done a nice job there, along with Mike York and Zack Cisek. I try and stay in contact with them there, help them out a little bit with their project to upgrade their locker room last summer. It's still close to my heart, I want to see them have success. We'll get back up there, too. As far as the U.P. teams, Damon's done a great job at Lake State, Joey's done a great job keeping the thing going from when Mel [Pearson] was there, and I think Grant is one of the better young coaches in college hockey. They've got three good people up there, and that makes a big difference in the recruiting and trying to build back programs that have a great history.
Including that 2018 NCAA win over Tech, you are 6-0 against those three teams from the U.P. When you cross the Mackinac Bridge every summer to your cottage, does it ease your mind that you have no unfinished business with these schools?
Oh yeah, no question. We're trying to win championships here. It's hard, when you get good players and you can't keep them for four years. We can't replace them like some schools can, from an admissions standpoint.
You've got a sophomore Ryder Rolston, does he remind you of his dad Brian, a huge performer from your championship days at Lake State?
It makes me feel old a little bit [laughs]. Brian had a little bit of a leap of faith having Ryder come here, he's starting to show that he can be a very good collegiate hockey player. He's definitely a different type of player than Brian, right handed, not left. But he can skate like Brian, a high-energy guy that creates, now utilizing some of his gifts in a positive way, which is fun for me to see.
Football Hall-of-Famer Bill Parcells used this expression as to why he kept at it for all those years: "Coaches coach." Why do you keep coming to the rink? You've won everything there is to win in the sport.
As long as I love it, and enjoy it, being around these kids keeps me young. As long as I'm still doing a good job, the last thing I want to do is watch this program dip because I'm getting older. I enjoy doing it, it keeps me mentally and physically engaged and sharp. I like being around the kids, the biggest challenge is trying to keep up with them, the references, the technology and everything else that they're raised on. I'm sure they look at me more like their grandfather than their coach at times, [laughs] but we'll see.