ECHL
ECHL's New-Look North Division Features Tough Competition
ECHL's New-Look North Division Features Tough Competition
The North has been dominated recently by the Newfoundland Growlers, but the new-look division promises a competitive season.
Oct 18, 2021
by Mike Ashmore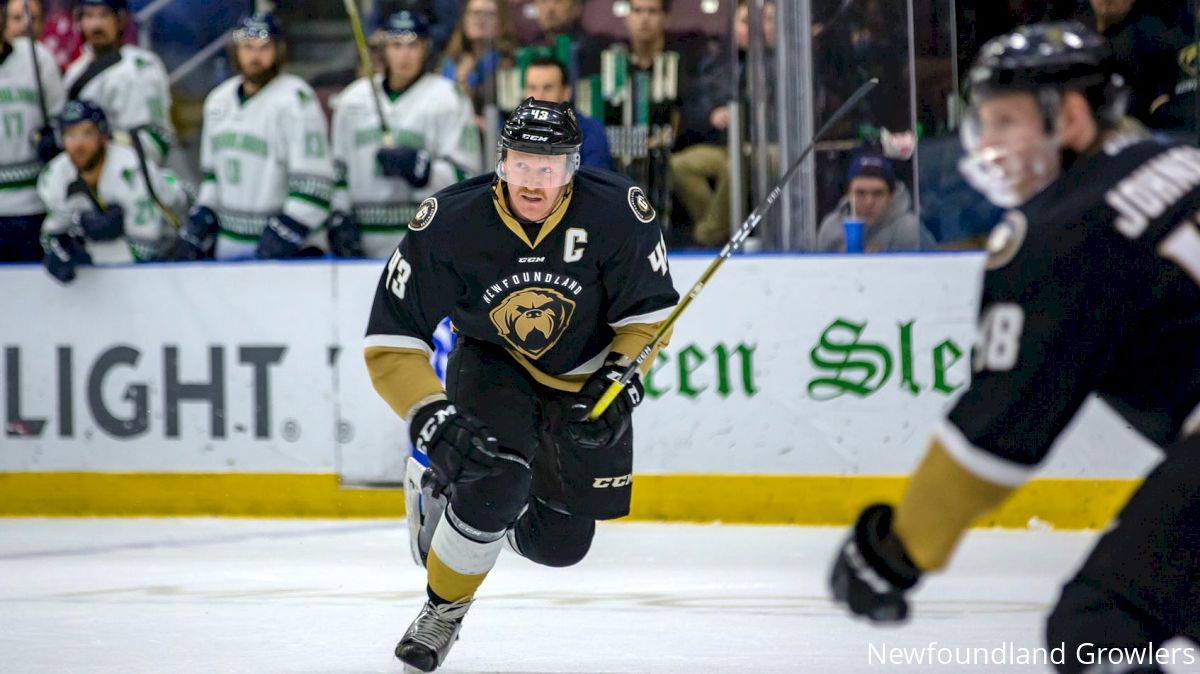 The last time the North Division was intact was at the end of the COVID-shortened 2019-20 campaign. Last season, the league used a conference-only format due to the smaller number of teams. It will look a little different when the games get going again exclusively on FloHockey starting on October 21.
Out are the Brampton Beast, who ceased operations following the March 2020 shutdown; and in are the Trois-Rivieres Lions, an expansion franchise that is set to make its league debut. It was a fellow Canadian club, the Newfoundland Growlers, who were the class of the division back then; they had a 42-17-0-1 record at the time of the shutdown, and led the North in goals for (240) and fewest penalty minutes (565). Will the Growlers repeat their past success, or will another team ascend the division? Here's a rundown of the division's competition.
WORCESTER RAILERS
KEY ADDITIONS: Zach Malatesta, Colten Ellis, Felix Bibeau, Jordan Lavallee-Smotherman
KEY DEPARTURES: Evan Buitenhuis, Barry Almeida, Nicolas Pierog, Jordan Samuels-Thomas
KEY RETURNERS: Drew Callin, Ross Olsson, J.D. Dudek
OUTLOOK: The Railers went through a tumultuous 2019-20 season—they opted out of playing last year—and finished the COVID-shortened year with a 21-36-4-0 record that was second-worst in the Eastern Conference, ahead of only the Norfolk Admirals.
That year, David Cunniff joined the team mid-season as the head coach, and has largely rebuilt the squad since then; the top four scorers from the 2019-20 season are all gone, with Callin, who played for the Rapid City Rush last year, as his highest-producing returnee.
Worcester has maintained their affiliations with the New York Islanders at both the NHL and AHL levels, and have already received 2019 sixth-round draft pick Felix Bibeau for the start of training camp.
ADIRONDACK THUNDER
KEY ADDITIONS: Shane Harper, Colin Long, Alex Sakellaropoulos, Peter MacArthur
KEY DEPARTURES: Matt Salhany, Mike Szmatula, Casey Pierro-Zabotel, Eamon McAdam
KEY RETURNERS: Robbie Payne, Alexandre Carrier
OUTLOOK: After a below-average 2019-20 season mercifully ended early for the Thunder with a 22-28-8-5 showing, head coach Alex Loh returns to Adirondack with a vastly overhauled and improved roster.
Adirondack will feature one of the better goaltending tandems in the league, with Alex Sakellaropoulos—who posted a 2.51 goals against average in 33 games for the team in 2018-19 before moving on—and Marek Mitens, who was just assigned to the team through their affiliation with the NHL's New Jersey Devils and AHL's Utica Devils.
But the real strength could come from a new veteran group of forwards, led by former NHL'er Shane Harper, who returns to the club after playing in Europe during the 2019-20 season after spending three of the previous years with the Thunder.
READING ROYALS
KEY ADDITIONS: Pat Nagle, Josh Winquist, Patrick McNally, Brendan van Riemsdyk
KEY DEPARTURES: Corey Mackin, Matthew Gaudreau, Eric Knodel
KEY RETURNERS: Kirill Ustimenko, Frank DiChiara
OUTLOOK: One of the league's more visible affiliations has continued to pay dividends for the Reading Royals, who look vastly different from the team that finished second in the 2019-20 North Division standings.
On his way back from missing all of last year with labrum surgery, Philadelphia Flyers goaltending prospect Kirill Ustimenko returns to Reading, at least for now, as he's currently on loan from the Lehigh Valley Phantoms. Ustimenko, who was ninth in the ECHL among qualifying goaltenders with a 2.40 goals-against average in 2019-20, will be joined by veteran Pat Nagle, who brings 320 games worth of ECHL experience between the pipes.
Brendan van Riemsdyk, brother of NHL's James and Trevor, was also loaned to the Royals from the Phantoms, and Reading further bolstered their roster with a late in-division trade with Wheeling for defenseman Patrick McNally, who posted an 8-24—32 line with the Nailers after they got him in an early-year deal from Orlando.
TROIS-RIVIERES LIONS
KEY ADDITIONS: Kevin Poulin, Mathieu Brodeur, Arsen Khisamutdinov, Shawn St-Amant, Philippe Desrosiers, Olivier Archambault
KEY DEPARTURES: N/A
KEY RETURNERS: N/A
OUTLOOK: The first-year Lions have already benefited from a very logical affiliation with the NHL's Montreal Canadiens and AHL's Laval Rocket, having received multiple players in advance of their inaugural game, set for October 21.
Montreal native Kevin Poulin, who appeared in 50 NHL regular season games and two playoff contests with the New York Islanders over the course of five years, returns from Sweden to make his ECHL debut. He'll likely share the net with fellow veteran Philippe Desrosiers, once a second-round pick of the Dallas Stars, who was assigned by AHL Manitoba and did not play at all last season, spending it entirely on the Florida Panthers taxi squad.
Up front, Montreal's sixth-rounder in 2019, Arsen Khisamutdinov, is joined by Shawn St-Amant, who is nearly a point-per-game scorer over three separate stints in the ECHL. Veteran Olivier Archambault also figures to be a big addition to the club—he's coming off a 54 points in 47 games showing with Allen in 2019-20—as does defenseman Mathieu Brodeur, who stabilized Fort Wayne's blueline last season.
NEWFOUNDLAND GROWLERS
KEY ADDITIONS: Keith Petruzzelli, Evan Cormier, Ryan Chyzowski
KEY DEPARTURES: Brady Ferguson, Justin Brazeau, Gio Estephan, Parker Gahagen
KEY RETURNERS: Zach O'Brien, Marcus Power
OUTLOOK: The Growlers have inarguably been the class of the league since joining, and still have the Kelly Cup to prove it. A 43-21-4-4 showing in their inaugural 2018-19 season carried through to a postseason where they won it all, and was backed up by a 2019-20 campaign in which they seemed poised to repeat before the COVID shutdown.
There's no reason to think they can't do it again, especially after a mass assignment of players from their AHL affiliate, the Toronto Marlies, who sent a whopping 11 players down to Newfoundland.
The Growlers will have an entirely new goaltending duo, with Keith Petruzzelli, a third-rounder of the Detroit Red Wings in 2017 who ultimately didn't agree to terms with the club, having been sent down to the ECHL to get the bulk of the games after agreeing to a two-year AHL deal with the Toronto Maple Leafs. The 2021 Hobey Baker Finalist out of Quinnipiac will pair up with Evan Cormier, who struggled in his first three pro seasons in the New Jersey Devils organization.
Ryan Chyzowski, a premium scorer in juniors, will be an intriguing addition to the club up front, joined by returnees Zach O'Brien and Marcus Power, who joined forces on Landshut EV in Germany this past season with the Growlers having opted out.
MAINE MARINERS
KEY ADDITIONS: Eduards Tralmaks, Callum Booth
KEY DEPARTURES: Terrence Wallin, Dillon Fox, Mike McNicholas, Ryan Culkin, Connor LaCouvee
KEY RETURNERS: Alex Kile, Conner Bleackley, Lewis Zerter-Gossage
OUTLOOK: With a new affiliation comes new hope and a new roster for the Mariners, who have moved on from an arrangement with the New York Rangers to partner with the NHL's Boston Bruins and AHL's Providence Bruins.
Maine had a middle-of-the-pack finish in the North Division in 2019-20, ending up fourth and likely to have made the Kelly Cup Playoffs having had an 11-point cushion over the fifth-place Thunder.
The team's most recent leading scorer, Alex Kile, returns for the 2021-22 season, but is joined by only a handful of returnees, most notably one-timer first-round draft pick Conner Bleackley, who potted 10 points in 15 games for the Mariners two seasons ago before playing for Allen last season. In net, the picture is currently a crowded one for the Mariners just several days prior to the start of the season. In all likelihood, it'll be the AHL-assigned goalies, Callum Booth and Jeremy Brodeur, who will get the nod on Opening Night, although Booth was just recalled by Providence on Monday. Veteran Sean Bonar and Zachary Bouthillier, fresh out of juniors, are also in camp.